Gridiron Heroics partners with Draft Scout to give each school's Top 5 NFL Draft prospects in the Big 12. Welcome to a list of the BYU Top 5 NFL Draft prospects for 2023, as seen by Draft Scout.
Each week brings us closer and closer to one of the most anticipated days on the sports calendar — the NFL Draft. This year's draft will be held in Kansas City, Mo. from April 27-29. Starting today? We take a look at the players who have now all either finished up their eligibility or have left early and declared for the Draft.
BIG 12 TOP 20 PROSPECTS: Overall Big 12 Top Prospect List
BIG 12 PROSPECTS: Baylor | BYU | Iowa St. | Kansas | Kansas State | TCU | Texas | Texas Tech | Oklahoma| Oklahoma St. | West Virginia
---
RELATED STORY: The Top ESPN 30 for 30 Shows in College Football — We Rank Them
So, we all know that not every team in the country has five surefire draft picks on it. Some programs do, especially in some of the more elite conferences, but the vast majority don't have that many top-flight prospects. But, we also know that the definition "top-flight" doesn't always pan out, and at the same time that strong undrafted free agent everybody forgot? He ends up making an NFL and flourishing.
Below is a look at the BYU Top 5 NFL Draft Prospects, and how they project in the eyes of Draft Scout. 
BYU TOP 5 NFL DRAFT PROSPECTS
NO. 1 PROSPECT
NAME: Blake Freeland OT
DRAFTSCOUT PROJECTION: 3-4 Round
CAREER STATISTICS: Freeland played in 44 games and started in 41 of those he played in also a three-year starter. 
THE TRUTH: s 6'8 305lbs Offensive Tackle from Herriman, Utah. He has been one of the biggest lineman for BYU in recent years seen making blocks and opening up the line for the running backs. Freeland will be a great addition to any NFL teams line as he is a big guy but also a great leader on and off the field.
---
NO. 2 PROSPECT
NAME: Puka Nacua
DRAFTSCOUT PROJECTION: 6th Round
CAREER STATISTICS: Nacua played in 19 games and had 1,430 reception yards
THE TRUTH: This 6'2 205lbs Wide Receiver from Provo, Utah. Nacua when on the field this season was a huge part of the Cougar's offense. Last season was the same way he was seen all over the field and never giving up a ball that could be caught. He transferred from the University of Washington in 2021 to join his brother Samson and continue to the BYU bloodline.
---
NO. 3 PROSPECT
NAME: Jaren Hall QB
DRAFTSCOUT PROJECTION: 6-7 Round
CAREER STATISTICS: Hall played in 29 games and had 6,174 passing yards and 52 touchdowns.
THE TRUTH: The 6'1 205lbs Quarterback from Spanish Fork, Utah. Hall led the Cougars to multiple big wins including the win over Utah in 2021. He played through many injuries and also struggled to stay healthy at BYU. He had a 65.2% completion rate and was fourth overall at BYU in pass efficiency rating. Hall can be a good quarterback in the NFL if he has a great day at the Senior Bowl and also can show out the BYU pro day in March.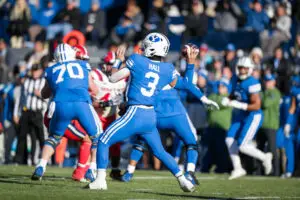 NO. 4 PROSPECT
NAME: Payton Wilgar OLB
DRAFTSCOUT PROJECTION: High Priority Free Agent
CAREER STATISTICS: Wilgar has played in 45 games with 198 tackles, one sack, five interceptions, two forced fumbles, five quarterback hits, and 10 pass breakups.
THE TRUTH: The 6-3 235 lbs from St. George, Utah. He is a semifinalist for the Burlsworth Trophy this one is given to the best former walk-on. His stock is down after being injured the last two seasons and playing limited snaps when he is healthy. A leader for this defense and a great linebacker. He can go and be a great linebacker and add his talents to any team. Wilgar will join the already great BYU linebackers in the league somewhere.
---
NO. 5 PROSPECT
NAME: Kaleb Hayes
DRAFTSCOUT PROJECTION: High Priority Free Agent
CAREER STATISTICS: Hayes has played in 23 games with 59 tackles, and 19 pass breakups.
THE TRUTH: The 6'0 190 lbs cornerback from San Bernardino, California. His draft stock remains the same after transferring to BYU in 2021 and after missing some games this year with a concussion. Last season led the Cougars in pass breaks up and was one of the 26 to play in all 13 games that season. This season apart from a struggling defense showed up and made some big plays and become one of the leaders to step up this season. He would be a great addition to any team as he can knock the ball out of the hands of the receiver any chance he gets.
For More Great Football Content
Follow us on Twitter at @GridironHeroics for more great content. We appreciate you taking time to read our articles. To interact more with our community and keep up to date on the latest in Football news, JOIN OUR FREE FACEBOOK GROUP by CLICKING HERE
Checkout our latest podcast!
[powerpress_playlist limit=1]