BYU Football kicks off spring ball on March 6th with practices that won't be in pads as they ramp up to the rest of the 14 practices. One of those will be the Spring game on March 31st. This spring you will see many new faces and more of the ones who played a vital role in last season. This list is of players who I think will be big not just in the spring but will continue to play a critical role for BYU Football as they open their Big 12 journey.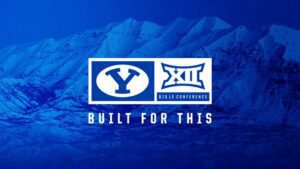 Kody Epps WR
Kody Epps 5'11 185lbs Wide Receiver. He played in eight games this year and had 459 reception yards on 39 receptions and six touchdowns. He started in four of those eight games and averaged 57 yards per game. Epps also became the first Cougar Freshman to record 100 yards in consecutive games against Notre Dame and Arkansas. This comes after missing five games due to injury. Epps will continue to develop and get more playing time as he will most likely be a starter for this upcoming season. He will be good to watch in spring ball as he develops chemistry with the new quarterbacks and learns more about how to play at the wide receiver position in college. Epps will be a weapon in the Big 12 and will be a huge part of the Cougar's offense this fall. BYU Football will need him to stay healthy and step up.
Micah Harper DB
Micah Harper 5'10 185lbs Defensive Back. Harper played in all 13 games had 62 tackles, two forced fumbles and three pass break ups. He finished as the top 3 tackler for BYU Football this season. Harper stepped up when Wilgar and Tooley went down this season. He will be a big aspect this coming season so watch as he continues to improve as a DB during spring ball and then at fall camp.
Jackson Bowers TE
Jackson Bowers 6'5 230 lbs from Mesa, Arizona played Tight End and was recruited by Tight Ends coach Steve Clark. Bowers prepped at Mountain View High School in Mesa, Arizona. Bowers was a beast in High school and will continue to grow as a tight end learning from Isaac Rex and Masen Wake. This spring will be essential in his growth and also should be something that fans should be watching. I don't know how much of a role he will play this role with two other tight ends on roster who will play a bigger role.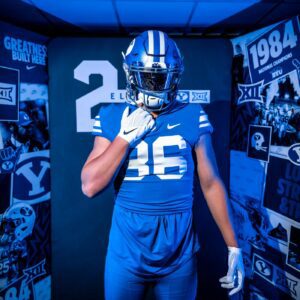 Miles Davis RB
Miles Davis 6'2 210lbs running back. He stepped up for BYU when the more experienced running backs struggled to gain yards and put points on the board. Playing in eight games this season he rushed for 225 yards on 40 attempts and was able to help the Cougars to some big wins and some big first downs when BYU needed it. He has some big shoes to fill with Chris Brooks and Lopini Katoa graduating from the program. This spring will be great for him as he develops and comes back from his injury this past season.
Blake Mangelson DL
Blake Mangelson 6'5 260lbs defensive lineman. He had some big plays for the cougars on the line this year. With the departure of many lineman of both sides of the ball he could be a great player if he did things right this spring. Not many people know his name but if you go back and watch film he is there and making himself known to the coaching staff. Spring ball is hard to watch lineman just because of the physicallity of the game in the spring. He will emerge just quietly.
Check out More BYU Content
For More Great Football Content
Follow us on Twitter at @GridironHeroics for more great content. We appreciate you taking time to read our articles. To interact more with our community and keep up to date on the latest in Football news, JOIN OUR FREE FACEBOOK GROUP by CLICKING HERE
Checkout our latest podcast!
[powerpress_playlist limit=1]