Though the Buffalo Bills lost Sunday's game to the Cincinnati Bengals, it was a very emotional, full circle moment for Bills' Damar Hamlin, who went into cardiac arrest just 10 months ago at Paycor Field. This was the first time post-incident that Hamlin had been at the stadium, and was able to go on the field to the exact spot where the tragic event happened.
Bills Safety With a Surreal Moment
Buffalo came up short, 24-18 against the Bengals on Sunday, but being on the field alone was a much bigger moment for Damar Hamlin. The 25-year-old can be seen alone on the field hours after the game had concluded, taking in how far he's come since that awful night when it seemed the entire sports universe was on pause.
Damar Hamlin is alone on the field at Paycor Stadium postgame. An emotional scene as Hamlin spends nearly 15 minutes at the logo in Cincinnati.@WLWT | #Bengals pic.twitter.com/FJhma2l8wW

— Olivia Ray (@OliviaRayTV) November 6, 2023
The safety was a healthy scratch from the game on Sunday, where in the video, you can see Hamlin crouching down near the spot where he collapsed and visibly emotional.
Hamlin took to Twitter (X) once he saw the video, and chimed in to respond to fans.
"Tonight was everything for me.. y'all don't know the half of it. Trust me."
Tonight was everything for me.. y'all don't know the half of it. Trust me. https://t.co/eQGkrqtZK0

— 𝐃𝐚𝐦𝐚𝐫 𝐇𝐚𝐦𝐥𝐢𝐧 (@HamlinIsland) November 6, 2023
Hamlin was greeted warmly by everyone when he returned to Paycor Stadium on Sunday, visiting with Bengals players and others before the game began. As pregame warmups began, he went on the field sporting a pair of custom cleats that read "3 is back."
Damar Hamlin Honors Healthcare Workers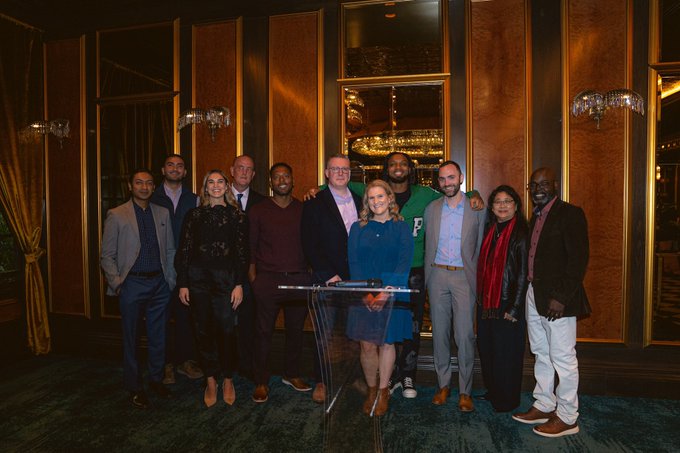 As a way to honor the healthcare professionals who saved his life in January, Damar Hamlin honored them with a scholarship in each of their names. He shared the news and honors during a dinner that they shared on Saturday.
Last night I had dinner with my heroes. 10 of the UC Medical Staff that helped save my life.

I surprised them with a scholarship named after each of them that will support youth in Cincy to chase their dreams.

Wouldn't be here if it wasn't for them!🫶🏾 pic.twitter.com/sEOCDkwYvk

— 𝐃𝐚𝐦𝐚𝐫 𝐇𝐚𝐦𝐥𝐢𝐧 (@HamlinIsland) November 5, 2023
Per ESPN, Hamlin's Chasing M's Foundation "will award scholarships in the names of 10 people who were involved in his care in Cincinnati. The program will support underserved high school and college-bound students who hope to attend Greater Cincinnati-area private high schools, trade schools, or Cincinnati-area universities."
For More Football News:
Follow me on Twitter at @sarahspooon. My written work can be found here on Gridiron Heroics and also on Wisconsin Sports Heroics.