The Tennessee Vols have broken the internet. On Wednesday the university's Athletics Department announced that all tickets for the Tennessee-Florida game have been sold. The Vols, along with 101,915 of their closest fans*, will host the Florida Gators at Rocky Top on September 24th.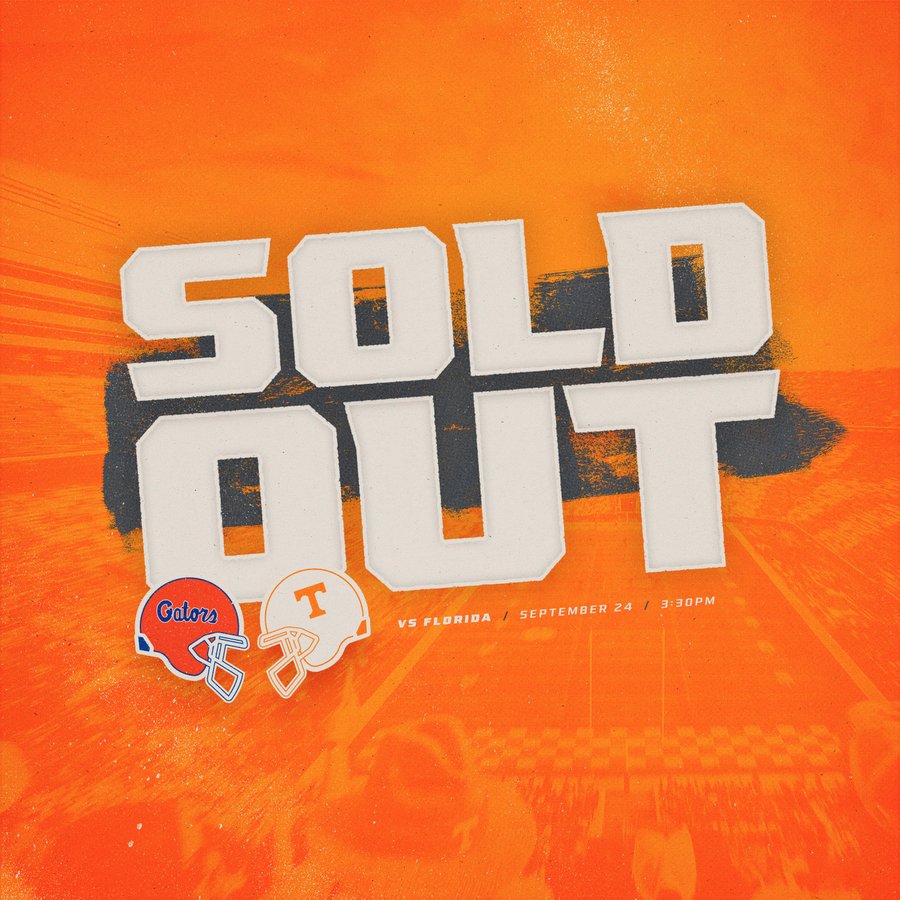 Breaking the Internet
On Wednesday morning the student ticket system, Big Orange Tix, made like the Nasdaq and crashed as soon as tickets were made available to students. Luckily, Orange Wednesday saw the systems come back to life and the game sold out completely.
Tennessee-Florida: A Rivalry
The Gators are the Vols' SEC East rival and Vol Nation will be crashing into week four on a giant wave of momentum after shoring up their third consecutive victory this weekend. While week three doesn't kick off until this Saturday, the Vols are playing the Akron Zips. Should you desire further explanation, here's a preview of that game for your reading pleasure. A summation: week three means plenty of rest for the Vols' starters plus a 3-0 start to the season.
Neyland Stadium is almost constantly buzzing with excitement. But for a home game against the Gators, the place is electric. On September 24th the place will be packed with enough energy to power the entire campus–the excitement is abundant. Adding to the hype for the season's SEC opener are rumors that Tennessee's Athletics Department is bring back the "Checker Neyland" movement, a popular gameday theme in Knoxville.
Tennessee-Florida: How to Watch
If you didn't snag a ticket on Wednesday, you may still be in luck! For a small fortune plus taxes and processing fees, the good folks at almost any online reseller will happily hook you up. But, if the idea of spending the equivalent of a car payment on a single ticket doesn't sit right with your soul you can access this one easily at home! Grab your favorite crews and brews, and tune in to CBS at 3:30 PM EST for the network's Game of the Week.
As always, check out the University of Tennessee on Gridiron Heroics for pre-game predictions and Vegas odds next week!
*Some Florida fans probably got tickets too. But, there is just no fan base like Vol Nation.
For More Great Football Content
Follow us on Twitter at @GridironHeroics for more great content. We appreciate you taking time to read our articles. To interact more with our community and keep up to date on the latest in Football news, JOIN OUR FREE FACEBOOK GROUP by CLICKING HERE
Checkout our latest podcast!