The Atlanta Falcons are dealing with injuries as the team has struggled to get going and are in a dogfight against the Arizona Cardinals in Week 10. In the beginning stages of the fourth quarter against the Cardinals, quarterback Taylor Heinicke scrambled and tried to pick up a first down with his legs and dove head-first short of the first down marker.
#Falcons QB Taylor Heinicke is off the field with an apparent injury and Desmond Ridder is in the game in the fourth quarter.

— Tom Pelissero (@TomPelissero) November 12, 2023
However, he came up limp and injured his hamstring on the play. Backup quarterback Desmond Ridder went into the game as Heinicke was helped to the bench.  The game is still in question as the Arizona Cardinals hold a 22-17 lead over the Atlanta Falcons.
Taylor Heinicke is listed as questionable for the remainder of this game but has not been very productive overall. If his day ends today, he is 8-of-15 for 56 yards and a touchdown pass. However, most of the game saw him fail to attempt a pass for 10+ yards.
What do the Atlanta Falcons do going forward?
At this moment, it is a little too early to tell how severe the knee injury to Taylor Heinicke actually is. However, there was a reason why the Atlanta Falcons elected to go to their backup quarterback the last few weeks and bench Desmond Ridder.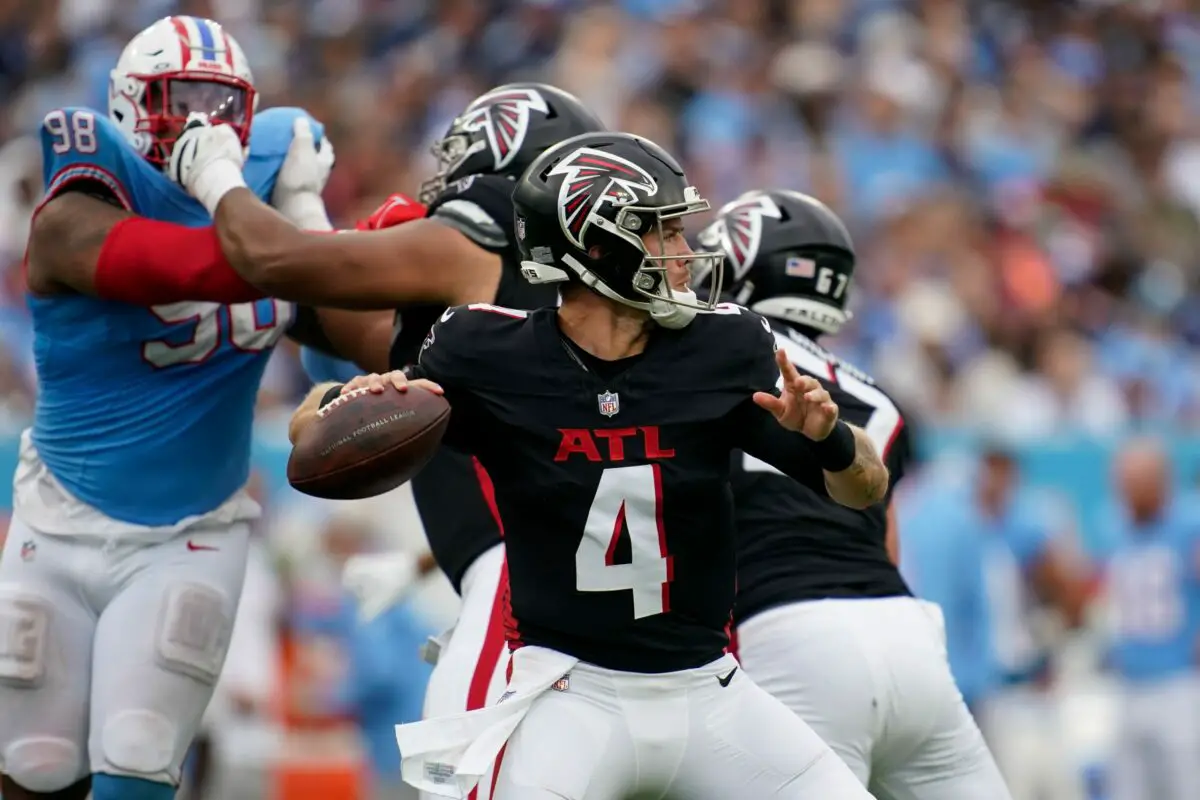 This Atlanta Falcons team has been expected to do a lot more with the abundance of offensive talent specifically. Entering Week 10 of the NFL season, the offense is 25th with just 18.4 points per game, a number that has to be better with the guys on the field for the roster.
With a window available as the NFC South has been struggling as no team in the division is over .500, the Falcons need to do a better job. Not only that, they have an incredible amount of talent at cost-effective abilities as wide receiver Drake London, tight end Kyle Pitts and running backs Tyler Allgeier and Bijan Robinson are all on their respective rookie contracts.
There is the possibility that in a few seasons, none of these players are still with the team. Coach Arthur Smith has failed to find the opportunity to get going as a team and win at a consistent level. There may be some voices in the room that begin to look elsewhere for a coach if the Atlanta Falcons can't turn things around soon.
For more of my content, make sure to follow me on Twitter @TalkVinTalk. I am also part of Fantasy Sports Heroics, where we are doing daily content on YouTube, discussing fantasy and betting that you can watch by clicking here.