The Atlanta Falcons could have a quarterback controversy at their hands. Head coach Arthur Smith took to the podium on Monday, addressing the media, specifically about quarterback Desmond Ridder taking back the reigns of the offense.
𝗨𝗽𝗱𝗮𝘁𝗲: #Falcons decline to name Desmond Ridder their starting QB going forward

When asked if Ridder will start assuming he's healthy, coach Arthur Smith said: "I gotta see where he's at, that's the best I can give you."

Taylor Heinicke's time?pic.twitter.com/Dsy5i122qx https://t.co/VSE2ndG7lH

— Dov Kleiman (@NFL_DovKleiman) October 30, 2023
Smith sidestepped the idea of naming a quarterback, being noncommital to Ridder when asked if he would be back under center next Sunday. Ridder didn't return in the second half, with veteran gunslinger Taylor Heinicke taking over. Ridder was checked out for a concussion but was cleared for action shortly after.
Atlanta Falcons QB Desmond Ridder Hits the Pine in Week 8 
Desmond Ridder did not play the second half on Sunday. Ridder finished 8-of-12 for 71 yards with no touchdowns or interceptions. He rushed three times for 26 yards. He was also sacked five times and lost one fumble. Trainers had checked the Cincinnati product for a concussion but did not rule him out for the second half of his team's 28-23 loss. Ridder was available to return, but Falcons head coach Arthur Smith opted to go with Taylor Heinicke. The Atlanta offense played inspiring football under Heinicke, scoring 20 second-half points. Heinicke went 12-of-21 for 175 touchdowns and a passing touchdown to Scott Miller.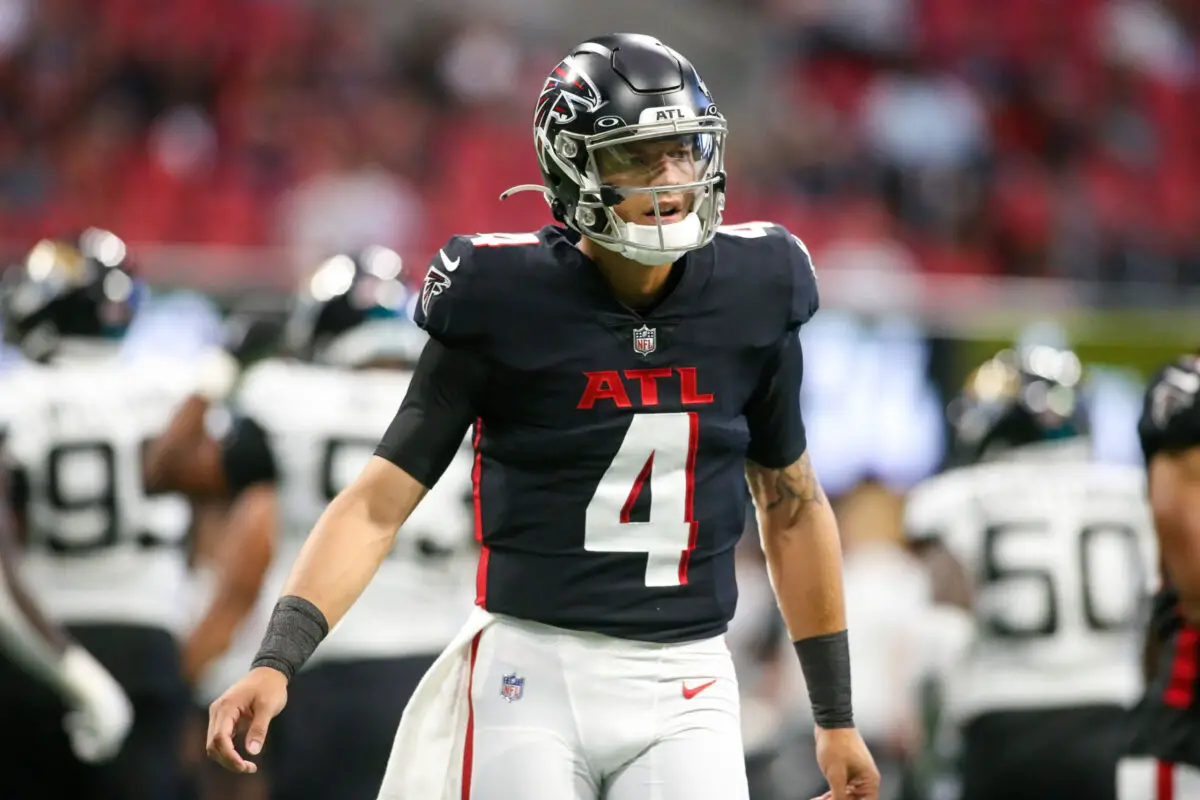 Arthur Smith Reiterates Desmond Ridder's Health is of Main Concern
"I didn't take him out for performance issues," said bench boss Arthur Smith regarding Taylor Heinicke taking over for Desmond Ridder in the second half. Ridder was checked for a concussion but passed in-game protocol. 
Smith again addressed the media on Monday, saying, "I have to see where he is at. That's the best I can give you." Smith did not say whether Ridder or Heinicke would start in Week 8 against the Minnesota Vikings. Despite the frontman downplaying Ridder's performance this season, he has struggled to play effectively in 2023. Ridder has thrown just six touchdowns against six interceptions in eight games. He has also lost six fumbles. 
For More Football News:
Follow me on Twitter at @alec_musa. You can also reach out to me via email at musaalec@gmail.com. To read more of our articles and keep up to date on the latest college and NFL news, click here!