Will Notre Dame upset USC? Well, the answer is much more optimistic now than it was a handful of weeks ago, that's for sure. Things have been looking good in South Bend, and after what's been a roller coaster of a year, one last upset against number 5 USC would bring the perfect happy ending.
It's been quite a few years since the "Bush Push" game – which seems to be the last time this game held such worth other than bragging rights and another win tacked on to the ever-evolving rivalry. And yet, while you'd think this game would mean more to the playoff-hopeful USC, one could argue that it actually means more to the team on the outside with next to no shot at a bid.
Finally, we'll see a renewed taste of this age-old competitive rivalry – and the stakes are bigger than the rankings on paper. If Notre Dame can pull off yet another upset, the year ends on a high note, with the sweet taste of optimism rolling into next year. So, will they do it?
The Good News Is…
USC's defense is problematic – giving up 25+ points in 5 of their games this year. And while their team came away victorious in all but one of those games – it still shows a weak point, and a "pain point" for Notre Dame. While the match against UCLA proved that you can't simply "out score" or "out shoot" the Trojans, you can definitely put up a bevy of points. And with the way that Notre Dame's offense has been playing lately, points will most likely not be the problem.
With a defense that doesn't rank in the top 50 – look no further than Audric Estimae and Logan Diggs to be the players of impact on Saturday. Well, them, and of course the big men up front who are the ones who really make the run game happen. Point is – just like every other game, if the Irish can take control on the ground, their chances of coming away victorious look a whole lot better. And, as an added bonus, an efficient run game is what lets Drew Pyne do his thing – nothing too fancy, but effective.
The Bad News Is…
The real question is – can the Irish stop Caleb Williams? To be fair, most defenses can't. However, contrary to USC, Notre Dame statistically has the 17th best defense in the country, according to NCAA rankings. And with the play of Benjamin Morrison as of late – it looks as though Williams will have a tougher day passing the ball than usual. But, while Morrison can hopefully put a lock down on former Biletnikoff winner Jordan Addison, USC does tout other weapons such as Branden Rice – son of GOAT receiver, Jerry.
Let's not get this confused, though, Caleb Williams himself is the problem. He's a prolific passer – by far means not a one-trick-pony with his legs. However, when it comes to Notre Dame and their defense – Caleb's running ability is for sure the scariest aspect of this upcoming rivalry match. While the Fighting Irish was able to put the clamps on Drake Maye and DJ Ugagalalei, Jack Plummer had a field day. And while I'm sure Jack Plummer is a good athlete and all, he's no Patrick Mahomes – which the Irish defense sure seemed to make him appear to be.
The Keys to Victory
1.  The Notre Dame offensive Line must win in the trenches. 
It's no secret that the key to Notre Dame's success on offense is the running attack. When Audric Estimae and Logan Diggs are getting a consistent 4-5 yards per carry, the play-action passes to Michael Mayer become automatic – with occasional splashes from Jayden Thomas. And it all starts up front… if the Irish linemen can get a good push, open up holes, and bully the USC front – it'll be a good day for the Irish.
2.  The Notre Dame defense must step up to the task.
Notre Dame has the talent on defense to step up to most occasions – hell, they were able to hold C.J. Stroud & Ohio State for nearly 3 full quarters. The tackling has improved drastically since Week 2, and the turnover rate has become about as respectable as – dare I say – even the SEC schools. But, even the best of defenses crumble when you face an elite Heisman candidate like Caleb Williams. The D-line must get pressure, along with contains and solid tackling from linebackers & safeties.
3.  Take the lead, and don't look back
What we saw in both the North Carolina and Clemson games (wins against ranked opponents) – Notre Dame took an early lead, and kept it throughout the game. And it's not just Notre Dame, either – especially when such lead is 2-touchdowns plus. Come backs are historic and exciting, but the big ones don't happen as often as perceived. Momentum is real, especially when you're on the road – if the Irish can suck the life out of the Collesium, along with running the ball to drain the clock – it'll be a tough road to victory for SC.
Conclusion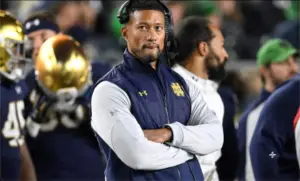 So, can the Irish do it? Can they pull of the huge victory to end out the year? Of course they can, and while my opinion is clouded with green, blue, and gold bias – I genuinely think Notre Dame will do it. Chances are, Notre Dame isn't fighting for a playoff spot; but when you're stacked up against a rival who happens to be number 5 in the AP poll – it's bigger than rankings.
Now that the monkey is off of Marcus Freeman's back and he's shown fans that the first half of the season was nothing more than growing pains – this is the final statement game in year one for Marcus Freeman. He's proven that he can coach this team to victory – over BIG programs, at that – and now; with a top-ten opponent and age-old rival to face in the last game of the season – this is big.
Clearly, the keys to victory may not seem like rocket science – stopping Caleb Williams sure is. The Irish more than likely won't win a shoot-out, so it appears that this will be up to the defense. Luckily, the defense has played well this year, and has been on a tear as of late – so it's safe to say that the stage is set.
All I can say is, as a fan, it feels nice to be excited for this game once again…