Hey all and welcome to the Week 18 GPP Breakdown! Things are coming to a close real quickly on the NFL regular season. I'll have some content for the playoffs as well, but this is our last chance at a slate with double digit games on the docket.
*For whatever reason, FanDuel is including the Sunday night game as part of the Week 18 GPP main slate. I don't play FanDuel outside of an occasional lineup or two and thus am not profiling that game nor those players in that matchup.
Let's get into it!
A Few Notes about the Week 18 GPP Saturday Slate
As opposed to Sunday's Week 18 GPP 13 game slate, there are 2 games on Saturday. Here's some important tidbits for the 2 matchups:
The Chiefs clinch the #1 seed with a win.
The Raiders are eliminated, but a good showing, especially by Stidham, may have consequences for next season.
Josh Jacobs hasn't practiced all week but "is expected to play." I have grave concerns about his fantasy output. He's a free agent this March and has already done plenty to prove his value for a future contract. Why risk further injury here?
Patrick Mahomes needs 430 passing yards to break Manning's single season record. He also earns $1.25 million if he wins the NFL MVP.
The Titans have to beat the Jaguars to make the playoffs while the Jaguars need to win or tie the Titans to make the playoffs.
Evan Engram needs 61 receiving yards for a $200K bonus.
Christian Kirk needs 91 receiving yards for $500K and 2 receptions for $500K. 10 more receptions nets another $500K and an additional 100 yards on on top of the 90 nets $500K as well.
Zay Jones gets and extra $250K if he has 2 catches. He also gets $500K if he gets to 900 yards; he has 802 on the season.
What they are Playing for (or not Playing for)- Teams
* What follows below is a layman's version of teams playing for postseason berths and seeding. The scenarios are much more intricate than this. For more detail you can go to NFLPlayoffScenarios.com or read some of the articles by our fantastic writers her at GridIron, but this will give us an idea of which teams are incentivized to play their starters.
If the Chiefs lose on Saturday, a Bills win gives Buffalo the #1 seed.
The Patriots are currently in the playoffs. They need to beat the Bills to assure it stays that way or get help from several other teams.
The Dolphins need to beat the Jets to have any hope of making the playoffs.
The Bengals have clinched the division. A win could potentially land them with the #2 seed. Also, a Ravens win puts Cincinnati in a scenario where a coin toss could determine home advantage.
The Chargers are guaranteed a playoff spot and a road playoff game. A win would ensure that they have the 5th seed as opposed to the 6th in the AFC. There are reports out there that Herbert and the starters may sit this entire game or most of it, so it's a situation worth monitoring for Week 18 GPP contests.
The Steelers need to win to make the playoffs.
The Eagles need a win (or Dallas loss) to clinch the division and potentially the #1 seed in the NFC.
The Cowboys need a win (and an Eagles loss) to win the division.
If the 49ers win and the Eagles lose, San Francisco will have the #1 seed.
The Seahawks need to win to have any hope of making the playoffs.
The Vikings are assured a home game, but a win could potentially make them the #2 seed. I'm wary of this situation as the Vikings SHOULD easily take care of the Bears and Chicago isn't starting Justin Fields. This may limit the Vikings players' upside.
The Buccaneers are assured the 4th playoff seed and have nothing to play for from a team perspective.
The Giants are assured the 6th playoff spot and have nothing to play for.
What they are Playing for – Players
While the Bucs don't have anything to play for, Tom Brady needs 390 pass yards for 5,000 on the season. He has only accomplished this two other times in his career. Also, a loss would be make this season only the second time in Brady's career that he has a losing record.
Justin Jefferson needs 194 receiving yards to break Calvin Johnson's single season record. He put up 154 last time vs the Bears.
Kenneth Walker needs 64 rush yards to reach 1,000 yards in his rookie season.
Tyler Allgeier needs 100 rush yards to reach 1,000 yards in his rookie season.
Chris Olave needs 155 receiving yards to break the Saints rookie record. He put up 147 yards in this matchup last time.
DeAndre Carter needs 2 receptions for $100K, 55 yards for $100K, and 2 TDs for $100K.
Gerald Everett needs 5 receptions for a $250K bonus.
Isaiah McKenzie needs 46 receiving yards for a $100K bonus.
Tyler Higbee needs 13 receiving yards to hit 600 on the season and earn $500K.
Hayden Hurst can earn $125K for 2 catches and an additional $125K for 100 receiving yards.
Samaje Perine can earn $100K if he rushes for 124 yards.
Week 18 GPP Ownership Report
Christian McCaffery – 21.5%
Alvin Kamara – 15.9%
Kenneth Walker – 15.4%
AJ Brown – 15.4%
Justin Jefferson – 15.3%
Ja'Marr Chase – 15.1%
Austin Ekeler – 14.7%
Drake London – 14.2%
Josh Allen – 13.7%
Najee Harris – 13.2%
Miles Sanders – 12.7%
Stefon Diggs. – 12.3%
Joe Mixon – 11.3%
Tyler Allgeier – 11%
Cam Akers – 10.7%
Ownership Quick Takes
I find CMC's ownership a little too high for someone who could possibly have a seat on the bench by halftime.
Josh Allen as the highest owned QB makes sense to me, I bet the Bills come out on fire on Sunday.
If Allen is going to carry ownership, then Diggs will likely be higher than this as well.
I expect Ekeler to be lower owned than this in Week 18 GPP contests.
There is some serious fluctuation with Justin Jefferson's ownership. Latest updates will be available on the Discord on Sunday morning.
There is some good value on this slate considering teams who are out and who are not. This is probably the least I have trusted ownership projections all season.
Week 18 GPP Stacks
With the highest total on the Week 18 GPP Sunday slate only 43, I'll be surprised if any one stack is overwhelmingly chalky.
Buffalo Bills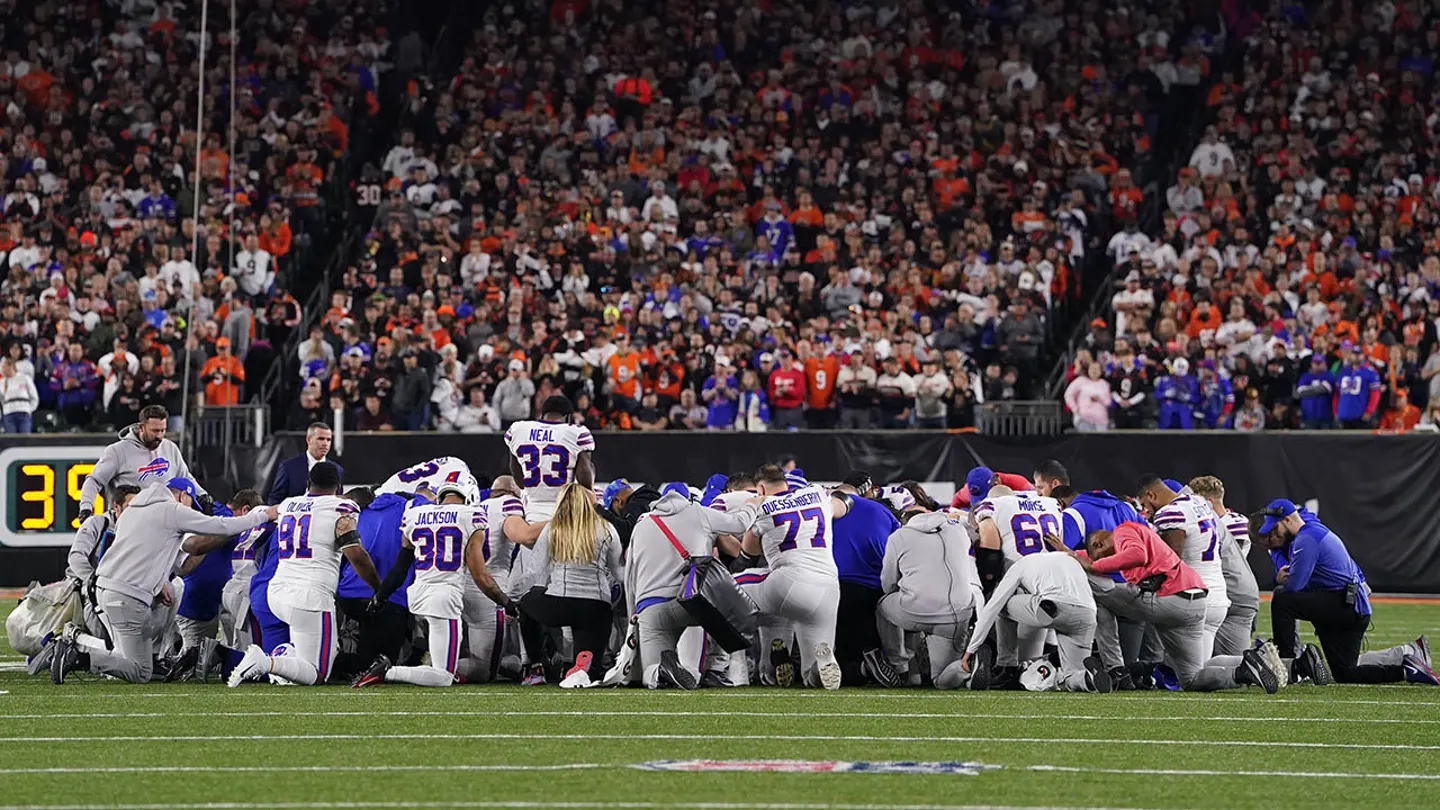 Even people who don't follow football but know that I write about it have been messaging me to inquire about the Damar Hamlin situation. The gravity of what has happened is huge, and I believe that is an added intangible for the Bills fantasy prospects in Week 18 GPPs. Add to that the possibility to eliminate the organization that caused them decades of terror from the playoffs and I think stacking the Bills may be one of the easier calls in recent memory.
I'm also quite interested in playing the Bills DST. In fact, most of my lineups will have Allen with one or two of his pass catchers or the Bills DST in them. Inspired football with a few sacks and turnovers are likely, a defensive score or two is a possibility as well.
If stacking the Bills, I like Jakobi Meyers as a run back though it might not be necessary in this scenario.
Philadelphia Eagles
In Week 14 Jalen Hurts put up 30.4 DraftKings points against the Giants and lead the Eagles to a 48 – 22 win. And that was when the Giants cared about the result of a game. If I'm the Gmen, rolling out Saquon Barkley and his injury history is not something I would be willing to do on the eve of the playoffs in a near meaningless game.
Since it's a divisional matchup, the Giants may put up an effort in this one. Since Jalen Hurts is dealing with an injury, his upside could be limited. But a Philly stack should be entertained considering the magnitude of the game from the Eagles side. Since AJ Brown will be highly owned, double stacking Hurts with Brown and Smith, Goedert, Sanders or Watkins is something I'll likely do for Week 18 GPPs.
Cincinnati Bengals
Somewhat lost in the Damar Hamlin saga is what this has done to the Bengals organization. Yes, Tee Higgins has taken his share of unjust Internet hate, but I'm not hearing many talk about how the Bengals feel they owe the Ravens one after their Week 5 loss. Now add that the Bengals are now further incentivized to win so as to avoid silly things like coin tosses to determine who has home advantage in playoff matchups. As such, I am interested in stacking the Bengals in Week 18 GPPs.
Tampa Bay Buccaneers
If you buy in to the argument that Brady is gunning for both a win and 5,000 yards passing, then stacking him with one or two of his pass catchers makes a ton of sense to me. The Falcons are not particularly good against QBs nor WRs.
Vita Vea is likely to miss, so running a Brady stack back with an Atlanta RB is something I am interested in.
San Francisco 49ers
Part of the reason why I dislike CMC's ownership is because I think Brock Purdy and the 49ers elect to throw on the Cardinals, which makes Purdy my favorite QB pay down option in Week 18 GPPs. Yes, CMC is a pass catching RB and basically matchup proof, but why risk injury to an injury prone RB? The Cardinals are the second worst team vs TEs and the 49ers could use a win, so welcome to my Week 18 GPP player pool George Kittle! Brandin Aiyuk and Deebo Samuel are my radar as well. The 49ers have one of the highest team totals (27) on the Week 18 GPP slate.
Brock Purdy was born and raised outside the Phoenix area, and he grew up watching these Cardinals so there's some added incentive there. The concern I have here though is that this game is over fairly quickly, which would limit all 49er players' upsides in Week 18 GPP contests.
Running this back with Corey Clement, Keontry Ingram, Greg Dortch, or Hollywood Brown is viable here too, though I am more inclined to go with a WR as opposed to an RB replacing James Conner. The 49ers are the best team in the league vs RBs. I am fading Trey McBride in Week 18 GPPs.
Seattle Seahawks
Last time out against these Rams, Geno Smith put up 367 yards and 3 TDs. That was when the Rams cared about the final score. The Seahawks have an implied team total of 24 points, which is one of the higher ones on the Week 18 GPP slate.
Week 18 GPP One-Offs
Texans cannot stop the run and Zach Moss is looking for a reason to increase his value and lengthen his NFL career.
The Browns are bad against the run and the Steelers need a win. It makes sense that Najee Harris is carrying ownership in Week 18 GPPs.
I'm not sure what to make of Garrett Wilson's ownership projection as he is all over the map, but his usage and target share is elite.
A couple weeks ago Chris Moore was chalk city. In Week 18 GPPs he might be under 4% owned. My what a fickle community DFS can be.
I think Deandre Carter gets at least his 2 catches and 55 yard bonus. 2 TDS might be in play, though that's a taller ask. I am even more on this if the Chargers rest players like Williams and Allen.
I also think Everett attains his bonus.
Alexander Mattison intrigues me in a potential garbage time scenario this week. He will be unowned.
Despite my disdain for Sean McVay, Cam Akers should not be ignored in Week 18 GPPs.
While they are not listed in the ownership section, players like Rasheed Shaheed, Colby Parkinson, Corey Davis, and Jonathan Williams will have some Week 18 GPP ownership.
Thanks for checking out my Week 18 GPP breakdown. Good luck in your Week 18 GPP contests!
Follow me on Twitter at @Borisnow00 and follow my man Danny Carpenter too!
Again, join the free Discord! Updates will be posted there on Saturday morning!
Visit our fantasy football page for more analysis!
For More Great Football Content
Follow us on Twitter at @GridironHeroics for more great content. We appreciate you taking time to read our articles. To interact more with our community and keep up to date on the latest in Football news, JOIN OUR FREE FACEBOOK GROUP by CLICKING HERE
Checkout our latest podcast!
[powerpress_playlist limit=1]