The Virginia Tech Purdue game was in many ways typical for the Hokie faithful.  The actual contest featured big plays for and against the Hokies, with a late score determining the outcome.  Despite struggles on and off throughout the game, Virginia Tech was right there with a chance to win at the end – but didn't.  This has been a very common script for Hokie Nation over the last decade, and every game seems to be an emotional rollercoaster ride for the fans.
Watching the game, I think my range of emotions was typical of the fanbase:
A Strange Feeling to Start the Game
Things were out of sync from the start of the Virginia Tech Purdue game.  With inclement weather on the way, fans were asked to leave their seats and take cover during a 21-minute delay.  While on their way back, the scheduled flyover came to a half empty Lane Stadium.  Then "Enter Sandman" played while the teams were already on the field.  It was a bizarre start for sure.
To open the game, Purdue hit the ground running – and passing to wide open receivers –  dominating the stat sheet in the first nine minutes en route to a 7-0 lead.  But the storms returned with a vengeance, and those in the press boxes and luxury suites might as well have been teleported to Lane Falls and Worsham Lake.
Lol if you have this seat you need to bring some napkins with you pic.twitter.com/aBE5mveNm7

— Ali (@VTAliTriumphant) September 9, 2023
So what looked like a potentially long day on the field (ironically it was!) turned into a weather delay that made many wonder if the game would even be played.  And those at home were left flipping channels – only to see the same two or three games since so many East Coast games were also on delay.
The Anxiety of Waiting
As Tom Petty sang, the waiting was the hardest part.  Well, maybe not, since survival was on the minds of many in the immediate area.  Mother Nature struck fear into those scurrying from the stadium.  Fans literally dodged lightning bolts on their way back to their cars in torrential rain.  It did not look like this game was going to be played, and the word "cancelled" was floating around social media like a celebrity who just told an inappropriate joke.
Just look at this tweet to see what actually transpired on Washington Street (warning, expletive language is prominent in this clip)
People were literally trying to dodge lightning bolts as they left Lane today

(via sarah_deacon_/IG) pic.twitter.com/0slJpWI4OO

— VT Barstool (@BarstoolVTech) September 9, 2023
At 6:15 pm, fans should have been at TOTS or Sharkey's or the Hokie House to watch the evening games, or they would have been back in their hotels to rest before going out for the night.  However, that is when the game actually resumed.  So after a five-and-a-half hour delay, the game was back on, but it looked like many of those fans were doing what they would have done anyway at that time.  Lane Stadium was less than half capacity.
Nonetheless, the Hokies were back on the field, trying to win their first non-conference power 5 game since 2017.
The Shock and Despair of the First Quarter
Prior to the delay, Purdue was gashing the Hokie defense.  After nine minutes (at the start of the delay), the Boilermakers already had 89 receiving yards and 33 rushing yards on 17 plays.  They had the ball for seven minutes.  The Hokies only had 18 yards on four plays, possessing the ball for just over two minutes.  This was an ominous statistic for the Hokies, and despite an admirable comeback, total yards and time of possession would come back to bite them.
Down 10-0, Grant Wells threw his first interception of the year, a poorly read pass that hit Purdue's Cam Allen in the chest and he took it five yards to the Tech 21.  Two plays later, the Boilermakers scored, and Virginia Tech was down 17-0 with 12:39 remaining in the second quarter.
Things did not look good for the Hokies.  They actually looked pretty bad and it was difficult to think that this one was not headed toward a blowout.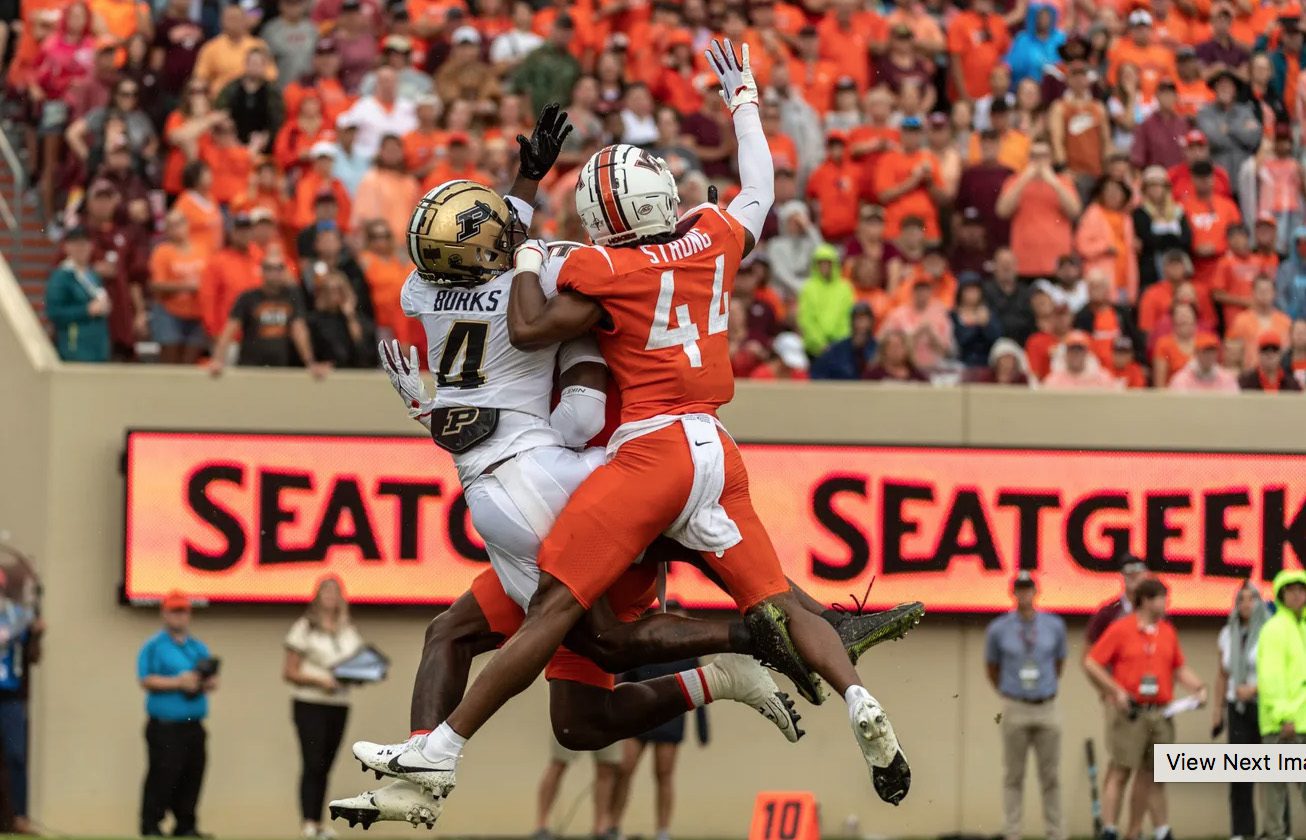 The Elation of a Comeback
After watching a struggle for a quarter and a half though, Tech fans got an emotional reprieve when the momentum shifted and the home team came charging back.  It started with a defensive stop – the first of two "3-and-outs" of the quarter (the only ones on the day for the Tech defense).  The Hokies then drove 67 yards for the first score and it was a game!
Hope returned on that drive, as play-calling was varied and the Hokies hit a few big plays.  It was a great comeback, even if it was aided by a questionable decision by Purdue coach Ryan Walters.
Up ten with four minutes to go in the half, Walters chose to go for it on fourth and one on his own 34 (this drive was sandwiched between the two three and outs).  The Hokie defense came up big and stuffed the run, giving Tech a short field that they converted into a field goal.
Wells and company tied the game with an almost perfectly run two-minute drill to score a touchdown just prior to the half.  The game was tied, the Hokies were moving the ball on offense and stopping the Boilermakers on defense.  Hokie Nation was again believing in victory!
The Frustration of Familiar Struggles
That halftime elation gradually waned in the second half as the struggles of last year returned.  The poor blocking and the absolute disappearance of a running game hampered the offense the rest of the way.
With no run support, two injured receivers, and what looked like his own injury, quarterback Grant Wells struggled in the second half, looking like the quarterback of last year, not last week.  His passes lost touch and he overthrew a lot of targets.  He was also under duress.
With the offense unable to sustain drives, the defense was on the field way too much.  That caught up with them late, as Purdue ground out a six-and-a-half-minute game-winning drive that saw a lot of chunk plays and missed tackles.
It was a frustrating loss, especially since it was way too reminiscent of last year.  Georgia Tech anyone?  NC State?
The Confusion of a Two-Headed Quarterback Monster – or Not?
Prior to the first game of the season, Grant Wells was named the starter at quarterback, but head coach Brent Pry said that Kyron Drones would play every game.  After two games, that statement is still true, but from a fan perspective, the execution of it is a bit confusing.
In the first game against Old Dominion, Drones was sent into the huddle in the middle of the second drive.  He threw one pass, ran three times up the middle for two yards, then was removed from the game on fourth down.
He did not return, even in the fourth quarter when the Hokies were up by 19.
Against Purdue, Drones did not see the field until the final drive of the game.  Down seven with the ball on their own 9-yard line and two-and-a-half minutes to play, Drones saw his first action.  It was an admirable effort, as he took the Hokies 49 yards before turning it over on downs.
Leading that final drive is a difficult position for any quarterback not named John Elway.  It is worse when it is a backup with little game experience under his belt.  To insert Drones at that point is head-scratching, especially since he had not played yet.  Especially since the production from the quarterback position and the offense in general was lethargic at best in the second half and he still had not played.
In his post-game press conference, Pry doubled-down on his two-headed quarterback idea, saying, "We want to play Kyron, but then there's times when we think Grant gives us the best chance."
He also said, "We need to really commit to making people defend Drones as much as they need to defend Grant.  If we play our cards right, and we do a nice job, I think we can have a two-headed monster right there. A guy that can be a very accurate passer, and a guy that can be dangerous running the ball, play action, and still run the offense."
Again, this is a bit confusing to hear, as the use of Drones each week has not supported those ideas.  It is easy to criticize these decisions, but as fans we are not insiders and are only reacting emotionally.  Thus, I will leave my reactions here – by saying it seems confusing.  With a struggling running game, let's see how this quarterback situation develops over the next few weeks.
The Worry Over Injuries
As if this gamut of emotions wasn't enough, Tech fans now have the added concern of injuries.  This roster is already thin – and several starters were banged up and are missing time.
Most notably, the loss of Ali Jennings III on the second offensive play is upsetting.  Jennings, a Highland Springs (Richmond) product, came to Tech from ODU via West Virginia to play his final year of college football.  Last week, while listening to the start of "Enter Sandman" prior to the ODU game, Jennings admitted to Pry that it was a dream come true to run out of that tunnel.  One week later, he was taken the other way through that tunnel on a cart, with what looks like a very bad lower leg injury.  This one is heartbreaking.
In addition to losing the WR1 for what is likely a long time, Virginia Tech lost WR2 Jaylin Lane later in the Purdue game.  This is a tough blow if Lane's injury is going to affect him long term.
Keonta Jenkins went down before Jennings.  Keshawn Burgos had to come off the field.  Nasir Peoples did not play.  And Nick Gallo is already missing the season.  These are quality players.  Injuries are part of football, but those are a lot of bumps and bruises – and worse – for only week two.  Tech cannot afford this kind of hit from the injury bug this year.  It is a scary thought to envision a season with even more freshmen and sophomores playing before they are ready.
The Ambivalence of Being Correct in Making Predictions
In my preseason predictions article, I had the Hokies exactly where they are right now, 1-1.  I predicted a 20-point victory over Old Dominion, and Tech won by 19.  I also called for a 7-point loss to Purdue, which unfortunately occurred Saturday.
The good news is that I predicted Virginia Tech to beat Rutgers next week.  I wrote that this could very well be an ugly game like the last time Rutgers and Virginia Tech played.  In that game, Tech only had THREE rushing yards – but still won.  With the woes of the Tech line and rushing game, that prediction is looking pretty good right now…maybe not the call for a victory, but the expectation of a low rushing total for sure!
Final Emotions on the Virginia Tech Purdue Game
This is a tough one when it comes to fan reactions.  On the one hand, it is just one game.  It was a great comeback and the Hokies had their chance to beat a non-conference Power 5 team.  They were one play away from tying the game, even to the last whistle.  And there is still plenty of schedule left for the Hokies to reach their goal and earn a bowl bid.
After all, remember the 1995 and 2010 teams?  In each of those seasons, The Hokies lost their first two games, including horrible home losses to "lesser" teams, and both of those teams won their conference titles.  However, this team does not have the talent of those teams.  Nor is this roster on par with those from 2007-2009, each of whom lost one of its first two games but still finished with ten wins.
So yes, it is just one game, but it sure doesn't feel like this team is headed for 6 wins.  It is certainly possible, but the general feeling of the fanbase is not one of confidence right now.
And taking the "glass-half-empty" approach, there is a lot of concern stemming from the Purdue loss.
The game was close, but the box score tells a different story.  Purdue ran 80 plays to Virginia Tech's 62.  The Boilermakers had the ball for 38 minutes compared to only 22 for the Hokies.  Virginia Tech only ran 18 second-half plays prior to Purdue's game winning score.  For the game, Purdue converted 7 of 17 third downs while Tech only converted 2 of 12.
And Tech could not run the ball.  Prior to Drones' last series scramble, the Hokies had a net negative rushing total (-2) on the day.  They finished with 11 rushing yards.
This contributed to a defense that was gassed in the fourth quarter and could not make the key stops needed for victory.
There is an eery feel of last year, when a lack of a running game, poor quarterback play, injuries, and tired defenses led to losses in close games.  With the run-game struggles so far, it is easy to question if this season will be any different in the win column.
This schedule is filled with opponents that the Hokies can beat, but it would surprise no one if the Hokies lost to any of them.  So let's hope Virginia Tech can figure out how to right the ship – particularly in the ground game – and pick up a few more wins.
It's only one loss.  And it is a young team.  There is still a lot of ball to play, and there is one emotion I will cling to – hope!
Afterthoughts
Last week I wrote this about Grant Wells: "If he goes for 250 yards, 3 touchdowns, no sacks, and no turnovers every week, the Hokies will likely go bowling!"  Wells threw for 243 yards and two touchdowns Saturday, which was almost good enough to win this game.  However, the sacks and those two interceptions hurt, especially the first, which was turned into seven points, the eventual margin of victory for Purdue.
Tech played complimentary football last week, and the result was a comfortable win.  This week, the Hokies could not run the ball, racking up negative two yards rushing prior to a Drones run on the last drive.  They could not move it at all in the second half, leaving the defense on an island.  All last year Pry stressed the need to play complimentary football, and after two games, we see why – on both sides of that statement.
The Hokies head up to Piscataway, NJ this week to take on the Rutgers Scarlet Knights in Tech's first road game of the season.  This is the final Power 5 non-conference opponent on this year's schedule, so if the Hokies fall, they will run their P5 non-conference (plus Notre Dame) losing streak to ten and have to wait until next year (or dare I say a bowl?) to change that.
Virginia Tech leads the all-time series with Rutgers, 13-3, having won the last 13.  RU took the initial contest, a 19-6 Scarlet Knight victory on the banks of the Ol' Raritan way back in 1920.  RU then won 20-13 in 1953.  The teams would not meet again until they both joined the Big East, and Rutgers won on the last play in that infamous 50-49 Halloween Homecoming game in 1992.
Virginia Tech has owned the Scarlet Knights ever since, ripping off 13 straight wins, with most of them by comfortable margins.  The most recent meeting was that ugly 13-10 Hokie victory in the Russell Athletic Bowl of 2012.  I expect this game to most resemble that one, and if you asked me to predict a winner right now, I would most likely flip a coin.
It's a 3:30 kickoff on the Big Ten Network, so tune in Hokie fans.  Remember, the most important game on the schedule is THE NEXT ONE…Let's Go Hokies!
To read more of my articles on Virginia Tech football, click here.