As part of the college football offseason each conference chooses the best projected players for the upcoming year. USC players were well represented on the preseason All-Pac-12 team.
Whether it's based on last season or the potential of promising freshmen, it's always interesting to see who lives up to their expectations and who was overlooked.
Offense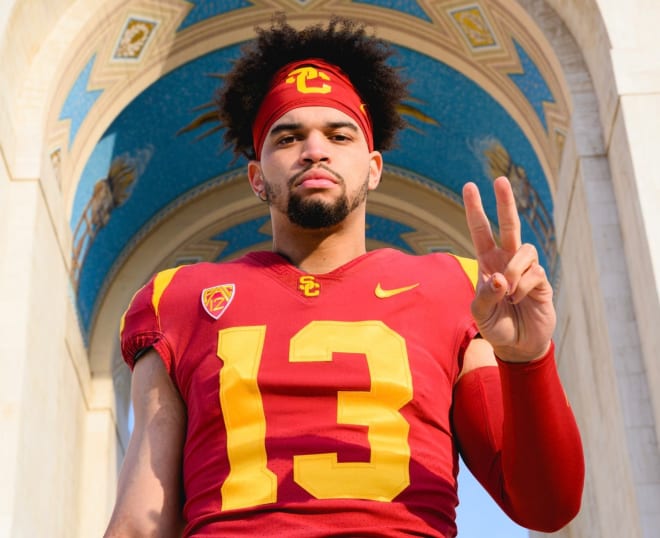 The trojans had four members on the first team offense. Sophomore quarterback Caleb Williams, junior wide receiver Jordan Addison, sophomore WR Mario Williams and redshirt senior offensive lineman Andrew Vorhees.
Last year at Oklahoma Williams (Caleb) passed for 1,912 yards with 21 touchdowns and four interceptions. He also completed 64.5 percent of his passes and rushed for 442 yards and six TDs. Addison at Pittsburgh won the Biletnikoff and had 100 receptions for 1,593 yards and 17 TDs, he also rushed for 56 yards and a TD.
Williams (Mario) at Oklahoma had had 35 receptions for 380 yards and four TDs, he also rushed for 12 yards. Vorhees has 44 starts under his belt was part of multiple All-Pac-12 teams by the end of the season last year.
USC also had two members on the second team offense. Redshirt senior running back Travis Dye and redshirt senior OL Brett Neilon.
Last season at Oregon Dye rushed for 1271 yards and 16 TDs, he also had 46 receptions for 402 yards and two TDs. A three year starter, Neilon has made multiple All-Pac-12 teams the last couple of seasons.
Junior WR Gary Bryant Jr. was the lone USC All-Pac-12 team honorable mention. Last season he had 44 receptions for 579 yards and seven TDs, he also rushed for one three yard TD.
Defense
USC had only junior defensive lineman Tuli Tuipulotu on the first team defense. He had 48 total tackles. Seven and a half of them were for loss and five and a half were sacks. He also forced two fumbles, one of them he recovered and returned for a TD.
While redshirt senior defensive back Mekhi Blackmon was the lone member on the second team defense. Last year at Colorado Blackmon had one Int, four passes defended and a fumble recovery. He also had 41 total tackles.
The trojans also had four players as defensive honorable mentions. Redshirt senior defensive lineman Nick Figueroa, redshirt senior defensive lineman Solomon Byrd, sophomore linebacker Korey Foreman and redshirt sophomore Xavion Alford.
Last season Figueroa had 16 total tackles and three and a half of them were for loss. Byrd at Wyoming had 37 total tackles. Three and a half of them were for loss and three and a half of them resulted in a sack.
During the season last year Foreman had 11 total tackles. Three and a half of them were for loss and two and a half of them resulted in sacks. Alford had three Ints, three passes defended and had 31 total tackles.
Special Teams
Only Dye represented USC on the first special teams unit as an all-purpose special teamer.
Bryant Jr. was the lone trojans player on the second special teams unit as the return specialist. Last season he had 16 kick returns for 413 yards and 11 punt returns for 50 yards.
Junior WR Brenden Rice was the only USC honorable mention special teamer, as a return specialist. Rice had 17 returns for 469 yards while at Colorado last year.
Make sure to continue following USC here at Gridiron Heroics, here's an article on the recent USC commitment of a four star offensive lineman.
For More Great Football Content
Follow us on Twitter at @GridironHeroics for more great content. We appreciate you taking time to read our articles. To interact more with our community and keep up to date on the latest in Football news, JOIN OUR FREE FACEBOOK GROUP by CLICKING HERE
Checkout our latest podcast!
[powerpress_playlist limit=1]