Dallas Cowboys cornerback Trevon Diggs appeared to sustain a major injury during Thursday's practice ahead of their Week 3 game against the Arizona Cardinals. The Cowboys head into Week 3 as one of the best-looking teams in the league. And the defense has been phenomenal to start the season.
Trevon Diggs was injured at Thursday's Dallas Cowboys practice
However, an injury during practice Thursday could put a cloud over the defense, especially in the secondary. According to Michael Gehlken with the Dallas Morning News, Diggs was injured while doing a 1-on-1 drill. Diggs left the facility on crutches.
Cowboys CB Trevon Diggs was injured today early in practice during a 1-on-1 period, people familiar with situation said. He is currently being evaluated. Diggs was seen on crutches after practice.

— Michael Gehlken (@GehlkenNFL) September 21, 2023
According to Ian Rapoport with the NFL Network, the injury is serious enough that Diggs will have an MRI on his knee Thursday.
Trevon Diggs is undergoing an MRI on his knee following practice… https://t.co/0KsrX2yEOX

— Ian Rapoport (@RapSheet) September 21, 2023
Per Tom Pelissero with the NFL Network, the Cowboys are afraid Diggs tore his ACL.
The #Cowboys fear that Pro Bowl CB Trevon Diggs suffered a torn ACL in practice today, sources tell me and @RapSheet. pic.twitter.com/ZbZvotcQTy

— Tom Pelissero (@TomPelissero) September 21, 2023
The news seems to cast doubt on the likelihood Diggs will be able to play against the Cardinals. Depending on what the MRI shows, Diggs could miss even more time.
That would be troubling to a Dallas defense that Diggs has played a vital role in making one of the best units in the NFL. Diggs earned a first-team All-Pro nomination for the 2021 season and made the Pro Bowl in the previous two seasons.
Per Our Lads, rookie Eric Scott, the Cowboys sixth-round pick in this year's draft, is listed as Diggs backup.
Update:
Per Pelissero, the MRI confirmed Diggs suffered a torn ACL injury.
More on stunning news for the #Cowboys, who have lost Pro Bowl CB Trevon Diggs for the season with a torn ACL suffered in practice today. https://t.co/4orGfvNSNu

— Tom Pelissero (@TomPelissero) September 21, 2023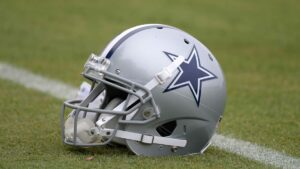 For More Football News:
Follow me on Twitter at @JordanSig. You can also reach out to Jordan Sigler via email at jordanmsigler@gmail.com. To read more of our articles and keep up to date on the latest in college and NFL news, click here!