The Dallas Cowboys reportedly lost a sack specialist they wanted to retain this season to the Indianapolis Colts Wednesday. The Cowboys have a pretty stacked pass-rushing group with All-Pro Micah Parsons and DeMarcus Lawrence on the defense. But the Cowboys were trying to stockpile talent on the practice squad before the season.
One player who caught the Cowboys' eye this summer was Florida A&M standout Isaiah Land. The Cowboys signed him as an UDFA following April's draft. Land didn't make the 53-man roster before Tuesday's deadline and went to the waiver pool.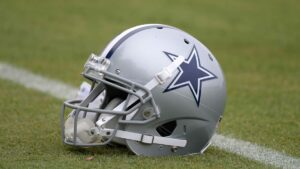 The Dallas Cowboys lose Isaiah Land to the Indianapolis Colts
According to Patrik Walker with the Cowboys, the Colts claimed Land off waivers. The Cowboys were hoping Land would clear the waiver wire and he'd return to Dallas.
Per the NFL waiver wire, the #Cowboys have no players joining via claim.

Notable loss: Isaiah Land grabbed by the Colts. Dallas was hoping he'd clear and return to the practice squad. pic.twitter.com/8IU6z1RMvo

— Patrik [No C] Walker (@VoiceOfTheStar) August 30, 2023
Land has plenty of upside in the NFL. He recorded 29 sacks during his final three seasons with Florida A&M. 19 of those sack came during the 2019 season.
Land would have been an interesting prospect for the Cowboys to develop on the same defense as Parsons. However, that was not in the cards after the Cowboys released him to waivers. We'll see if, in the future, they regret the decision to place Land on waivers.
For More Football News:
Follow me on Twitter at @JordanSig. You can also reach out to Jordan Sigler via email at jordanmsigler@gmail.com. To read more of our articles and keep up to date on the latest in college and NFL news, click here!