Kansas City Chiefs star tight end Travis Kelce answered the question every NFL fan is asking: "Tom Brady or Patrick Mahomes?" Kelce went on the podcast "I AM ATHLETE" and was asked the question which quarterback he thought was the greatest of all time. Like the vast majority of people in the NFL world, he took Brady as the greatest to ever do it. However, he also said that Mahomes could someday surpass Brady as the best to ever do it.
Travis Kelce on the GOAT conversation between #TomBrady and #PatrickMahomes 🐐👀

"I got all the Love for Brady, he is the GOAT. But Pat has the ability to find a way to get things done. He'll catch Brady in all the accolades." pic.twitter.com/1Mbcea3Klm

— I AM ATHLETE (@IAMATHLETEpod) October 24, 2023
Travis Kelce Comments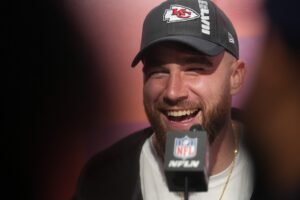 In Kelce's words, he had this to say about the GOAT debate:
"Obviously I got all the respect for Tom Brady. I wasn't able to get him in the playoffs, so I've Tom Bradyed multiple times in my career, I got all the love for him. He's the GOAT and the best to ever do it but I think right now the rate that Pat is at, how he's doing it, I think it's a little more all on Pat than it was on Brady."
"I just think one-five has an ability to find a way to get things done even when it breaks down or he's got to make this crazy throw across the field, and that's just something you haven't seen in the NFL, and he's been doing it since his first snap, and I think he's going to play a long, long time."
"So I think he'll catch him in all the accolades, but I think the biggest thing is always going to be those Super Bowls. That's a lot of Super Bowls."
Tom Brady and Patrick Mahomes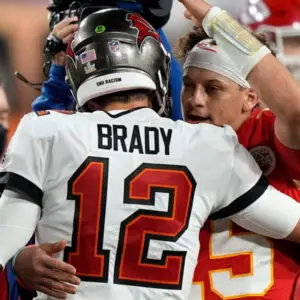 Mahomes as we all know has been playing at a higher level than anyone else in the league since he started playing. He has amounted to five Pro Bowl selections, two NFL MVPs, and two Super Bowl championships in his first five seasons as the Chiefs' starter.
Mahomes still has a lot of catching up to do if he wants to surpass Brady, though, and he will have to consistently play at this high level for his entire career. Brady retired with 15 Pro Bowl selections, three MVPs, and seven Super Bowl titles.
For Additional Content
Please go and follow me on Twitter @TaylorHartmaNFL for more NFL news and updates. If you have any further personal questions or comments for Taylor, connect with him on Linkedin. For more articles on the NFL, go to this site here! Also, go check out our podcast @FSHeroics!