Texas A&M Head Coach Jimbo Fisher has been a key asset in bringing in talent to Texas A&M's football program. Fisher surprised everybody when he was able to bring in the number one recruiting class in all of college football. With great recruiting comes high expectations for the Aggies. Every number one recruiting class since 2011 has won a National Championship within four years. This includes the 2021 Alabama number 1 recruiting class that made it to the National Championship as freshmen. For the Aggies, the most significant mystery is who will be the starting QB come week one vs Sam Houston. The Texas A&M QB situation could be the make or break scenario for this extremely talented roster. Currently, three QBs are in competition for the starting role…
Texas A&M QB Haynes King (Entering Junior Year)
King won the starting job in 2021 and he took first-team reps in the fall and the spring. King suffered a lower-leg injury against Colorado of the 2021 season which kept him out for the rest of the season. It is likely that Haynes King will be the week one starter for the Aggies given his experience and ability.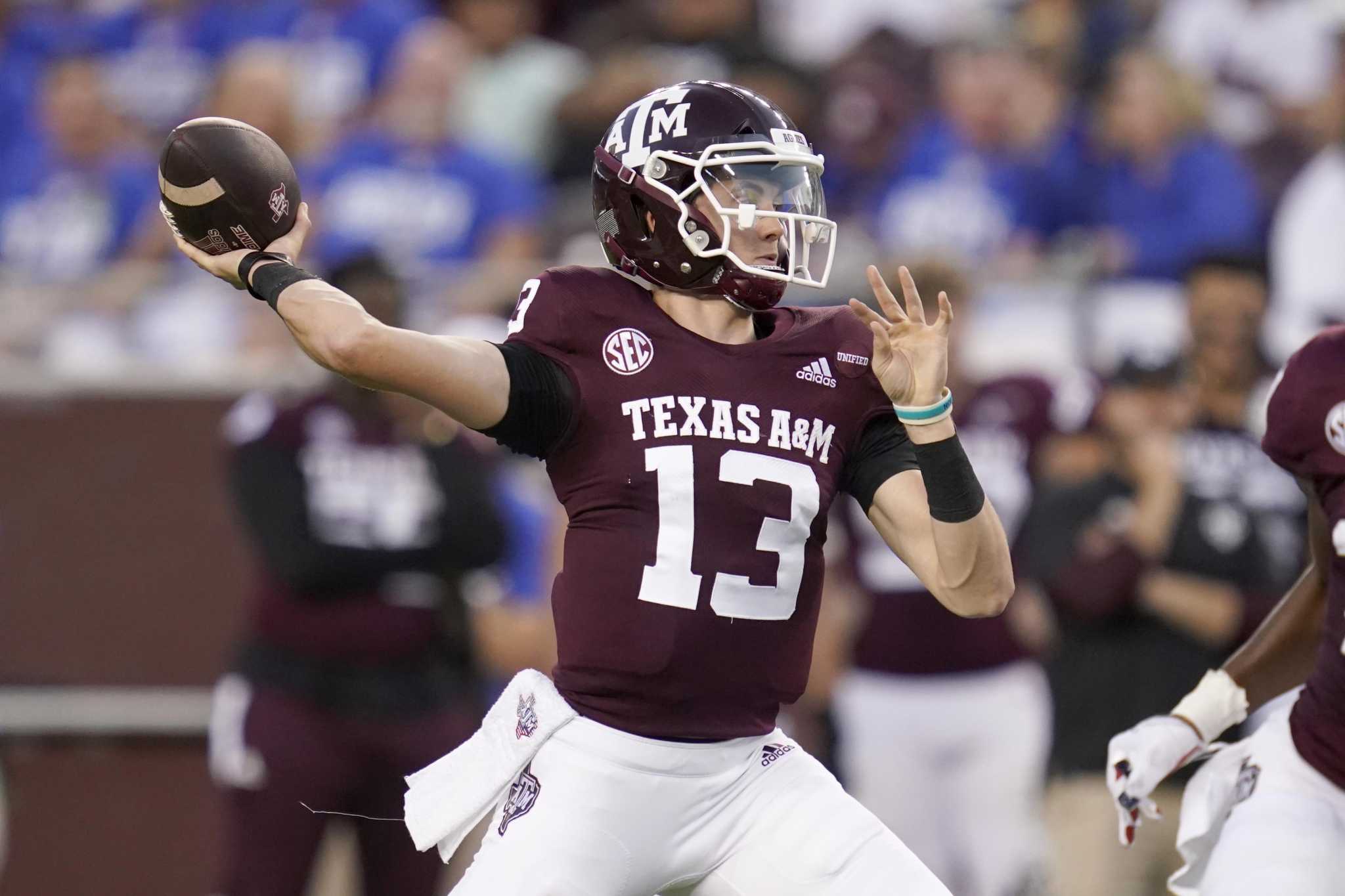 Texas A&M QB Max Johnson (Transfer from LSU)
Johnson transferred to Texas A&M from LSU in December of 2021. Max's younger brother Jake Johnson, who is a top tight end prospect, signed with the Aggies shortly after Max Johnson announced his transfer. Interestingly, Jimbo Fisher has only started one transfer QB in his career as a coach. That transfer was Everett Golson who played at Florida State in 2015.
Johnson threw for 3,384 yards with 35 touchdowns and seven interceptions during his time at LSU. Johnson has shown a great arm and ability to throw the deep ball. A solid Aggies support system on offense could be what he needs to get to the next level.
Thankful! Let's go! @AggieFootball @Hayesfawcett3 #GigEm #12thMan pic.twitter.com/VoLRUNnqfV

— Max Johnson (@MaxJohnson14) December 17, 2021
Aggies QB Conner Weigman (True Freshman)
Weigman is by far the wild card of all 3 potential starting QBs for Texas A&M. Weigman is rated the country's number two overall quarterback recruit. He's also the Aggies best rated QB recruit since QB Kyle Alien back in 2014. Jimbo Fisher had high praise for Weigman because of his strong spring ball performance.  Summarizing Weigman's spring performance, Fisher stated, "he had an outstanding spring for a freshman." There was "a lot of consistency" in his play.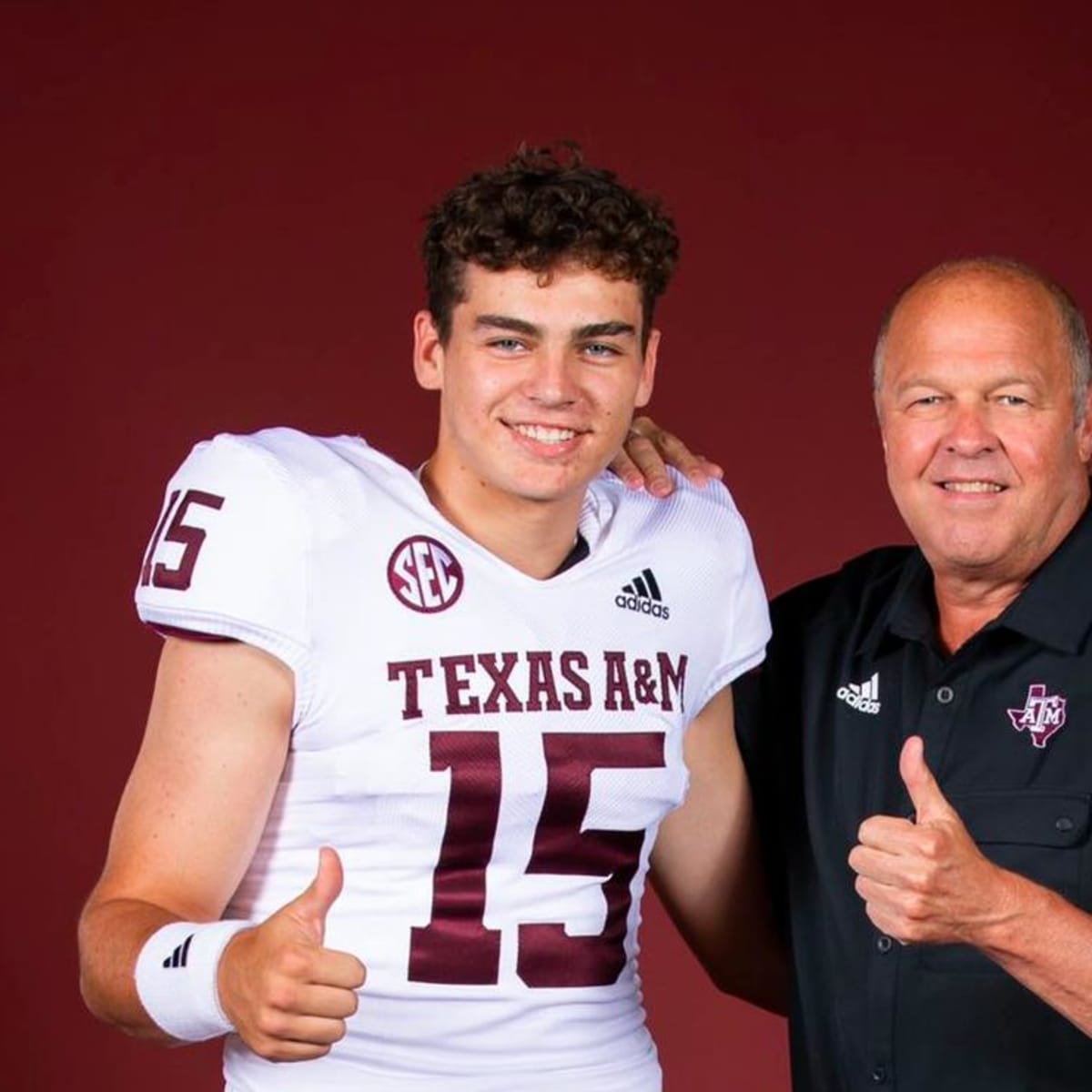 The Aggies QB competition is intriguing to say the least. Regardless of who starts week one vs Sam Houston, it seems like the Aggies have plenty of options at the QB position.
Texas A&M Football Schedule 2022
Week 1-September 3, 2022 (vs Sam Houston)
Week 2-September 10, 2022 (vs Appalachian St)
Week 3-September 17, 2022 (vs Miami (Fla))
Week 4-September 24, 2022 (vs Arkansas)
Week 5-October 1, 2022 (@ Miss. St)
Week 6-October 8, 2022 (@ Alabama)
Week 7-October 22, 2022 (@ South Carolina)
Week 8-October 29, 2022 (vs Ole Miss)
Week 9-November 5, 2022 (vs Florida)
Week 10-November 12, 2022 (@ Auburn)
Week 11-November 19, 2022 (vs Massachusetts)
Week 12-November 26, 2022 (vs LSU)
For More Great Football Content
Follow us on Twitter at @GridironHeroics for more great content. We appreciate you taking time to read our articles. To interact more with our community and keep up to date on the latest in Football news, JOIN OUR FREE FACEBOOK GROUP by CLICKING HERE
Checkout our latest podcast!
[powerpress_playlist limit=1]