Nick Bosa and the San Francisco 49ers sent shockwaves across the football world on Wednesday after both sides finally ended their high-profile contract holdout. The All-Pro defensive lineman agreed to a massive $170 million contract extension with the Niners, making him the highest-paid non-quarterback in the entire NFL.
Nick Bosa's Status in San Francisco 49ers Practice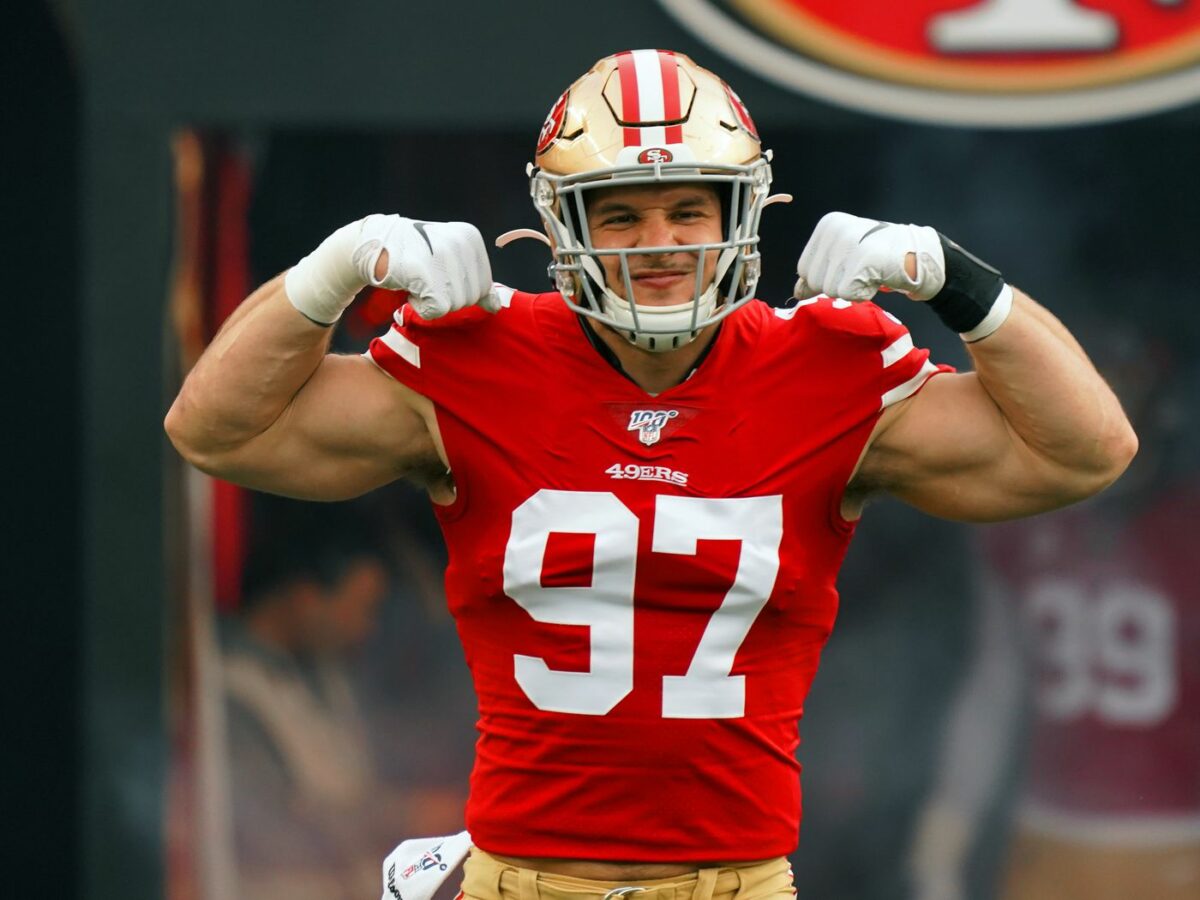 Bosa's contract holdout ended just four days before the 49ers take the field for the first time this season. This comes in the form of a much-anticipated Week 1 matchup against the Pittsburgh Steelers. Given the timetable, it's no surprise that there was some doubt regarding Bosa's playing status for the season opener.
The reigning Defensive Player of the Year joined his team for practice for the first time on Thursday following his offseason contract saga. According to Charean Williams of PFT, however, Bosa was NOT a full participant in practice:
"He began practice inside the weight room with the strength and conditioning coaches before walking outside to the field, where he is working with the athletic training staff on the side," Williams wrote.
The 49ers are probably easing their star player back in following his extended absence. This is Nick Bosa we're talking about here, though, so you just know that he has been keeping in shape in the offseason in spite of his predicament.
Will Nick Bosa Play on Sunday Vs. Steelers?
Now that all the contract drama has been put to bed, Bosa is on track to play on Sunday against Pittsburgh. Head coach Kyle Shanahan has always been confident of his star DL's status for the game, and at this point, Bosa's availability for the season opener is all but official.
As mentioned previously, the 25-year-old has definitely been working out throughout the offseason even if he wasn't with the team. Nevertheless, there's no denying that there's just no replicating an actual practice session with a full NFL squad, as well as an actual preseason game. As such, it currently remains unclear how much he will play on Sunday. Bosa will be on the field, but it won't be surprising if he doesn't get his usual full workload.
For More Of My Content
Follow me on Twitter at @PaoloSongcoNBA. You may also reach out to me personally at pao.songco@gmail.com.