Now that his contract holdout with the San Francisco 49ers is over, Nick Bosa has officially become the highest-paid non-quarterback in the history of the NFL. He now also has full rights to speak to Niners fans again with ease. Not that he didn't have this privilege during his contract dispute, but now that that's over, at least the reigning Defensive Player of the Year is able to converse with supporters without any lingering feeling of uncertainty.
Nick Bosa Expects San Francisco 49ers Fans to Turn Up in LA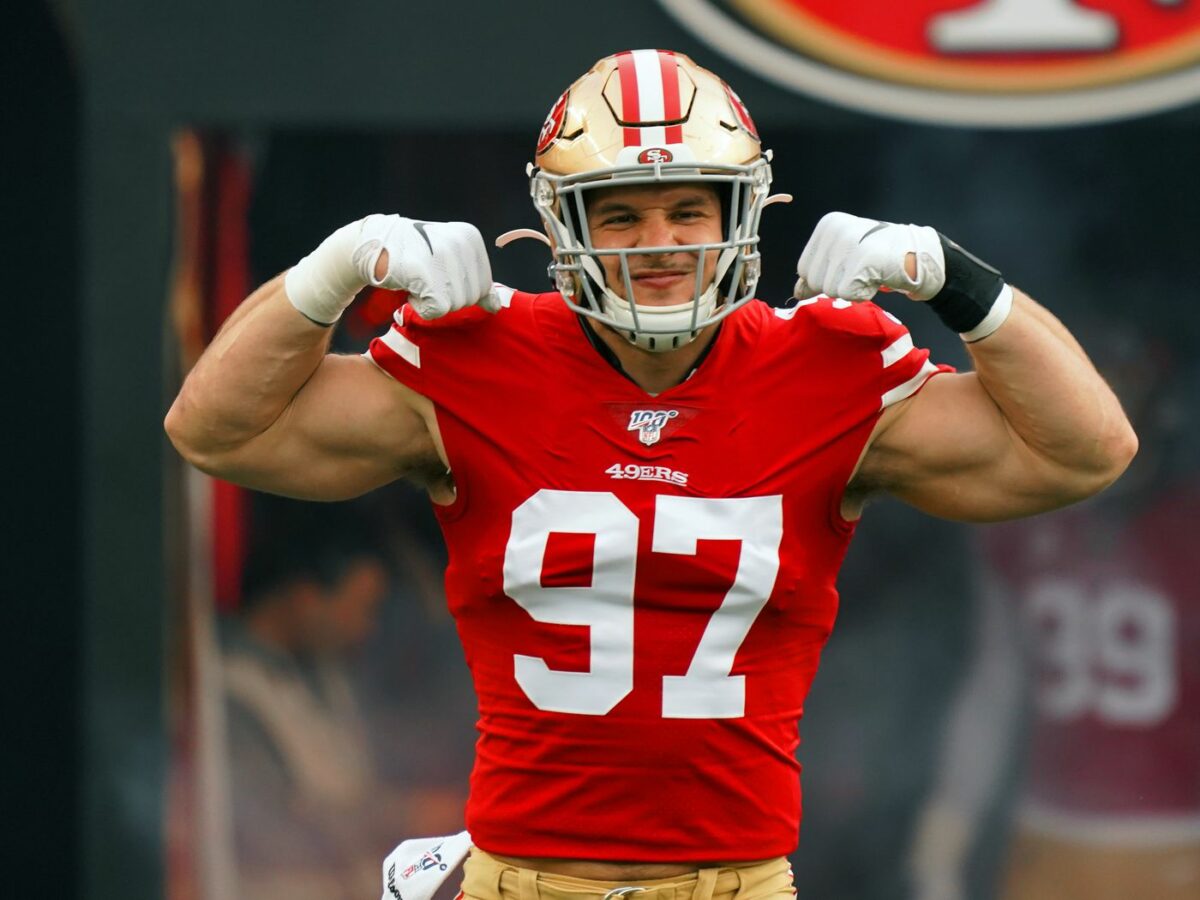 As such, Bosa decided to send a strong message to 49ers fans ahead of their Week 2 matchup against the Los Angeles Rams. The All-Pro edge rusher liked what he saw from the supporters in their season opener against the Pittsburgh Steelers at the Acrisure Stadium, and he now expects more of the same when the Niners travel to Los Angeles to face off against the Rams on Sunday:
"It's great," Bosa said before Wednesday's practice, via David Bonilla of 49ers Webzone. "I think we have the best traveling fan base overall. Pittsburgh was impressive, and I think we'll take over L.A."
"It's great. We have the best traveling fanbase overall. Pittsburgh was impressive and I think we'll take over L.A."

Nick Bosa keeping it 💯 on 49ers fans pic.twitter.com/e9cWCbM3Mr

— 95.7 The Game (@957thegame) September 13, 2023
This now seems like a virtual certainty as opposed to a hopeful whim. After all, history tells us that San Francisco fans travel well. This has especially been the case against the Rams, with a ton of 49ers fans residing in Southern California.
They have done it in the past, and it is looking like the Niners faithful will once again dominate SoFi Stadium come Sunday — especially since Nick Bosa himself has now called upon them to do so.
San Francisco will look to go 2-0 with a win against the Rams, who themselves are coming off an impressive Week 1 win over the Seattle Seahawks.
For More Of My Content
Follow me on Twitter at @PaoloSongcoNBA. You may also reach out to me personally at pao.songco@gmail.com.