The Tennessee Vols have done it again! Last night's game against the Akron Zips ended with a 3-0 start to the season for the Vols. The teams played to a sold out Neyland Stadium and Tennessee's offense highlighted strengths in its starters as well as its back-up players. And, with the final score in the 60s, the Vols secured their biggest win for the season so far. Tennessee has secured three consecutive wins, hopefully a sign of a great season to come as SEC play begins this coming Saturday. But for now, my focus is on a Tennessee vs. Akron recap; let's get into it.
Tennesse vs. Akron Recap: What Worked
This week, Tennessee's offense and defense came to play and they did not disappoint. A 63-6 victory, this game added plenty of big plays to the Vols' highlight reel.
In the first 30 minutes of the game, Hendon Hooker threw for 251 yards and two scores. By the end of the night, he'd thrown for 298 yards and extended his streak of games with a touchdown pass to 15. All in all, Hooker had a great night.
Junior WR Jalin Hyatt had a huge night for the Vols. Hyatt caught five passes for 166 yards and two touchdowns, one on a 57 yard pass from Hooker. Hyatt acknowledged that this was a great game for him but that there is still work to do heading into tougher SEC play. Coach Josh Heupel lauded Hyatt's performance saying, "I trust him. He understands what we're doing. I'm proud of the way he played tonight." With 18 receptions, 267 yards, and three touchdowns this season, Hyatt has–in three games–almost matched his two previous seasons with the Vols. Saturday's explosive performance from Hyatt was a long time coming.
The Vols spent the evening focusing on their run game and finished the first half with 165 rushing yards. As expected, they substituted freely in the second half and the back-up players didn't disappoint.  RB Jaylen Wright led the Vols to victory with 96 yards and two touchdowns. Joe Milton III had a solid night too, throwing a 57-yard pass to Ramel Keyton for a touchdown. Freshman Dylan Sampson filled in for Jabari Small following Small's game-ending injury in the first half and had two scores for the Vols.
The Zips didn't have an answer for the Vols, and Tennessee finished the night with 676 total yards.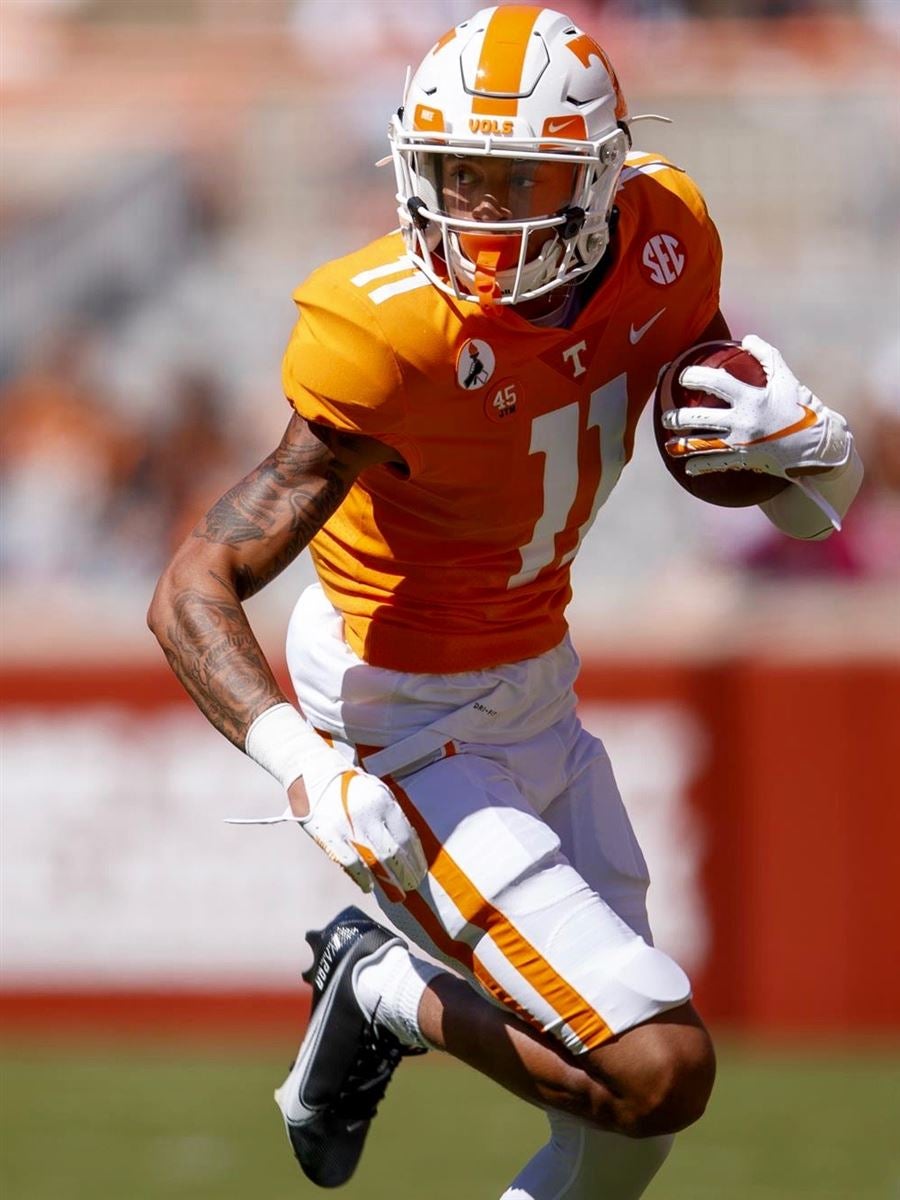 Unexpected Exits
Running back Jabari Small was forced to exit the game in the first half with an injury to his right arm. Wide receiver Cedric  Tillman also exited the game in the first half with an injury to his left knee. Coach Heupel did not anticipate that these would be significant injuries but neither player returned for the second half. Considering Tennessee led 35-0 at the half, it's not likely these players would've seen much field time in the second half anyway but hopefully they'll be able to return in this week's showdown against the Gators.
In an odd turn of events that made zero sense, WR Jimmy Calloway literally came out swinging, throwing five punches at an Akron DB in the third quarter before being ejected from the game altogether. Penalties were an issue in general but this one was just stupid; this can't happen in games of greater importance, for Calloway or anyone else.
Tennessee vs. Akron Recap: What To Work On
Tennessee's offense exploded once again and last night, their defense put in the work too. They put on an outstanding show against the Zips and did a lot of things well. But, nobody's perfect.
Tennessee did come away from this game with no turnovers which is a positive. Most of their mistakes weren't serious and didn't come until the win was in the bag. However, they did have 11 penalties for 118 yards which is far too many to go unmentioned.
Aside from the Calloway penalty, Bru McCoy had a touchdown catch wiped out for offensive pass interference. McCoy then had another pass interference on the next drive.
Akron's two trips to the red zone were brought to them in part by penalties by Tennessee's safeties. Jaylen McCollough had a holding penalty on the drive which ended in a fumble. Trevon Flowers also had a pass interference on their first field goal drive.
Tennessee has to clean up careless mistakes like this as they prepare to take on Florida.
Vegas Recap
In my preview article on this game, the Vegas odds per FanDuel Sportsbook had the Vols favored at -47.5. I took the spread and once again, the Vols delivered!
So far, the Vols are 3-0 and so am I.
But, Saturday begins SEC play. The Vols will face the Gators and another sold out crowd in a bid to take back bragging rights until next season at least. The games are getting harder, and the stakes higher.
Looking Forward
Coming up, Tennessee will take on the Florida Gators in Neyland Stadium. All 101,915 tickets have been sold for this game as of Wednesday morning. This game will be the CBS Game of the Week. And, for the first time since 2016, College Gameday is headed to Knoxville.
Right now, Tennessee is ranked No.15 and Florida is ranked No.18. With both teams ranked in the top 20 and Tennessee winning only one of the last 17 matchups against Florida, this Saturday is a big deal for both teams.
The Vols are on a 3-0 hot streak for 2022. The Gators rose through the ranks to crack the top 25 after a week one upset against Utah but they've struggled to replicate that success in the weeks following. Now, they'll head to Knoxville for one of the most highly anticipated SEC games of the season.
For a full game preview and updates on Vegas odds, check out the University of Tennessee on Gridiron Heroics ahead of Saturday's kick off!
For More Great Football Content
Follow us on Twitter at @GridironHeroics for more great content. We appreciate you taking time to read our articles. To interact more with our community and keep up to date on the latest in Football news, JOIN OUR FREE FACEBOOK GROUP by CLICKING HERE
Checkout our latest podcast!
[powerpress_playlist limit=1]