Well ladies and gents, it's officially that time: the NFL playoffs are here. 32 teams started the season with Super Bowl aspirations, but now, only 14 remain to battle for the title. In one of the wildest NFL seasons in recent memory, this year's playoffs seem destined for the same fate, leading to one major question: who really is the best?
In a month's time, that question will be unarguably answered. However, for now, we've got all the time in the world to speculate. Below are Kyle Starrett's power rankings headed into the postseason.
14. Seattle Seahawks
As the last team into the NFL playoffs, the Seahawks have a real uphill climb if they want to make any noise. Led by resurgent quarterback Geno Smith, Seattle has surpassed all expectations this year, but now face the red-hot 49ers in round one. The 49ers have already beaten Seattle twice this year, and although anything is possible, a three-peat is a pretty safe bet. It's been a great season for Seattle, but their postseason likely won't last very long.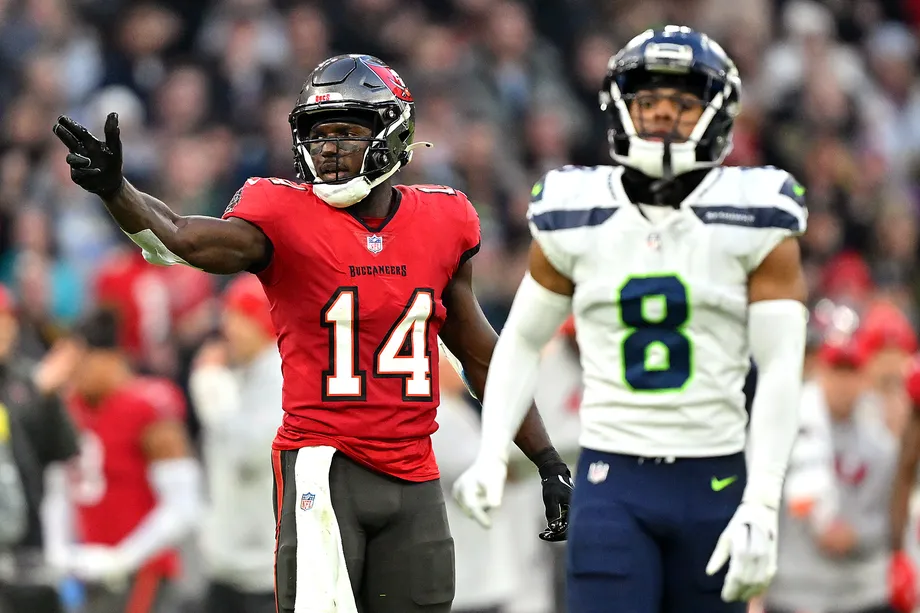 13. Tampa Bay Buccaneers
I almost wanted to put Tampa at 14. If it weren't for multiple last-minute wins against objectively bad opponents, they likely wouldn't be here. However, they managed to sneak in and might honestly be able to make it out of the first round. The roster consists of multiple-time Super Bowl winner Tom Brady surrounded by a bevy of offensive talent with a strong defense opposite of them. Based on that alone, they can cause some damage. They've already beaten the Cowboys once this year, so even though I don't think they get much further than round two, I definitely think they have a chance in the wildcard round.
12. Miami Dolphins
Miami and the number 11 team on this list might as well be tied because they have the same problem: quarterback health. Tua Tagovailoa is uncertain to come back this week from yet another concussion, but even if he does, who's to say he plays up to his regular season level. With Tua in the lineup, the Dolphins can be dangerous, but if he is either injured or regressed, they stand no chance against Buffalo. For the sake of our viewership, let's hope for the former.
11. Baltimore Ravens
I gave the edge to Baltimore because I think they have a slightly better defense than Miami, but the reason they're this low is the same: no Lamar Jackson, no win. With Lamar, I actually think the Ravens have a decent shot to upset the Bengals–they're a fairly complete roster with, despite lacking the receiving talent, explosive playmakers all over the field. This roster is dangerous, but if the signal caller isn't available, they've got no shot against one of the league's best teams in Cincinnati.
10. New York Giants
The Giants are a weird case of a fairly run of the mill roster being elevated by elite coaching. We see another example of this in San Francisco where the 49ers are still seeing great success with rookie Brock Purdy under center. However, the Giants are not the 49ers–their roster has too many holes for them to make a deep playoff run. I'll give them credit though; they've exceeded all preseason expectations and absolutely deserve to be here. Brian Daboll is my pick for Coach of the Year for what he's been able to do with this team, and hey, they could even win a playoff game against a struggling Vikings team.
9. Los Angeles Chargers
What a weird team. The Chargers have looked like a top team in the league at times but have also managed some incredibly embarrassing loses. It's impossible to solve this team. Justin Herbert is still great, as is much of his supporting cast, and yet I still don't really believe in LA. Maybe the Chargers catch fire heading into Jacksonville–they could be a legitimate threat to Kansas City heading into the divisional round. However, given their inconsistency (and injury proneness), I wouldn't bet on them.
8. Jacksonville Jaguars
In what might be the greatest turnaround of the season, the Jaguars are in the postseason and aren't going to go down easily. Trevor Lawrence and Doug Pederson have changed the tides in Jacksonville and, despite the roster still needing work, have made Jacksonville a real wildcard in this this year's postseason. Maybe they don't make it very far–the odds have their round one game against LA as a coin flip–but the fact that they're here in what was an obvious rebuilding year is beyond impressive. Don't expect them to take their foot off the gas now.
7. Minnesota Vikings
It's tough to say if the Vikings are good or not–they really haven't won convincingly all season–but they're 13-4 and hold the NFC's three seed. Kirk Cousins has been solid this year, and Justin Jefferson is likely to win Offensive Player of the Year, but man, that defense is awful. It's hard to see the Vikings continuing to win the way they have all season in the playoffs, and honestly, I think the Giants upset them round one. Sorry Vikings fans.
6. Dallas Cowboys
The Cowboys play like either the best team in the league or the worst, there is no in between. When Dallas is on, their ceiling is higher than anyone's, which makes sense looking at their roster. There really aren't any holes in it. However, almost unexplainably, they can't manage to play consistent football. Maybe it's coaching or maybe it's Dak Prescott being as bad as his critics say he is, but either way, the Cowboys are a hard team to trust going into the postseason. A performance like their week 18 bout against Washington, and they could easily lose round one to the lowly Buccaneers.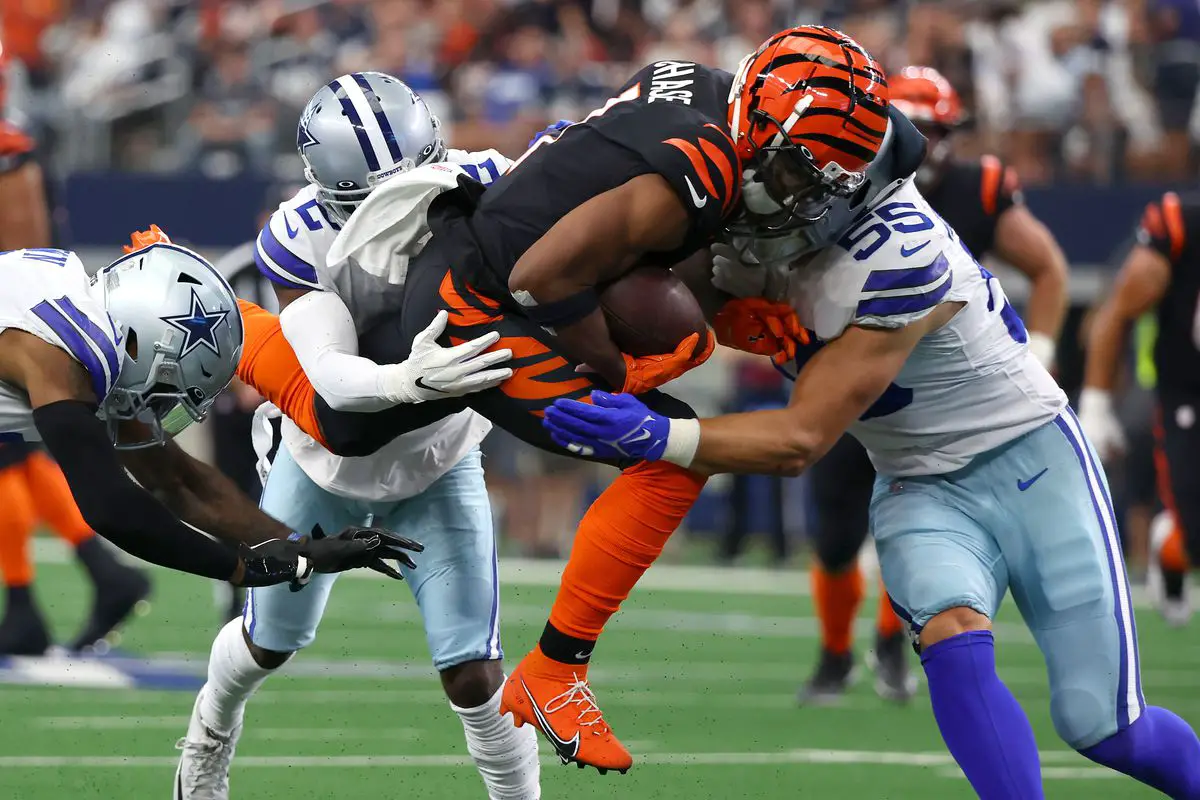 5. Cincinnati Bengals
The Bengals are entering the playoffs off of eight straight wins and look as good as ever. Joe Burrow and co. are back to being their high-powered selves and are looking to capture the same magic they found in 2022. It's hard to bet against this team, even facing the Chiefs and Bills, because at their best, they might honestly be better than both. As long as the defense plays well enough, they're a really tough team to stop.
4. San Francisco 49ers
With perhaps the top defense in the league and arguably the best head coach in Kyle Shanahan, the 49ers are going to be a tough out in the playoffs. However, the reason they sit outside of the top three on this list is because of their quarterback, Brock Purdy. Purdy, the last pick of the 2022 draft, has outperformed all expectations up to this point, mostly due to the incredible system of Shanahan. However, while he has played well, Purdy's lack of playoff experience and limited resume against top competition doesn't inspire much confidence going forward. The 49ers are absolutely a contender to go to the Super Bowl, but I'm taking the surer bet above them for now.
3. Philadelphia Eagles
The Eagles held the NFL's best record for most of the season and for good reason. This roster is loaded, with rising star Jalen Hurts surrounded by an elite supporting cast, great o-line, and top five defense. On paper, Philadelphia is the NFC's best team by a pretty large margin. However, the one thing that has held the team back consistently is coaching.
Head coach Nick Sirianni, offensive coordinator Shane Steichen, and defensive coordinator Jonathan Gannon have all proven to be bright, young coaches, with the latter two seemingly destined for head coaching roles. However, all are very inexperienced and have shown that time and time again this season. If the staff can game plan effectively, this team is bound for Arizona come February.
2. Buffalo Bills
Unsurprisingly, the preseason Super Bowl favorite Buffalo Bills are really good. Josh Allen and co. have been as good as advertised and the defense, even through injury, has been sharp. Honestly, it's gone about as expected, and that shouldn't change heading into the playoffs. The Bills catch a banged-up Dolphins team in round one, a team that could give them some trouble if Tua plays. However, I'm not too concerned about this one–the Bills are destined for a deep playoff run.
1. Kansas City Chiefs
And finally, we have the Chiefs. Led by likely MVP winner Patrick Mahomes, Kansas City is as strong as ever, and given the lack of top teams in this year's tournament, they're likely to make another run at the Lombardi. The Chiefs hold one of the league's two first-round byes, meaning they'll likely catch an overmatched Jaguars or Chargers team in the divisional round. Basically, the Chiefs are a likely candidate for the Super Bowl and, once there, will probably be the favorite. This team is high-powered and very experienced, giving them the leg up on every other team.
For More Great Football Content
Follow us on Twitter at @GridironHeroics for more great content. We appreciate you taking time to read our articles. To interact more with our community and keep up to date on the latest in Football news, JOIN OUR FREE FACEBOOK GROUP by CLICKING HERE
Checkout our latest podcast!
[powerpress_playlist limit=1]