Through the years, I've met many a character as a participant in a fantasy football draft. This opportunity has become more difficult by the day as more and more people are choosing to draft virtually. The act of getting together to drink a few beers and give each other crap is slowly going away.
But to celebrate the era of stale chips, cardboard draft boards, and ten thousand pages of cheat sheets, here is my homage to the in-person draft. These are composite profiles of people you have met at past drafts. I hope you enjoy it.
Fantasy Football Commissioner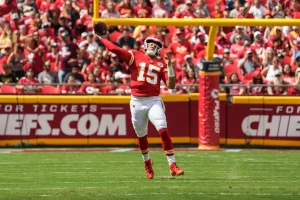 The type of person who chooses to be the commissioner of a fantasy football league usually falls into one of two categories.
Mr. Nice Guy: Wants to please everyone. Generally, the nicest guy in the room. He hosts the event and supplies the food and drink for all of the participants. Amenable to rule changes, and patient to a fault. He listens to all complaints and gripes with a smile. He also invariably ends up chasing two or three people for weeks trying to collect their entry fees.
Mr. My Way or the Highway: Sets the rules, dictates the format and doesn't take any guff. Don't dare question a decision by this guy. Entry fee must be paid before you can enter his house. Food supplied is sparse or none. And don't think about asking this guy for a beer.
Mr. Arrogant: He'll be the first to tell you how many leagues he has won and how bad he is gonna kick your butt. All of his picks are the best or at the very least, the steal of the draft. And all of your picks are worthless and comical. Claims to have discovered Patrick Mahomes, Derrick Henry, and Davante Adams. This fella usually does not make the playoffs.
The Two Brothers
The Two Brothers: Or the two cousins, or two friends, well, you get the picture. Nice guys who bicker til' the cows come home. You have to stop the draft and wait for these two to argue about and make their pick. They fight like crazy but if an outsider picks on one or the other, watch out They are very loyal to each other. As a rule, they are beginners who know about football but haven't mastered the nuances of fantasy football yet.
Mr. 1990: He knows that computers exist, but he doesn't know what for. Buys every fantasy football magazine that is still being printed. He watches SportsCenter, and every cable tv football show there is. He can tell you Tom Brady's shoe size. Sometimes is hidden from view by his large mounds of printed materials.
The Complainer: They complain about everything. He is best friends with Mr. Arrogant. Some of his more frequent complaints are:
The entry fee is too high.
I need more time to make my pick.
You never have any beer that I like.
My team sucks because all of my players are injured.
This person will be the first one to ask for their money after the season ends and the last one to pay if he owes you.
Delay of the Fantasy Football Draft
https://twitter.com/i/status/1525895361012846593
The Human Rain Delay (HRD): How does this guy make it out of the door every morning? He procrastinates about everything. Indecision rules his world. He could have the first pick in the draft, and he will take his full allotment of time before he chooses Jonathan Taylor or Christian McCaffrey. This owner is afraid to drop anyone because another owner will snatch that player up and use him to defeat HRD in their matchup. He might make the playoffs, but he'll be too nervous to enjoy it.
The Female: Again, this is from a bygone era. Generally speaking, there used to be one or two women that would participate in a fantasy football draft. Either they were the significant other of one of the other owners, or perhaps someone's co-worker. Or they were and are, the smart and savvy sports fans who know as much as their male counterparts about fantasy football.
She comes prepared, is a student of the game, and isn't afraid to exchange trash talk. Other owners will ridicule her picks, and then she turns around and dominates her division and wins the Super Bowl. This profile is based on my good friend, Theresa Swanson (Swanee), who always kicks some butt.
The Rest of the Cast
https://twitter.com/i/status/1536503685907288064
The Newbie: This person is usually the friend of another owner. This person is very nice, but doesn't know much about football. They think that Peyton Manning is still in the league. This owner is willing to listen but too easily influenced. They usually have a rough couple of years before they get the hang of it.
The Normals: These owners come prepared, draft intelligently, and are short on trash talk. All of their picks make sense, and they make crafty moves during the year to improve their team. And they almost always contend for the Super Bowl.
There you have it. Do you recognize any of these people? Did you find yourself on this list? This was all done very tongue and cheek, so I hope you enjoyed it. Good luck with your fantasy teams this year.