For the first game of the season New England has to travel to Miami. In recent memory the Patriots always lose on the road to the Dolphins. In the last ten games in Miami, the Patriots are 3-7, losing two in a row. It's an even harder place to play on opening day.
Patriots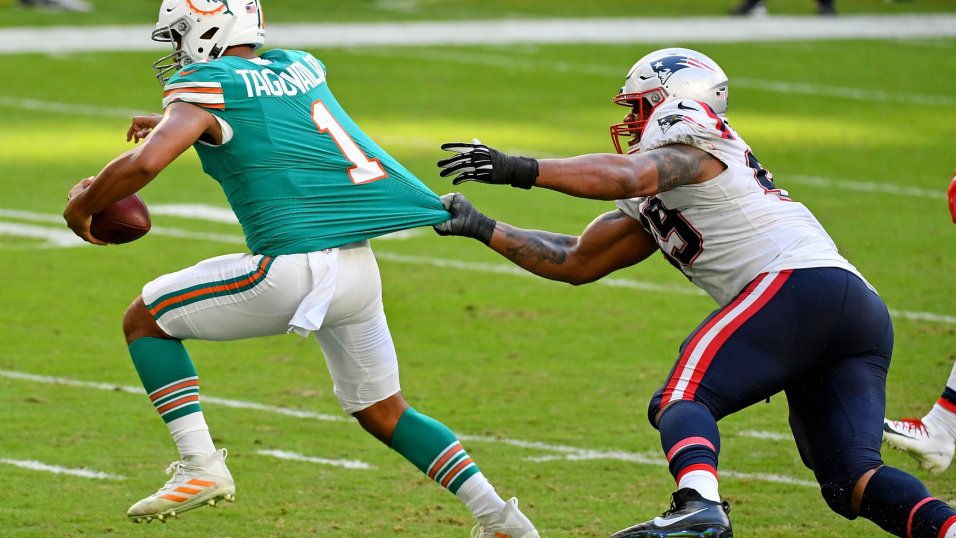 "I think it's always different on opening day. No matter if the coordinator's been there for 10 years it's still opening day, new season, so we'll see what that brings," said New England Patriots Head Coach Bill Belichick.
Tight End Hunter Henry added how every team every year makes adjustments. Teams evaluate themselves every week, let alone every offseason.
Also the NFL has been described as a copycat league, everybody adds everything from everybody. If your team isn't, your rival is.
Belichick isn't worried about what may surprise him week one. Nobody's shown anything leading up to the opening game. Coaches and players start to figure out how the season's going to go every week. At first it's how your opponent operates, then it's how your team honestly operates.
This doesn't mean in-game adjustments are to not be expected. Regardless of the week, teams can always try and improve mid-game.
"I think it's just you have to decide once you see how the game's going what you want to keep in, what you want to throw out or maybe what you might need to add based on the way it's going . . . I can't think of too many opening days that there wasn't in-game adjustments that were an important part of the game," said Belichick.
Belichick also highlighted rookie QB Bailey Zappe and former Dolphins WR Devante Parker. They both are hard working and have a desire to be great.
Defensively he focused on second year DT Christian Barmore, versatile safety Kyle Dugger and veteran defensive end Deatrich Wise Jr. He called them diligent and team-first players.
Linebacker Raekwon McMillan added how accountable the defense is with themselves. They work together as a unit, everybody holds each other to a standard set by teams of the past. It's not about any one individual.
Even with as much media scrutiny as the Patriots offense has received this offseason, Jones is ready to prove the doubters wrong.
"Anything you do you try to be positive and optimistic and just figure out the solution to the issue. That's what every good problem solver does. If there's an issue or something that doesn't make sense, then they find a way to fix it. That's kind of what we're doing and I feel really good . . . just got to do it today," said QB Mac Jones.
Dolphins
"Mike's (McDaniel) influence on the offense is definitely 49ers flavor with what he did with the 49ers and also obviously similar to what it was in Washington, Shanahan system," said Belichick.
Shanahan's system has gotten more popular as the years have gone by. Made famous by 49ers Head Coach Kyle Shanahan's father Mike Shanahan and his Elway led Broncos team's of the 1990s, this particular zone running scheme has been proven in its effectiveness.
Miami added a lot of offensive weapons to try and use the McDaniel offense at full throttle.
Adding WR Tyreek Hill, LT Terron Armstead, LG Connor Williams, RB Raheem Mostert and RB Chase Edmonds to an offense with WR Jaylen Waddle and trying to fit them is a problem every team in the league would like to have.
When Steelers assistant coach Brian Flores left a New England assistant coaching position for the head coaching position of the Miami Dolphins, he took with him multiple assistants Belichick knows like the back of his hand. Dolphins Special Teams Coordinator Danny Crossman and Defensive Coordinator Josh Boyer were two of them.
Crossman was hired by the Dolphins in 2018, he had spent the prior five seasons with the Bills. He's been controlling special teams in the AFC East since 2013, Belichick has had this matchup too many times to not have an inkling on what Miami's going to do on this side of the ball.
Boyer was hired by the Dolphins in 2019 and he was promoted to defensive coordinator in 2020. He spent the 13 seasons prior to his hiring with Miami as a member of the Patriots coaching staff. Belichick knows how Boyer operates, he saw it first hand.
While Miami has a new head coach, lots of players from the Flores era are still there. Most of the players are in sync with each other. Togetherness is definitely an advantage in week one when most teams have to build camrarderie during the season.
"Communication is huge every week but especially this week. They have a great defense, they've played a lot of football together so they're able to communicate really well and we're gonna have to do the same. We're gonna have to have a plan and communicate well when we get out there," said Henry.
Make sure to continue following the Patriots here at Gridiron Heroics, here's an article on why I think the KC Chiefs will win the Super Bowl this year.
For More Great Football Content
Follow us on Twitter at @GridironHeroics for more great content. We appreciate you taking time to read our articles. To interact more with our community and keep up to date on the latest in Football news, JOIN OUR FREE FACEBOOK GROUP by CLICKING HERE
Checkout our latest podcast!
[powerpress_playlist limit=1]