The Arizona Cardinals have recently announced that rookie QB Clayton Tune will start Week 9 against the Cleveland Browns. It is not just his first professional start. Tune will help tie an NFL record by taking his first snap on Sunday.
That record is the most rookie quarterbacks to ever start in one season. Tune has been the ninth different rookie quarterback announced to start a game this season.
What should we know about each quarterback? Can one more rookie quarterback start to break the record? Let's take a look at all of these rookie quarterbacks.
The Stars
There are three clear stars in this rookie quarterback class. Those three got drafted with three of the first four picks of the 2023 NFL Draft. So, who are they?
Bryce Young was the top overall pick for the Carolina Panthers. He had high hopes coming out of the University of Alabama, considering recent quarterbacks from there, such as Jalen Hurts, Tua Tagovailoa, and Mac Jones, have all found success in the NFL. He finally got his first NFL win last week against the Houston Texans.
Speaking of the Texans, C.J. Stroud was taken by them with the second overall pick. Right now, he is the favorite to win Offensive Rookie of the Year. Considering it took six starts for him to throw his first interception, it is safe to say that he is living up to the hype so far.
Then, there is Anthony Richardson. He was arguably the most surprising of these three, getting drafted fourth overall by the Indianapolis Colts. Unfortunately, he is likely out for the season due to a shoulder injury. However, there are still high hopes out in Indianapolis for Richardson to succeed in the future.
The Questionable
Three more rookie quarterbacks have already started games this season. However, there are more question marks as to whether these quarterbacks will keep starting positions permanently.
Will Levis of the Tennessee Titans arguably has the most stability of any quarterback in this group. While he was not the Week 1 starter, he is slowly proving that he belongs in the NFL. He has 500 passing yards, four touchdown passes, and just one interception in two starts. Right now, it is looking more and more likely he will keep the starting job for the rest of the season.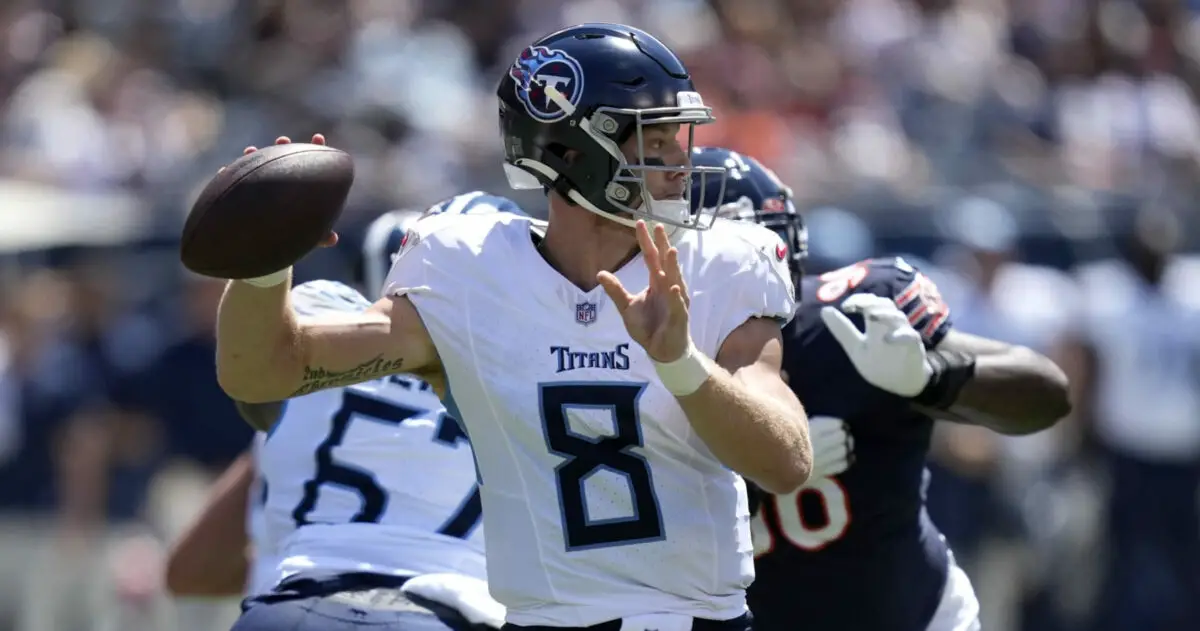 Then, we have Tyson Bagent of the Chicago Bears. While he had a great debut against the Las Vegas Raiders in Week 7, he arguably got exposed last week against the Los Angeles Chargers. With starting QB Justin Fields starting to practice again, he may not keep the job for much longer.
Finally, we have Dorian Thompson-Robinson. He started one game for the Cleveland Browns this season, and it did not go well. During the Week 4 loss against the Baltimore Ravens, he had just 121 passing yards, three interceptions, and a 52.8 completion percentage. He has not started another game since, despite starting QB Deshaun Watson having prior health concerns.
The Unknowns
Clayton Tune is making his first professional start tomorrow for the Arizona Cardinals. However, he is not the only quarterback making his first start that day. The Las Vegas Raiders are sending out rookie Aidan O'Connell, and the Minnesota Vikings are sending out rookie Jaren Hall.
Of these three, O'Connell arguably has the best chance to retain the job. However, he must still prove he can help the Raiders win football games. Arizona still has star QB Kyler Murray recovering from an ACL injury, and the Vikings just traded for QB Joshua Dobbs. So, there is no guaranteed timeline for the other two quarterbacks.
On top of this, there are still five more rookie quarterbacks who have yet to make a start. Can one of them do so to help break this NFL rookie record? One quarterback I would keep an eye on is Green Bay Packers QB Sean Clifford. With the Packers having a 2-6 record and showing frustration with current starting QB Jordan Love, do not be surprised if Clifford helps break this record before the end of the season.
Get More NFL Content
For the latest news around the NFL, click here or follow me on Twitter @JohnGalletley. If you want sports betting or fantasy sports advice, check out our Fantasy Sports Heroics podcast.