NFL players recently participated in a poll about what stadiums they like the most and which ones are the worst to play in. The worst stadium in the league shouldn't be a big surprise. After all, it claimed the season of the league's biggest draw this season, Aaron Rodgers.
NFL Players don't like playing in New Jersey
The Athletic recently published the poll results of multiple questions they have to players this season in an anonymous poll. Per the poll results, players preferred Arrowhead Stadium the most. But they hate playing at MetLife Stadium:
Regarding MetLife Stadium, a player said that the "turf sucks and the whole place is lame." Another agreed about the turf, adding that the "fans are horrible. Everything about that place is horrible."
MetLife Stadium received 18.4 percent of the vote for the worst stadium in the league. The turf has been under scrutiny by players for years. After playing one regular season series, Rodgers suffered an Achilles injury on the turf.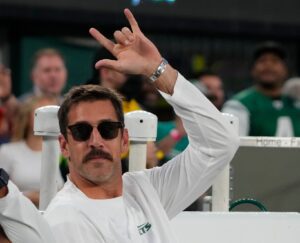 Multiple Green Bay Packers and Jets players called out the New York Giants and Jets stadium as the cause of Rodgers' injury.
The stadium is relatively new in the NFL, as it opened in 2010. One would assume players would have better opinions on the stadium if they treated football games like they would for soccer and the 2026 World Cup. FIFA is ensuring MetLife has a grass playing surface for the tournament.
For More Football News:
Follow me on Twitter at @JordanSig. You can also reach out to Jordan Sigler via email at jordanmsigler@gmail.com. To read more of our articles and keep up to date on the latest in college and NFL news, click here!