There have been a number of significant trades across the league this week. However, one man who remains with his current team in spite of the trade rumors surrounding him is Green Bay Packers running back AJ Dillon. The 25-year-old is entering the final year of his rookie contract and there appears to be no indication of Green Bay extending his deal, which is why it comes as no surprise that Dillon is now being linked to a move away from the Packers.
Brian Gutekunst Does NOT Dismiss AJ Dillon Trade Rumors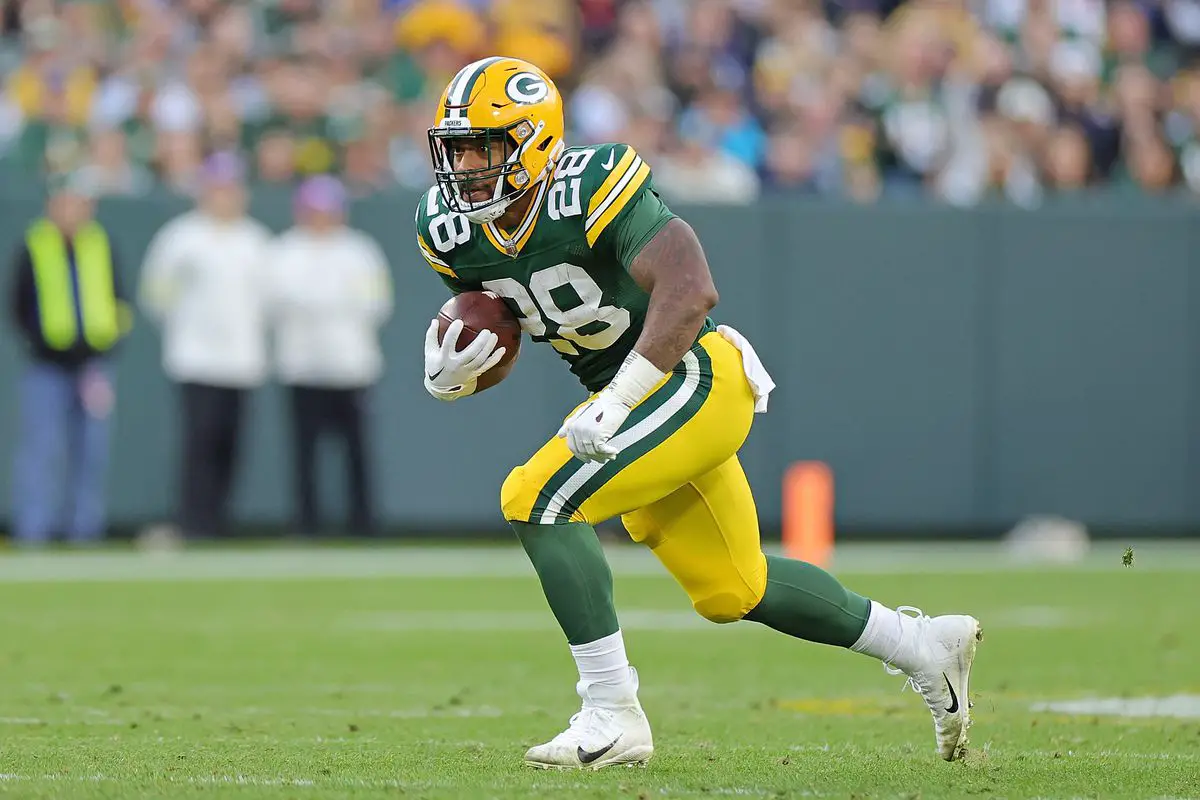 Green Bay general manager Brian Gutekunst has now spoken out about Dillon's current status with the team. While the high ranking Packers executive didn't confirm any of these trade rumors, he also hinted that the front office is indeed open to potentially trading away Dillon:
"AJ's part of this team and he was going to be regardless," Gutekunst said, via Stephen Holder of ESPN. "Again, there's a lot of conversations — we are used at times for leverage situations at times as well. But we're not doing what we're supposed to be doing if we're not investigating these things, at least listening to things. But yeah, I think it's the nature of the world now. There's all kinds of things out there, some are true, some aren't."
Gutekunst did say that Dillon is still "part of this team," but at the same time, he didn't unequivocally say that this is going to be the case moving forward. If the Packers were indeed gauging a potential trade for the former Boston College standout, then it would only make sense considering how Green Bay will want to cash in on Dillon now as opposed to losing him in free agency for nothing.
Packers GM Speaks Out on Jonathan Taylor Trade Links
At the moment, Dillon is the Packers' second-string running back behind Aaron Jones. Dillon might see himself fall in the pecking order, though, if and when Green Bay decides to trade for Indianapolis Colts want-away star Jonathan Taylor. According to reports, the Packers held trade talks with the Colts before Indianapolis decided to pull Taylor off the trade block.
When asked about potential player additions this summer, Gutekunst had a cryptic response:
"First of all, I can't talk about players on other teams," he said. "We try to be in every conversation. Anytime we have good players available to us, we'd like to make the Green Bay Packers better, and we'll look at those opportunities. That's all I've got to say about that."
Again, Gutekunst did not confirm the Packers' interest for Jonathan Taylor. He didn't deny it either, though.
Our Partners
Mayfield Sports Marketing
Call Mayfield Sports Marketing at 262-366-8188 to schedule Green Bay Packers players or alumni for your corporate appearance or product promotion.  Our booking agents will work on your behalf to get you the best price for your desired sports speaker.
Mayfield Sports Marketing has earned a reputation of being the one to call for booking top athletes to speak at events and trade shows. To learn more about Packers players or alumni appearance cost and booking fee, please call us today. www.MayfieldSports.com.
Radtke Sports
Wisconsin Sports Heroics is proud partner with Radtke Sports to offer autographed memorabilia. Brett Favre, Rob Gronkowski, Giannis Antetokounmpo, and MORE Guaranteed Authentic Collectibles and Memorabilia including signed jerseys, photos, and more at www.RadtkeSports.com USE promo code: WSH for FREE SHIPPING on your purchase. Some restrictions may apply.
For More Of My Content
Follow me on Twitter at @PaoloSongcoNBA. You may also reach out to me personally at pao.songco@gmail.com.