Things did not go as planned for the Denver Broncos during Thursday's joint practice session with the Los Angeles Rams. Starting quarterback Jerry Jeudy had to be carted off the field with a concerning hamstring injury, which at this point, has already put his availability for Denver's season opener at risk.
Jerry Jeudy Expected to Miss 'Several Weeks'
Jeudy looked like he was in significant pain after going down during Thursday's practice. So much so, that the medical team had to take him off the field on a cart.
League insider Tom Pelissero has now provided an update on the status of the young wide receiver, who unfortunately, is set to sit out the next few weeks because of this hamstring problem:
"#Broncos WR Jerry Jeudy is expected to miss several weeks with a moderate hamstring injury suffered today in practice, per me and @TomPelissero," Rapoport wrote in his tweet.
The Broncos kick off their season on September 10th with a Week 1 matchup against the Las Vegas Raiders. That's just a little over two weeks from today, and the fact that Jeudy is now expected to be sidelined for multiple weeks does not bode well for his chances to start in Denver's first game of the new season.
Sean Payton Reacts to Jerry Jeudy Injury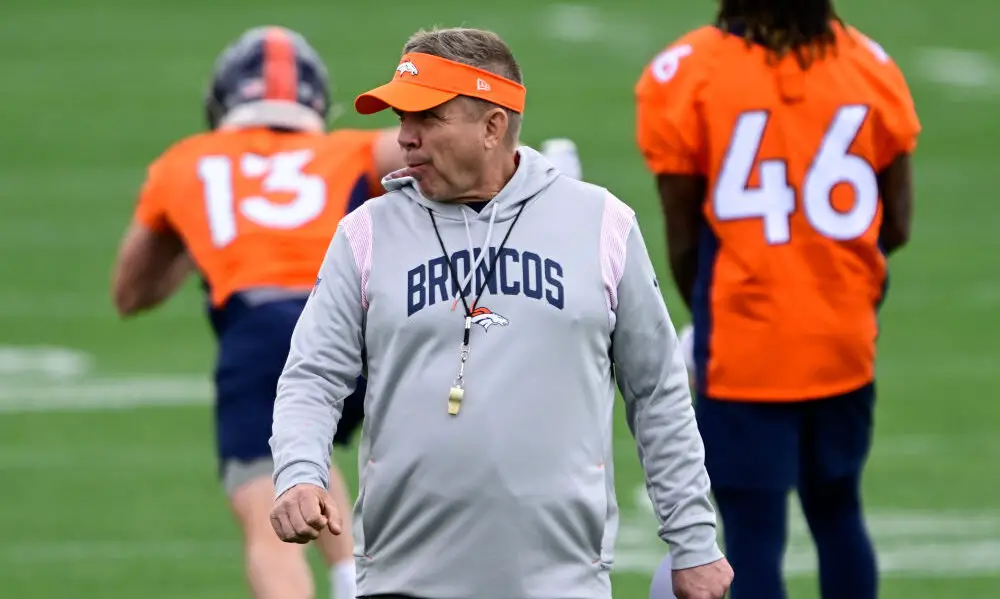 Broncos head coach Sean Payton also provided an update on Jeudy's condition after practice. The veteran shot-caller confirmed that Jeudy did suffer some sort of hamstring injury. Payton also said that the team should know more after the former No. 15 overall pick undergoes tests:
"It's a hamstring," Payton said (h/t Zac Stevens of DNVR). "He'll get an MRI. We'll kind of see where he's at with it."

"… He plays Z, he plays in the sub position for us. Hopefully it's not anything long term."
#Broncos Payton said he felt team had more juice. Said Jeudy has hamstring injury and will get an MRI. #Denver7 pic.twitter.com/nBq6WhbGG1

— Troy Renck (@TroyRenck) August 24, 2023
The Broncos have been bitten by the injury bug in the offseason. Jeudy is the third wide receiver who has suffered a significant injury thus far, with Tim Patrick tearing his Achilles and K.J. Hamler being diagnosed with a career-threatening heart condition.
Our Partners
Mayfield Sports Marketing
Call Mayfield Sports Marketing at 262-366-8188 to schedule Green Bay Packers players or alumni for your corporate appearance or product promotion.  Our booking agents will work on your behalf to get you the best price for your desired sports speaker.
Mayfield Sports Marketing has earned a reputation of being the one to call for booking top athletes to speak at events and trade shows. To learn more about Packers players or alumni appearance cost and booking fee, please call us today. www.MayfieldSports.com.
Radtke Sports
Wisconsin Sports Heroics is proud partner with Radtke Sports to offer autographed memorabilia. Brett Favre, Rob Gronkowski, Giannis Antetokounmpo, and MORE Guaranteed Authentic Collectibles and Memorabilia including signed jerseys, photos, and more at www.RadtkeSports.com USE promo code: WSH for FREE SHIPPING on your purchase. Some restrictions may apply.
For More Of My Content
Follow me on Twitter at @PaoloSongcoNBA. You may also reach out to me personally at pao.songco@gmail.com.