The 2023 NFL Draft will be held in Kansas City, Missouri with the first round kicking off on April 27th. With the news of the Sean Payton trade occurring earlier in the offseason, New Orleans now secures a late first round draft pick. Originally the Saints were out without a first round draft pick by trading up in last year's draft to select rookie wide receiver Chris Olave in a trade with the Philadelphia Eagles. New Orleans will make seven selections for this year's upcoming draft. Check out below the second version of the Saints Mock Draft:
Round 1, Pick 29 (from DEN via MIA and SF): Calijah Kancey, Defensive Tackle, Pittsburgh
Defensive tackle is one of the top three needs for New Orleans as they head into this year's NFL Draft. All active defensive tackles on the current 53-man roster are set to hit free agency once the new league year begins and that makes the depth chart thin at the position. The Saints need to be able to upgrade at the position and they turn to Pittsburgh's Calijah Kancey with their lone pick in the first round.
Kancey would start in 11 games for the Panthers in 2022 at defensive tackle where he compiled 31 tackles, 14.5 tackles for loss and 7.5 sacks. He would also lead the nation's interior defenders with 14.5 tackles for loss. Kancey would be named as a unanimous All-American as he was a first-team selection by each of the NCAA's five recognized selectors.
Kancey's strengths are that he is explosive off the line with a quick first step and he has the strength to hold up at the point of attack on the defensive line.
Round 2, Pick 40: Antonio Johnson, Safety, Texas A&M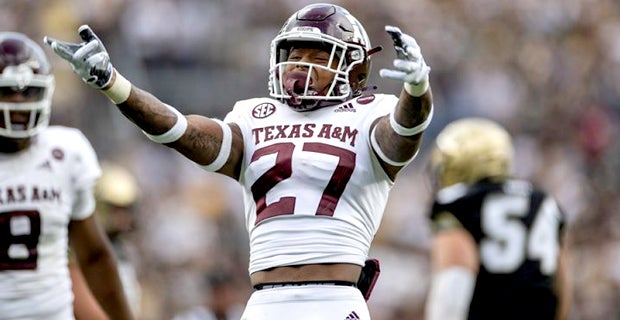 The safety position was a concern for the Saints during the 2022 season. Tyrann Mathieu was able to show his flashes during the season, but Marcus Maye missed the majority of the season due to injuries. New Orleans can use some youth at the position and they do just that by taking Texas A&M's Antonio Johnson in the second round of the draft.
Johnson started in all nine games he appeared in for Texas A&M during the 2022 season. He was named SEC Defensive Player of the Week after recording 13 tackles in the win over Arkansas. Johnson would force a fumble in the last three contests of the season. In the Aggies last game against LSU, Johnson would record 10 tackles, including seven solo takedowns and a forced fumble in the upset win over the Tigers.
Johnson is very intelligent on and off the field as he knows what to look for in coverage. He also has excellent ball skills and has the change-of-direction ability. Johnson is a player that can track the ball downfield and can play in the box.
Round 3, Pick 71: Nathaniel Dell, Wide Receiver, Houston
There are some questions marks for the Saints wide receiver room heading into the offseason as there is uncertainty whether Michael Thomas or Jarvis Landry will be back with the franchise. New Orleans struck gold in last year's draft by taking Chris Olave and they also scooped up undrafted free agent, Rashid Shaheed. Both wide receivers had an impressive 2022 campaign with the Saints, but New Orleans could always use more help at the position. The black and gold take Houston's Nathaniel Dell in the third round to add to their depth chart.
Dell would make 13 starts in his final year with the Cougar in 2022 while playing 871 snaps on the offensive side of the ball. He would lead the nation with 17 receiving touchdowns and with six multi-touchdown receiving games. Dell would finish fifth in single-season program history with 1,398 receiving yards on the year. He would haul in 109 receptions that would rank him second in single-season program history.
Dell excels at accelerating quickly and has primarily been a slot receiver throughout his collegiate career. He has the tools of being a natural playmaker and has the tendency of getting open to make it easier for the quarterback to find him in the open field.
Round 4, Pick 112: Tank Bigsby, Running Back, Auburn
New Orleans went through several running backs last season as injuries would limit the production in the backfield. Alvin Kamara, Mark Ingram, Tony Jones Jr., Dwayne Washington, Latavius Murray, Jordan Howard and Eno Benjamin all took snaps for the Saints. There is uncertainty at the running back position moving forward as Ingram will be heading to free agency and Kamara could miss some time in 2023 from his alleged involvement in Las Vegas. The Saints look for a high-upside running back and land Auburn's Tank Bigsby in the fourth round.
Bigsby was a three-year starter for the Tigers and had a successful career at Auburn. In 2022, Bigsby capped his collegiate career with 2,903 career rushing yards, 25 career touchdowns and 13 career 100-yard games. His best games of the season came against Ole Miss and Mercer. Against Ole Miss, Bigsby rushed 20 times for 179 yards and two touchdowns. He followed that up against Mercer where he rushed for 147 yards and two touchdowns.
Bigsby is a patient runner that has the ability that can show burst to beat the linebackers off the edge. He is capable of getting through traffic and making good decisions on when to cut.
Round 5, Pick 143: Chandler Zavala, Offensive Guard, NC State
The main concern for guard play for the Saints have been whether they can stay on the field or not. Cesar Ruiz has shown that he can be a long-term solution for New Orleans. On the other hand, Andrus Peat hasn't been able to stay healthy for the duration of the season. Peat hasn't played more than 13 games in a single season since 2017. New Orleans can always look to add key pieces to their offensive line and they do just that with their first of two selections in the fifth round by taking NC State's Chandler Zavala.
Zavala was very effective as a run blocker during his collegiate career. In the 2022 season with NC State, Zavala registered 31 pancake blocks and allowed just 0.5 sacks in 747 snaps this year.
He has excellent awareness on stunts and switches. Zavala has impressive hand strength and he is able to lock on to defenders.
Round 5, Pick 163: Stetson Bennett, Quarterback, Georgia
New Orleans was able to answer one of their needs in the offseason by signing Derek Carr to a multi-year contract today. With Andy Dalton heading to free agency and the likelihood that the Saints are parting ways with Jameis Winston in the offseason it will be Carr's job all of the way. If Dalton or Winston are gone, then that opens up the door for New Orleans to snag a young quarterback through the draft. The black and gold select Georgia's Stetson Bennett with their second pick in the fifth round to add depth to the position.
Bennett has had a sensational career with Georgia leading the team to back-to-back national championships. During the 2022 season, Bennett was named as one of the four finalists for the Heisman Trophy and was the winner of the 2022 Burlsworth Trophy. He was named Offensive MVP in his final games of his career against TCU and Ohio State. In the national championship, Bennett would throw for 304 yards and four touchdowns while adding 39 yards and two touchdowns on the ground.
There will be some question marks with Bennett's size as he stands at 5'11 and 192 pounds. Bennett is able to see the field very well and he has the ability to pick up yards with his legs. He excels at spraying the ball anywhere on the field and has a very quick release.
Round 7, Pick 205: Nick Hampton, Edge, Appalachian State
New Orleans needs to take a look at reloading the offensive line as not only will they potentially be losing key starters on the interior, but Marcus Davenport will be entering free agency. Davenport hasn't lived up to the billing during his time with the Saints, especially the move the Saints made to get Davenport in the first round. Cameron Jordan has still shown some bursts off of the edge, but he will be entering his age-34 season heading into 2023. New Orleans caps off their draft by taking Appalachian State's Nick Hampton.
Hampton started in all nine games at outside linebacker for Appalachian State during the 2022 season. In his final year with the Mountaineers, Hampton totaled 7.0 sacks, 9.5 tackles for loss, three forced fumbles, two fumble recoveries and 39 tackles. He would also add 25 quarterback pressures and nine hurries. For his performance in 2022, Hampton would be named to All-Sun Belt first team from the league.
Hampton has shown flashes to be able to shoot the gap and is a threat to line up on passing downs. He has the overall athleticism that he can play at the linebacker position and come off the edge on the defensive line.
For More Great Football Content
Follow us on Twitter at @GridironHeroics for more great content. We appreciate you taking time to read our articles. To interact more with our community and keep up to date on the latest in Football news, JOIN OUR FREE FACEBOOK GROUP by CLICKING HERE
Checkout our latest podcast!
[powerpress_playlist limit=1]