It wasn't exactly an ideal start for the Minnesota Vikings in Week 1. This is after they lost out to the Tampa Bay Buccanneers on Sunday in a close one, 20-17.
Minnesota star Justin Jefferson did all he could to help his team scrape out the win, with the All-Pro wide receiver catching nine passes for 150 yards. It just wasn't enough, though.
Minnesota Vikings WR Justin Jeffeson Reveals Mindset After Failing to Secure New Deal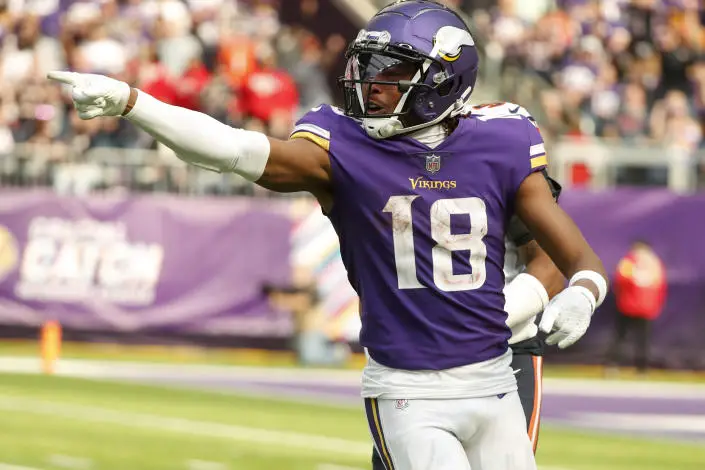 It's a big year ahead for Jefferson as he enters the last two years of his rookie contract with the Vikings. This is after he failed to negotiate an extension this summer, with reports stating that his camp and Minnesota's front office remain far apart in terms of the valuation of his new deal. Further reports have also indicated that negotiations will no longer continue throughout this season.
For his part, however, Justin Jefferson isn't sweating it. In fact, he's put this entire contract saga aside as he looks forward to another impactful season in Minnesota:
"Not really. I have the same mindset as I had before," Jefferson said when asked if his feelinsg toward the Vikings have changed at this point, via Minnesota beat reporter Kevin Seifert of ESPN. "At the end of the day, all I can do is play football. And that's what I continue to do.

"I know my team. My team doesn't care about the contract, you know? And I don't either. I just want to be here for my teammates, play for my teammates and of course get these wins."
This is exactly what Vikings fans want to hear from their star wide receiver. Justin Jefferson isn't letting his contract serve as a distraction from his goals on the field, and this will clearly benefit Minnesota significantly.
Either way, though, the front office will still have to pay this young man sooner or later. Given that there reportedly won't be any negotiations this season, it only follows that talks will resume in the summer of 2024. That will put more pressure on the Vikings, though, with Jefferson then entering the final year of his rookie deal. The last thing they want would be for their former first-round pick to walk away as a free agent in 2025.
For More Of My Content
Follow me on Twitter at @PaoloSongcoNBA. You may also reach out to me personally at pao.songco@gmail.com.