The Big Ten, led by Commissioner Tony Petitti, has dropped the hammer on the Michigan Wolverines regarding their sign-stealing scandal, suspending head coach Jim Harbaugh for the remainder of the regular season. However, Michigan does not intend to go quietly into the shadows, as they intend to seek a court order and fight the disciplinary handed out by the league on Friday. Harbaugh's status for Saturday's game remains much in the air.
Statement from Michigan on Big Ten's disciplinary action. Confirms a TRO will be sought to allow Jim Harbaugh to coach Saturday. pic.twitter.com/7tHA8cCMNV

— Adam Rittenberg (@ESPNRittenberg) November 10, 2023
Michigan Wolverines Release Statement
The Michigan Wolverine's response to the suspension is making its rounds on social media, with the University sharing its displeasure with the ruling. 
"Today's actions by Commissioner Tony Petitti disregards the Conference's own handbook, violates basic tenets of due process, and sets an untenable precedent of assessing penalties before an investigation has been completed. We are dismayed at the Commissioner's rush to judgment when there is an ongoing NCAA investigation – one in which we are fully cooperating," said the University regarding how they came to a conclusion resulting in frontman Jim Harbaugh getting suspended.
The Wolverines continued, saying, "By taking this action at this hour, the Commissioner (Tony Petitti) is personally inserting himself onto the sideline and altering the level playing field that he is claiming to preserve. And, doing so on Veteran's Day – a court holiday – to try to thwart the University from seeking judicial relief is hardly a profile in impartiality."
"We intend to seek a court order, together with Coach Harbaugh, preventing this disciplinary action from taking effect."
Jim Harbaugh: Suspended from Coaching on Gameday Amid Sign-Stealing Scandal
Jim Harbaugh had the Big Ten's book thrown at him after his team got caught up in a sign-stealing scandal earlier this season. The bench boss earned the regular season suspension as the league disciplines the program under its sportsmanship policy amid the ongoing NCAA investigation. The suspension bans Harbaugh from the stadium on game day, but he can coach his team during practice. Harbaugh's status for Saturday's high-profile game against the top-ranked Penn State Nittany Lions could come down to a court ruling as the Michigan Wolverines will fight the Big Ten's ruling. 
Connor Stalions resigned from his position as an analyst earlier this month after he became the scapegoat for the sign-stealing scandal. Stalions got accused of paying people to attend the opposing team's games and decoding their signals.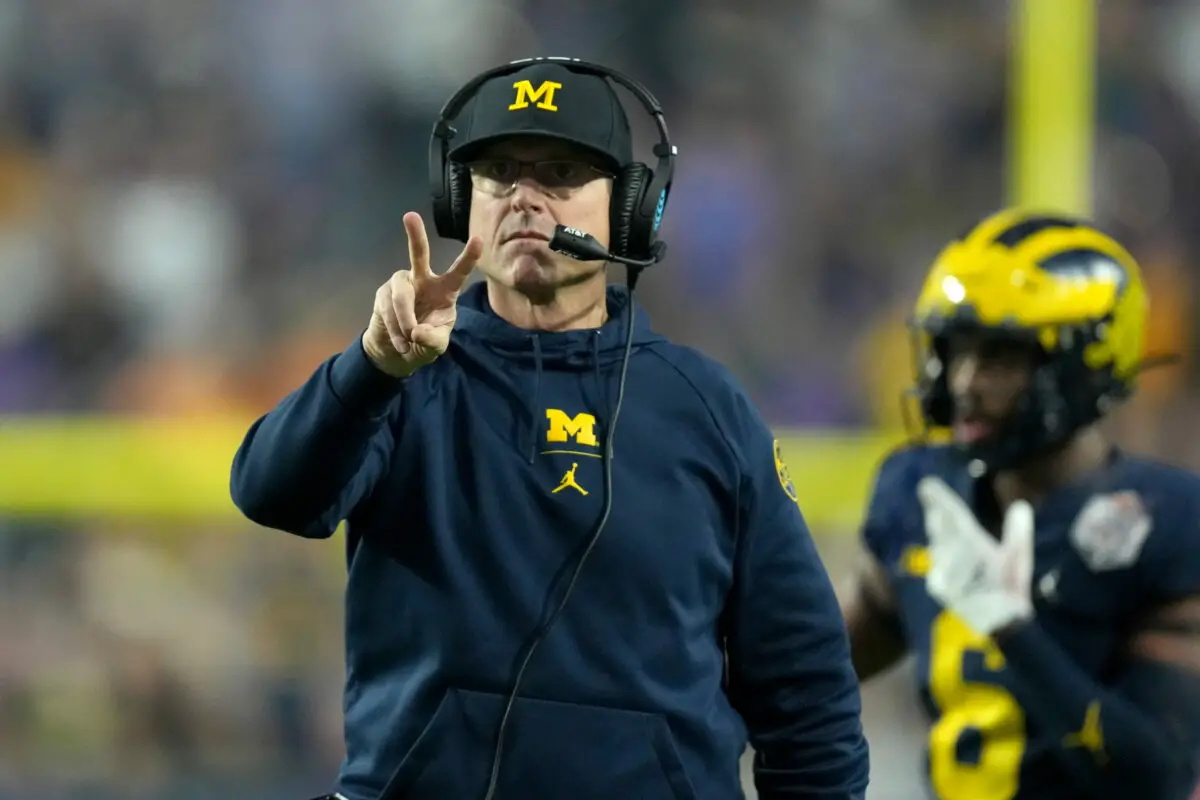 For More Football News:
Follow me on Twitter at @alec_musa. You can also reach out to me via email at musaalec@gmail.com. To read more of our articles and keep up to date on the latest college and NFL news, click here!