The Atlanta Falcons sent the Dallas Cowboys a serious message about the possibility of a Kyle Pitts trade this season.
The former first-round pick at tight end has been a disappointment early in his career with the Falcons. Pitts has nine catches for 100 yards in his first three games this season. He has just three touchdowns in his career.
Pitts was considered a top tight end prospect when he was taken by the Falcons fourth overall in the 2021 NFL Draft. But the Falcons haven't had great quarterback play since Pitts has been there. And he's not being very productive.
The Cowboys have been rumored to be a trade partner with the Falcons for Pitts. The Cowboys have a good offense but lack quality at the tight end position after losing Dalton Shultz this offseason.
Atlanta Falcons not planning on trading Kyle Pitts to Dallas Cowboys
Jane Slater with the NFL Network asked a source with the Falcons about the likelihood they would trade Pitts to the Cowboys. According to Slater, the source shot down any chance of a trade happening:
"LOL. No way."
The Cowboys are always looking to bolster their offense, so when I heard a show say Dallas should call Atlanta to see if Kyle Pitts is available, I checked into it.
A source with the Falcons' answer when I asked "LOL. No way."

— Jane Slater (@SlaterNFL) September 26, 2023
It appears Pitts won't be headed to Dallas before the trade deadline. However, if Pitts' lack of production continues to be a concern, the Falcons could look to make a trade in the offseason.
The Falcons must find a way to get Pitts more involved in the offense.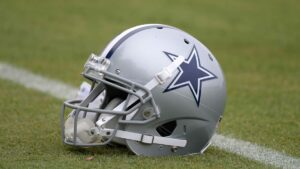 For More Football News:
Follow me on Twitter at @JordanSig. You can also reach out to Jordan Sigler via email at jordanmsigler@gmail.com. To read more of our articles and keep up to date on the latest in college and NFL news, click here!