Last week Justin Jefferson was announced as a finalist for the MVP. As most know, he had a fantastic season with the Vikings. Jefferson is now the best receiver in the league, and rightfully so. He can now do what only one player has done in the last 12 years. Win an MVP as a non-quarterback. The latest to do it? Former Minnesota Viking Adrian Peterson in 2012. Jefferson would become the first wide receiver to win the MVP in NFL history. So, Justin Jefferson for MVP, can he pull it off?
Justin Jefferson 2022 Stats
In 2022, Jefferson had 128 receptions (first), 1,809 yards receiving (first), averaging 14.1 yards per catch (20th), and eight touchdowns (tied for 11th). Those are not bad stats, but his touchdowns aren't a pretty sight. That's going to be the big knock against him. That and he's not a quarterback. Let's take a look at who he's going up against and what they did in the 2022 season.
What His Competition Did
The other MVP finalists are Patrick Mahomes, Jalen Hurts, Joe Burrow, and Josh Allen. All quarterbacks; no surprises there. Justin Jefferson and Jalen Hurts will be representing the NFC this year, as Allen, Mahomes, and Burrow all will represent the AFC for the MVP award.
Patrick Mahomes
Patrick Mahomes, in 2022, threw for 5,250 yards (first), 41 touchdowns (first), 12 interceptions (tied for 26th), and a QBR of 77.5 (first). Mahomes also rushed for 358 yards and 4 touchdowns. This is one of Mahomes' best seasons so far in his career. It is the most yards he has thrown for and the second-most touchdowns. It is also his fourth-highest career QBR. Rushing-wise, it's his best season with his second-most yards and most rushing touchdowns.
Jalen Hurts
Jalen Hurts in 2022 threw for 3,701 yards (10th), 22 touchdowns (14th), six interceptions (tied for fourth), and a QBR of 66.3 (fourth). Hurts also rushed for 760 yards and 13 touchdowns this year as well. It should also be mentioned that Hurts missed two games due to a shoulder injury. Still, even if he played those two games, it seems it wouldn't have improved his numbers enough to compete with what Mahomes put up this season. This season for both passing and rushing is the best of Hurts' career.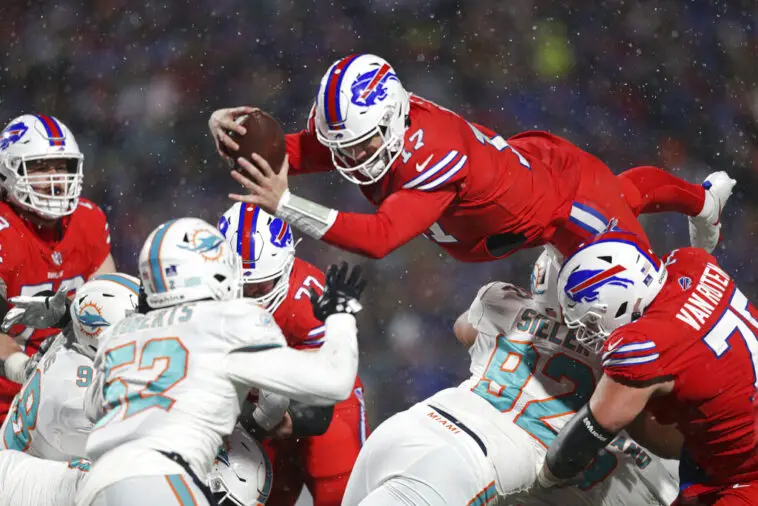 Josh Allen
Josh Allen, in 2022, threw for 4,283 yards (seventh), 35 touchdowns (tied for second), 14 interceptions (tied for 30th), and a QBR of 71.4 (second). Allen also rushed for 762 yards and seven touchdowns. This isn't Josh Allen's best season, as it is the third-best season of his career for passing, but his best for rushing. Allen's best season also had him as a finalist for MVP in 2020.
Joe Burrow
Joe Burrow, in 2022 threw for 4,475 yards (fifth), 35 touchdowns (tied for second), 12 interceptions (tied for 26th), and a QBR of 58,6 (tenth). Burrow also rushed for 257 yards and five touchdowns for the Bengals. For Burrow, this is nearly identical to last year's season (though he wasn't a finalist for the MVP in 2021). His passing stats are almost the same, but he had the best rushing season of his career.
Recent History
Since the MVP is basically a quarterback award, with only one non-quarterback winning the award in the last 12 years, I thought it would be a good idea to look at and compare the stats from the previous five MVP winners to see how Jefferson's competition looks against some former MVPs.
Last Five MVP Winners: 
2021 Aaron Rodgers: (78% of the votes) – 4,115 yards, 37 touchdowns, four interceptions.
2020 Aaron Rodgers: (88% of the votes) -4,299 yards, 48 touchdowns, five interceptions.
2019 Lamar Jackson: (100%  of the votes) – 3,127 yards passing, 36 touchdowns, six interceptions, 1,206 yards rushing, and seven touchdowns.
2018 Patrick Mahomes: (82% of the votes) – 5,097 yards, 50 touchdowns, 12 interceptions.
2017 Tom Brady: (80% of the votes) – 4,577 yards, 32 touchdowns, and eight interceptions.
Except for Lamar Jackson, every quarterback has had over 4,000 yards passing and 30 touchdowns. So who above fits those requirements? Patrick Mahomes, Josh Allen, and Joe Burrow. Hurts and Allen had more total yards than Lamar did in 2019 but they have fewer touchdowns than Jackson.
Justin Jefferson For MVP: Can He Win?
No. This just isn't happening this year. Both Mahomes and Hurts have numbers that rival what others have done over the past five seasons. Jefferson didn't even put up better numbers than Cooper Kupp last year. Kupp's previous season had 145 catches, 1,947 yards, and 16 touchdowns, and he didn't win the MVP. Jefferson has 17 fewer catches, 138 yards less, and eight fewer touchdowns. If Kupp couldn't win MVP last year, it's unlikely that Jefferson can win it this year.
Jefferson may receive a vote or two, but Kupp only got one last year with better stats. Mahomes and Hurts will fight it out for MVP and then do it again the next day in the Super Bowl. Allen and Burrow, while having impressive seasons, have either put up the same or better stats and haven't won, so it makes no sense why they would even compete with the likes of Hurts and Mahomes. I would say Jefferson should be fourth. Allen and Burrow haven't done anything special that hasn't been done by them before. Jefferson's time will hopefully come, but 2022 isn't the year to see the first wide receiver crowned MVP.
How I think the voting should go: 
Patrick Mahomes
Jalen Hurts
Josh Allen
Justin Jefferson
Joe Burrow
For More Great Football Content
Follow us on Twitter at @GridironHeroics for more great content. We appreciate you taking time to read our articles. To interact more with our community and keep up to date on the latest in Football news, JOIN OUR FREE FACEBOOK GROUP by CLICKING HERE
Checkout our latest podcast!
[powerpress_playlist limit=1]