Jonathan Taylor had a tremendous 2021 campaign as he finished as the best running back in fantasy football by nearly 40 points. He ran away with the top spot at the position and looked to repeat that feat the following season.
However, plans change. Taylor missed six games throughout the season due to a variety of injuries, but the running back was in a box for most of the season before missing the final three games.
Taylor had a serviceable average of 78 rushing yards per game, but he looked off with Matt Ryan at quarterback.
Now he and the Indianapolis Colts have their fourth starting quarterback in as many years with whomever they draft with the fourth overall pick in the NFL Draft. There are a lot of fours involved with the Colts aren't there?
Athletic quarterbacks help Jonathan Taylor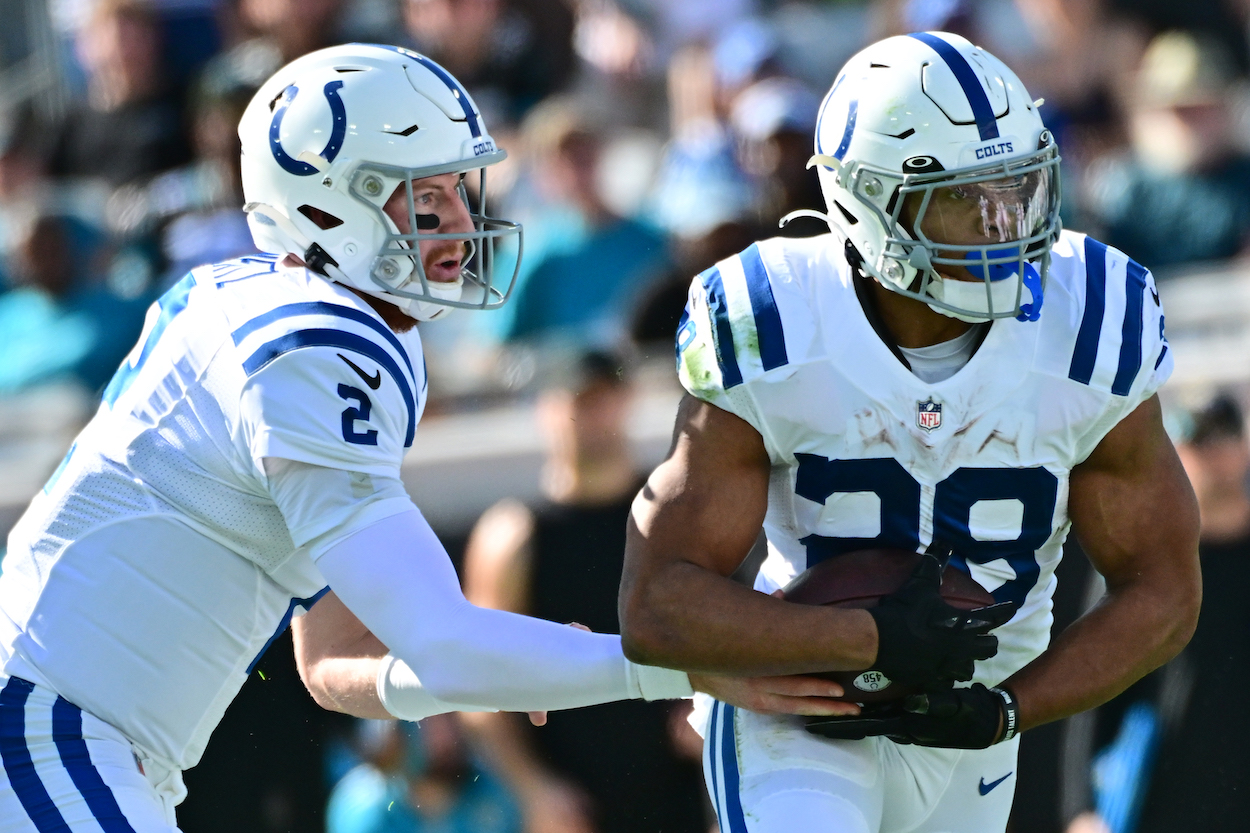 The most athletic quarterback Taylor played with in his career was Carson Wentz up to this point. It is safe to assume he wins that category over Ryan and Philip Rivers.
Although the running back was the sixth-best at the position in fantasy football under Rivers, he was the top guy under Wentz.
A big part of that is the opening of running lanes Taylor had with Wentz under center. The threat of Wentz taking off and running was a threat to defenses. Before last season, with the Commanders, Wentz had over 200 rushing yards in four of the previous five seasons. 
If anything is going to keep a defense honest and in their running lanes, it is a quarterback with mobility. As a result, Taylor excelled compared to any other year in his still young career.
Neither Rivers nor Ryan are considered threats in the running game. As this is the case, Taylor had nearly 700 fewer rushing yards when playing a full season with Rivers than he had with Wentz.
A young, athletic quarterback could help Jonathan Taylor
"With the fourth pick in the 2023 NFL Draft, the Indianapolis Colts select…" only time will tell, but probably a young, athletic signal caller to provide some stability to the offense. 
The team has had six different opening day starting quarterbacks over the last six years, and that number looks to end at seven with whomever the Colts, likely, draft this year.
Frankly, a fresh face into the NFL could be what the doctor ordered for Jonathan Taylor.
A quarterback who can run around in the pocket and make plays in the running game should benefit Taylor greatly heading into 2023.
More evidence that running quarterbacks help the running backs produce
As stated previously, a quarterback with running ability is the best way to keep a defense honest and defend every aspect of the running game. Look no further than Justin Fields' stretch from Week 6-11 last season.
The quarterback averaged 106 rushing yards per game during these games. As for the Chicago Bears running backs as a whole, 107.5 rushing yards per game during that time.
These were not against bad defenses either. In fact, the Patriots and Dolphins were both in the top-10 in rushing yards allowed last season.
That is not to say that whichever quarterback the Colts draft needs to put up 100 or more rushing yards per game. That is merely saying that he needs to be a threat to take off – something Indianapolis lacked mightily last year.
The statistics showed that Taylor was at his best working with a running threat at quarterback. Data from the Bears revealed the same findings.
Even if Taylor's target share stays at around 40, that doesn't matter in the grand scheme of things. The rushing lanes for Taylor to break free should open up once more with a quarterback who has running capabilities.
As such, Taylor should be in for quite the bounce back, after finishing outside of the top 30 running backs last season, in 2023 if he can return healthy and have a running mate at the quarterback position.
For More Great Football Content
Follow us on Twitter at @GridironHeroics for more great content. We appreciate you taking time to read our articles. To interact more with our community and keep up to date on the latest in Football news, JOIN OUR FREE FACEBOOK GROUP by CLICKING HERE
Checkout our latest podcast!
[powerpress_playlist limit=1]