Philadelphia Eagles center Jason Kelce has been one of the fan-favorite players on the team. Even on the team's bye week, they got some news as Jason Kelce about if he plans on playing in 2024.
Jason Kelce appeared in the Thursday Night Football booth with Al Michaels and Kirk Herbstreit and was asked about if he has plans on playing another season. The five-time All-Pro center said he has not made up his mind as of yet.  He is in the midst of his 13th season in the NFL, all with the Philadelphia Eagles.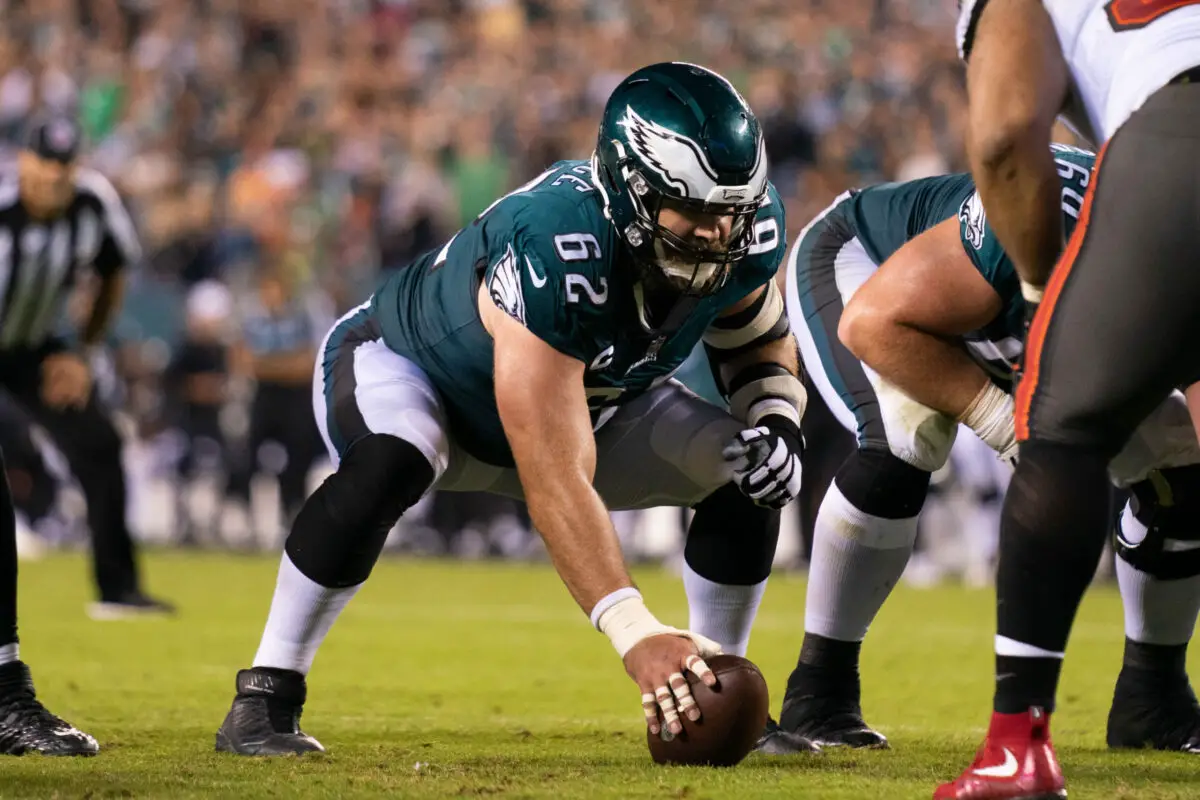 One thing that definitely was clear from his performance in the Thursday Night Football booth, he has a future in broadcasting games as a color commentator if he wants to do just that after he wraps up his NFL career. Besides being a Super Bowl champion center, he is also a finalist for the Sexiest Man Alive and co-hosting a podcast with his brother, Travis.
What should we expect out of Jason Kelce's Philadelphia Eagles this season?
The Philadelphia Eagles have been one of the best teams as they have an 8-1 record heading into Week 10. Their only loss came against the New York Jets and it seems that they have not played a complete 60 minutes and has dominated.
Jason Kelce is one of the biggest reasons for the Brotherly Shove play being so successful for the Eagles and getting quarterback Jalen Hurts the ability to step up. Philadelphia has a brutal stretch of games coming up as after their bye week they are on the road against the Kansas City Chiefs, home against the Buffalo Bills, home against the San Francisco 49ers, on the road against the Dallas Cowboys and then on the road against the Seattle Seahawks.
This is going to be a great stretch to see exactly what this Eagles team is going to be. They are currently two games ahead in the NFC East and hold the top seed in the NFC as a whole heading into Week 10. With incredible talent on both sides of the ball like Jalen Hurts, wide receiver AJ Brown, center Jason Kelce, safety Kenny Byard and cornerback Darius Slay to name some players that have been leading the way.
This Eagles team should be able to continue winning games and prove why they hold the best record in the entire NFL.
For more of my content, make sure to follow me on Twitter @TalkVinTalk. I am also part of Fantasy Sports Heroics, where we are doing daily content on YouTube, discussing fantasy and betting that you can watch by clicking here.