Alright, let's be honest: We've all made some bad trades in fantasy football before.
It's easy to do, especially if you trade early in the season. Fantasy Football is the perfect example of how football can be so inexplicably wild and wacky. We all draft our teams at the beginning of the season with the confidence that we have the best team in our whole league, and sometimes that does turn out to be true.
However, most of us are yet again setting here, three weeks into the season, wondering where we went wrong or where we could have improved. If you've won all your games this season and have players like Lamar Jackson or Stefon Diggs on your team, then you probably aren't chomping at the bit to make a blockbuster trade. But if you are 0-3, 1-2, or really any record below .500, then you are probably feeling like you should make a trade. And you know what, I agree with you! You probably should make a deal, but first, it's important to know HOW to properly trade in fantasy football before actually trading. Let's break down how fantasy football trading SHOULD go
*Note: Any numbers used in this article are based on PPR leagues
Step 1: Understand the goal of trading in the first place
The first step in trading in fantasy football is before you even think about what players you want, you need to be familiar with what players you yourself are willing to part with. The ultimate goal in trading in fantasy football is very simple: To improve your team. Not to help the other person and not to donate players to someone who is 0-3 and begging for you to give them Cooper Kupp. You should only EVER trade in fantasy football if you feel that the trade directly benefits you and improves your team from where it was before.
This doesn't mean you are offering fleeces to every player in the league, it just means you are trying to strategically improve your team while simultaneously making other teams slightly worse. There are plenty of ways to do this without cheating, blatantly ripping someone off, or begging out of pity.
So, that is the first step. Understanding which players you want to trade away, and being familiar with your trading strategies. Before you even engage in talks with other players, you've got to make sure that you yourself are not going to trade unless you, in your own opinion, can clearly improve your team.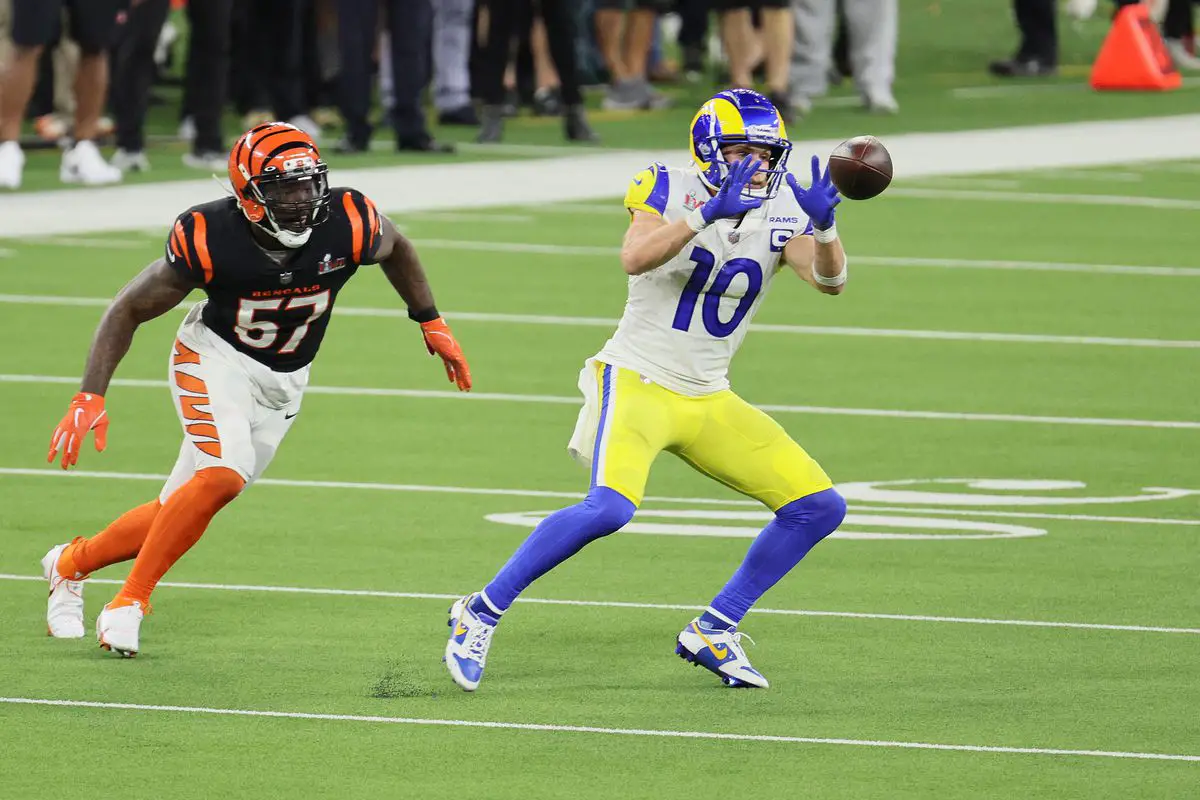 Step 2: Understand how to properly buy/sell-low and buy/sell-high, and how to sell your own players to the person you're trading with
Now, by sell, I do not mean give your players away to another person for free. I'm talking about selling THE IDEA of a player to that person. For instance, I'll give you an example.
Let's say you have Dalvin Cook. So far this season, Dalvin Cook is RB24 and has put up games of 13.8, 7.6, and 13.6 points. Obviously, not the kind of start you wanted from Cook, and he might have even lost you some games. However, if you were to present Cook in an appealing way, Cook provides a good amount of trade value. In "selling" Cook to the person you are trying to trade with, you could bring up how in 2020, Cook finished as top 3 RB, and put up a total of 337.8 fantasy points. You could say that in 2021, Cook struggled due to injury, and the Vikings were kind of a mess in general.
You also would want to say that even though Cook has had a slow start to the season, he has proved over his career just how good of a fantasy football RB he can be, and this is a great chance for someone to buy low.
Here's another example:
We'll use another running back for this example in Alvin Kamara. Kamara has struggled with injury and low-production so far this season and is only RB53 on the year. However, if you were attempting to sell low on Kamara, you would want to bring up how Kamara put up a whopping 377.8 fantasy points in 2020, and still put up 234.7 points last year despite missing a whole quarter of the season due to injury. You could say that once Kamara comes back healthy, he is 100% sure to make an impact on the Saints at some point, and is a great target to buy low on.
Now, these are two examples of players that you would have to probably sell to someone to try and get them to trade for them. You may want to hold on to these guys for a few more weeks, and that's totally fine and respectable. But if you are wanting to trade players that have underperformed to your expectations this season, this is a must-do. Selling your players to an opponent and convincing them that buying low on said player is a better option than keeping the player/players they have now is a great way for you to get a player who has already been consistent this season, whoever that may be, and shifting the risk onto somebody else.
The same also goes for selling high.
So much of fantasy football is knowing when to buy low and high and sell low and high. If you are in a situation where you have a player who you just do not think is going to consistently replicate their high production throughout the course of the whole season, selling high on them is a great way to improve your team greatly and give someone else a player who may fall off after a short while.
Take for instance players such as Dameon Pierce, Mack Hollins, Jakobi Meyers, or Zay Jones. All of these players are borderline-flex players, and each of them have had exactly one big game so far this season. (18.1, 29.96, 18.5, and 24.5 points respectively, to be exact.) The probability that those players are going to consistently have great games is very unlikely, but if you have them on your roster or are able to snag one of them from the free agent pool, selling high on those players is a great way to improve your roster.
You could also follow the same approach for any player that had a big game and you personally think won't do it very often again. Picking up players that went nuclear for one or two weeks from the free agent pool, then convincing someone that they are worth trading for could land you a bigger ticket, more consistent player that boosts your team tremendously.
Step 3: Always, always, always be willing to negotiate
This is something I see so many people do in regards to trading in fantasy football. Regardless if a trade is good or bad, you should always negotiate. Instantly shooting down a trade and refusing to negotiate is a terrible way to go about trading because you don't even allow yourself the opportunity to even possibly improve your team. If you have a great roster and don't want to trade anybody, that's totally fine, but you should always engage and negotiate in trade talks, because someone might just offer you a trade out of desperation that massively benefits you. Instantly declining trades and never really negotiating in the slightest will make people stop offering you trades completely, and then you miss out on the possibility of receiving a potentially great offer.
If you offered a trade to somebody and they declined it, don't just give up; instead, negotiate with them. Say something along the lines of "well, if you don't want this player, how about I give you this player?" Negotiate is a critical part of any trade in fantasy football. After you understand your trading strategy and know which players you want to part with/acquire, you want to negotiate as much as you possibly can to try to get the player or players that you want.
At the end of the day, you still might not be able to get the player you want to get, and that's totally okay.
Don't be glued to one specific player, instead ask around to other players in your league and see if they have anybody they want to trade. I'm not saying you have to make a trade every single week, or have to negotiate for hours at a time. All I'm saying is that if you negotiate just a little bit, even if the trade does not get accepted, you still make it known to the other player that you are willing to be flexible and are not someone who just shoots everything down instantly, and that can help you with trades in future weeks.
Step 4: Don't be the "nice guy" or "nice girl" in trades
What I mean by this is simply what I have said before in this article: you should not accept a trade unless it, in your own opinion, directly benefits you and makes the other person at least slightly worse. You only ever want to accept a trade if you are absolutely sure that the value you are getting from the trade is realistically more or could be more than the value you are giving away. You also want to make sure you are not improving somebody else's team MORE than you are improving your own team.
To trade the most efficiently and effectively, you want to keep all of these things in mind. You want the trade to directly benefit you more so than anything else; that is the goal. I'm not saying you just low-ball everybody and offer Cam Akers for Jonathan Taylor or anything like that. What I'm saying is you should talk your way into a deal that is realistically fair and COULD be as good of a deal for the other person as you say it possibly could be, but ultimately benefits you more than the other player.
You can not be the nice guy or nice girl in trading in fantasy football.
If you earn a reputation of just accepting whatever trade people offer you without any kind of discussion or negotiating, then people will just slowly but surely make your team worse by offering you trades that clearly benefit them more so than you. You don't have to be ruthless per say, but you should be stout and confident in trades.
Always be willing to part with anybody, and like I already said, always be willing to negotiate. No matter the player or situation, if you refuse to even hear people out for a specific player or negotiate in the slightest, you eliminate the possibility of at the very least receiving a trade that could be beneficial to you. Always have an open mind, and always be strategizing.
Now, let's talk about some things to NOT do.
Do not take advantage of someone that is new to fantasy football
I have a very strong opinion on this, and I'm gonna say it here: If you win your fantasy league mainly because you took advantage of somebody who is new to fantasy football, you cheated and your win should not be thought of as legitimate.
Now I'm not saying that if you did a trade with someone and you WON that trade and that trade helped you win your league, that that should be considered cheating. Remember, your goal is to win every trade that you do anyway. If you sweet talked your way into a deal that greatly benefitted you and really did not benefit the other player, that is totally acceptable.
What I'm saying is if you took advantage of someone's lack of football or fantasy football knowledge by offering them a trade with misleading or false information. For instance, if somebody who has never played fantasy football before has a top 3 WR, and you go to them and offer them Carson Wentz for that WR, and you reason that they should accept this deal because QB's are the most important position in football and they need a better QB, that right there is textbook, blatant cheating.
It's not somebody else's fault for not knowing something that they have never had the opportunity to learn.
If somebody is playing fantasy football for the first time, you should help them understand the basic strategy of the game and what to do and not to do. But if you go and rob them for a player by telling them information that you know they would have no way of questioning because they have never played fantasy football before, that is cheating.
If you have more football knowledge than somebody, that is fantastic and you can and should use that to your advantage, but you should use it in the right way. If you use that greater football knowledge that you poses to rip a new player off because they were taking your word for it because they've never played fantasy football before, that is cheating. Do not take advantage of new players, instead help them to learn and grow, after all, you yourself were a new fantasy football player at one time too, and you would not have wanted someone to take advantage of you.
Do not give up on your league
I'm not saying you have to keep a mega-interest in your team and be super in to fantasy football for the whole season. If you are 0-7 going into week 8, then yeah, I understand not being thrilled about your team and not keeping up with your team as much. But don't just give up and release all your players to the free agency market. Take just five minutes each week and set your lineup, because there are other players in the league that are still taking it seriously, and out of respect from them, do the most basic and simple thing and at the very least, set your lineup each week. You don't want the reputation of somebody who just gives up halfway through the season.
Even if you are 0-3 or 0-4, don't completely give up. Miracles can happen, but if you give up, then I can assure you, a miracle will definitely not come your way.
Finally, make sure you're having fun and not ruining anybody else's fun
This last rule is just kind of common sense, but I'll say it anyway. Ultimately, fantasy football is a fun past time, and there are plenty of other things that are more important in life than fantasy football. Don't loose a friendship over fantasy football, and don't insult other people's mental capacity because they had a bad season. If you are one of those people who has to go through with a crazy punishment because you came last in your fantasy league, be a man or woman of your word and follow through with it. Don't chicken out, just hold up your end of the deal and do what you agreed to do.
Fantasy football can be so much fun, and make sure that it is for you! Encourage all the people you can to play fantasy football, after all, the more people that play, the better! Fantasy football really is an amazing thing, and I highly encourage you to do everything you can to make it amazing for yourself and the people that you play it with.
For More Great Football Content
Follow us on Twitter at @GridironHeroics for more great content. We appreciate you taking time to read our articles. To interact more with our community and keep up to date on the latest in Football news, JOIN OUR FREE FACEBOOK GROUP by CLICKING HERE
Checkout our latest podcast!