The Cleveland Browns have been in the process of rebranding this summer. After three weeks of fan-submitted logos, it was narrowed down to five finalists. After that the final two were voted on and the results are in! The Browns have unveiled their new logo.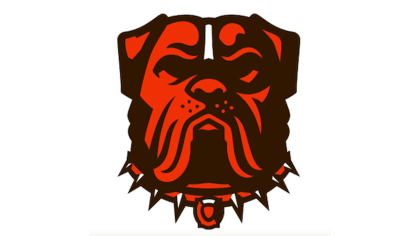 Cleveland Browns Unveil New Logo
All five of the finalists focused on the bulldog mascot. Various designs were submitted and the finalists had a similar look. You can see the winner here and above. The bulldog is a much better logo than the bland helmet that they previously had. Last season, they experimented with many different logos even bringing back Brownie the Elf for a couple of games. Now, the team will move in the direction of a bulldog which will hopefully breathe some new life into the team.
Smart Move By The Browns
It was a really smart move by the Browns to make this all fan-submitted. Teams have rebranded in the past and gotten eviscerated over certain changes. With how the Browns did their contest, the fans have no one to blame but themselves. It also is a good move to rebrand. There has been a lot of bad press around the team lately and a rebrand is a nice way to generate some good press. It also is good for business as fans will rush to buy new apparel with the new logo on it.
The Cleveland Browns need more to go right this year. They traded a lot of assets for quarterback Deshaun Watson and it is now time for him to prove that he was worth that investment. It will not be easy in a division with three other teams who all have their sights set on the playoffs. Hopefully, the rebrand will give the team the boost it needs to make some noise this season.