The Cleveland Browns received a pleasant surprise on Thursday. Starting running back Jerome Ford is making headlines after giving it a go at practice despite being fresh off suffering a sprained ankle last Sunday.
Browns' RB Jerome Ford "surprised" the organization with how he ran Thursday, despite his sprained ankle, per source. After testing Ford during today's practice, the Browns are listing him as questionable for Sunday's game due to his sprained ankle.

— Adam Schefter (@AdamSchefter) October 27, 2023
Cleveland Browns RB Jerome Ford Went Down in Week 7
Ford suffered what looked to be a devastating ankle injury in Week 6 against the Indianapolis Colts. The second-year NFL vet had his right ankle trapped underneath a defender on a run early in the fourth quarter, knocking him out for the remainder of the contest. He suffered a sprained ankle that sources believed would sideline him for one-to-two weeks at a minimum. He finished the game with 11 carries for 74 yards and a touchdown while catching two passes for 20 yards. The Cleveland Browns pulled off a nail-biting 39-38 win to move to 4-2.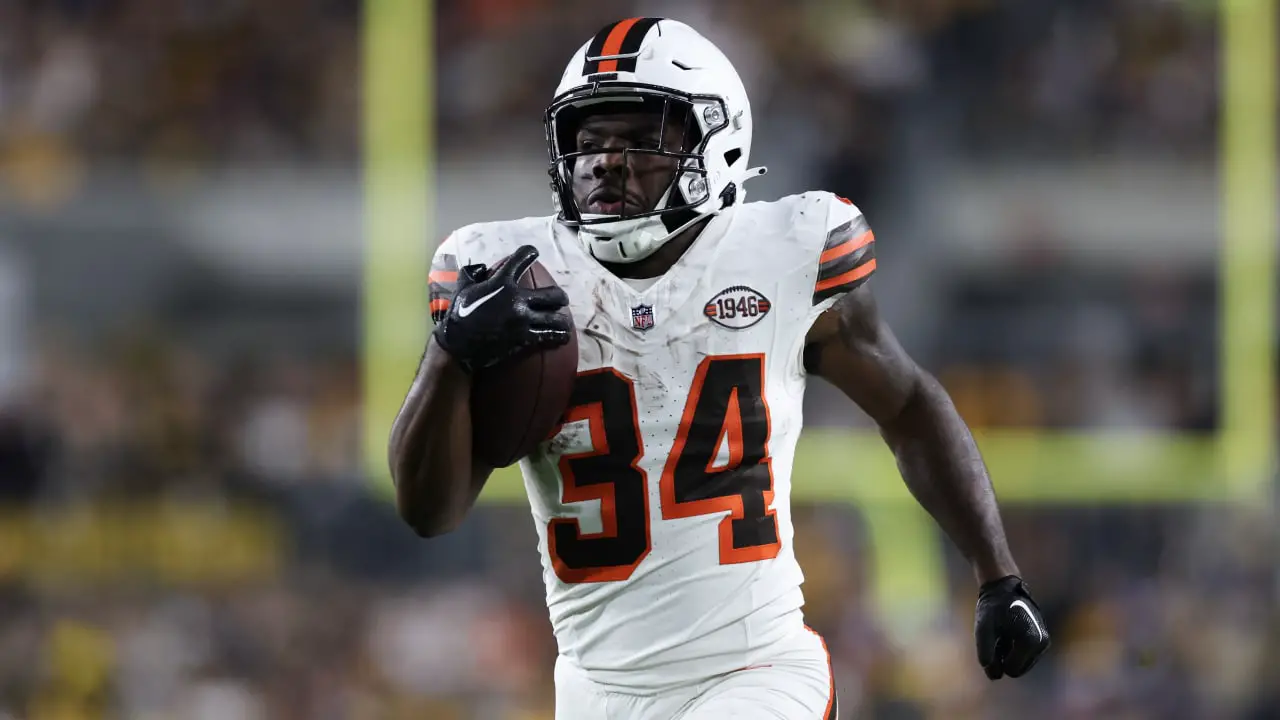 Ford: Playing Well with Nick Chubb OUT
Jerome Ford has stepped up big for the Cleveland Browns after megastar running back Nick Chubb got lost for the season after suffering a gruesome knee injury in Week 2. Ford, a fifth-round pick in the 2022 NFL draft, immediately made an impact, rushing 16 times for 106 yards in the same game Chubb went down. The 23-year-old has 78 rush attempts for 344 yards and two scores on 4.4 yards per rush attempt in six games. He has also caught 14 passes for 104 yards and another pair of touchdowns. Ford starred in his final year of college, rushing for 1,319 yards and 19 scores for the Cincinnati Bearcats.
Cleveland Browns: Running Back Room without Ford
The Cleveland Browns have made precautionary moves in anticipation of Jerome Ford's potential absence. They signed former running back John Kelly Jr. to the practice squad on Thursday. Signing former running backs in the wake of injury is nothing new for the Browns, as they inked Kareem Hunt to a deal after Nick Chubb blew his knee out in Week 2. Hunt spent the previous four years with the Browns, rushing for 1,874 yards and 16 scores. The Browns also have former New England Patriot Pierre Strong Jr. on the active roster. He is averaging a smooth 4.9 yards per rush attempt.
For More Football News:
Follow me on Twitter at @alec_musa. You can also reach out to me via email at musaalec@gmail.com. To read more of our articles and keep up to date on the latest college and NFL news, click here!