Cleveland Browns quarterback Deshaun Watson has dealt with injuries all season long. Sunday's win against the Baltimore Ravens was his first full game back from a shoulder injury a week ago. However, he suffered an ankle injury in the second quarter, and it sounds like the new injury could be more serious than we first thought.
Browns QB Deshaun Watson to have MRI today on left ankle, per HC Kevin Stefanskihttps://t.co/dZW9Jkc4c3 pic.twitter.com/YWU5M1yNHP

— Around The NFL (@AroundTheNFL) November 13, 2023
Deshaun Watson Injury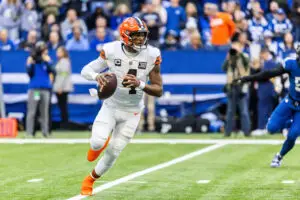 Watson's ankle was injured late in the second quarter, however, he remained in the game to drive the Browns downfield and kick a field goal, making the score 17-9. He could come back in the game after Ravens quarterback Lamar Jackson threw an interception, but it was obvious that his ankle was bothering him, and it would be a problem in the future. He fought through the pain in the second half, though, and was able to help his team get the comeback win against their AFC North rival.
Watson told reporters after the game that his ankle is nothing to be concerned about, and that he will "be fine" enough to be able to play in next week's game against the Pittsburgh Steelers. It was revealed today by head coach Kevin Stefanski that Watson will undergo an MRI on his left ankle to make sure it is not seriously injured. Although he finished the second half going 14-14 for 134 yards, he was still limping around the field for the remainder of the game.
Cleveland Browns
The Browns quarterback has gone for 1,115 passing yards and seven touchdowns this season and has received a lot of criticism for his mediocre play. Some might say it's due to the injuries that he has been dealing with all season, however, he was struggling even before he was injured. The team paid him $230 million for five years, and so far, he has not lived up to the contract.
Cleveland is currently 6-3 on the 2023 season and sits in third place in the highly competitive AFC North. They will have a chance next week to go up in the standings as they will face off against the second-place Steelers. Depending on the severity of Watson's injury, Cleveland could have a hard time offensively if he is not able to play at 100% once again.
For Additional Content
Please go and follow me on Twitter @TaylorHartmaNFL for more NFL news and updates. If you have any further personal questions or comments for Taylor, connect with him on Linkedin. For more articles on the NFL, go to this site here! Also, go check out our podcast @FSHeroics!