The Cleveland Browns made a major adjustment to Deshaun Watson's injury status. Watson had been dealing with a shoulder injury since Week 4.
Watson's injury caused a lot of confusion in the NFL world, as some Browns players and coaches thought he'd return earlier than he did in Week 9. However, Ian Rapoport with he NFL Network explained that the rotator cuff strain he suffered takes about four to six weeks to heal.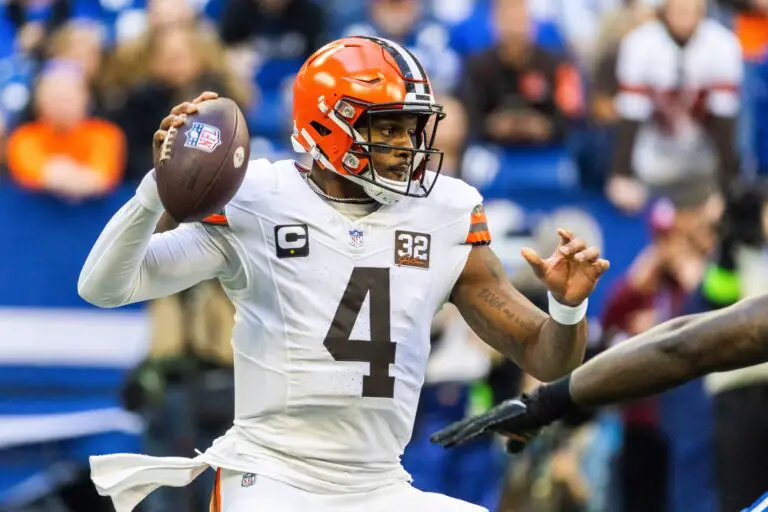 Watson made his first return for an entire game against the Arizona Cardinals in Week 9. He went 19/30, passing for 219 yards and two touchdowns in the Browns' 27-0 win. Watson was limited in practice on Wednesday and Thursday of last week before being a full participant on Friday.
Deshaun Watson's injury status has changed for the better
The Browns have better news for Watson on Wednesday. According to Mary Kay Cabot with Cleveland.com, Watson is not on the Browns injury report for Week 10.
Deshaun Watson not on the injury report… https://t.co/TFmQrMzmNn

— Ian Rapoport (@RapSheet) November 8, 2023
Watson should be back to normal before the Browns contest against the Baltimore Ravens this week. The 5-3 Browns will go on the road to Baltimore to face a 7-2 Ravens team. We'll see an excellent matchup between Watson and Ravens quarterback Lamar Jackson.
For More Football News:
Follow me on Twitter at @JordanSig. You can also reach out to Jordan Sigler via email at jordanmsigler@gmail.com. To read more of our articles and keep up to date on the latest in college and NFL news, click here!