This is the best the Chiefs have looked all year it was amazing seeing them rally and bounce back from their mistakes. It was really great to see them not hang their heads and try to force plays to counteract their mistakes. The defense looked frisky and came up big in critical moments and they had their linebacker duo at full strength. On offense, the Chiefs dominated like we had more balance, and Mahomes and the receivers looked like they are putting all of the puzzle pieces together and they looked completely dominant. So let's go through what are my takeaways from the game and how they will be moving forward.
Offensive Domination:
The first drive of the game was not ideal. That interception Mahomes threw I had no idea what was going on when he threw that. Now going back and looking at the play Mahomes may have thought Moore would have come back for the ball more or he thought he would run the route flat across the field. After that, the offense showed why they are the best offensive unit in the NFL.
The Chiefs looked like they had a great deal of balance, especially for an Andy Reid offense. and the offensive line played their best game of the year this is the version of Orlando Brown we need going into the rest of the year. that was helped by them running the ball well and their jet sweeps and screen game helped keep the defense on their toes so they can't just pass rush the whole game.
This might have been the most comfortable Mahomes has been all year in the pocket and it is because of said ballance, and how many times the backs chiped Bosa we need to make that a standard for the oposing teams best pass rusher.
Mahomes and the new receivers may have just hit their stride going into the bye week. Now I would be a little concerned if Mahomes wasnt the quarterback. However, since Mahomes is the quarterback I think they will be breaking down the film a lot durring the bye and you can just improve on the chemestry. we have two receivers on pace for 1,000 yards which is incredible. If the receivers and Mahomes continue to improve their chemestry and they continue to use Justin Watson and Skyy Moore in spots to keep teams off ballance they could be better than ever.
Frisky Defense:
I have been trying ot figure out how to best describe how to best describe this defensive unit for the Chiefs. I think the term frisky sums them up pretty well. When they can play with a lead and Spaggs can throw all sorts of blitzes at the oposing team we have seen us have so much sucsess. Early in the game the 49ers whent down the field and scored and then on the next drive we held them to a fieldgoal and now the game is more in reach for the offense. When you can hold a team to field goals when you have this offense its huge.
This might have been Frank Clarks best game since the superbowl 54 run. On his saftey his ball get off was so spectacular he left the best left tackle in the NFL in the dust bent the edge and chased down Garoppolo while he was trying to buy time for the play.  If any of our pass rushers have any bumps and bruises they have this bye week to get healthy for their next long strech of games.
Chris Jones is playing like the defensive player of the year he has been so unbelevably dominant in the pass rush game and has really improved with his run defense. This could be becasue of the new defensive line coach Cullen who emphasized being agressive and attacking more.  We have seen Jones also play more edge on third and long situations. we have also seen him move around so much early on to try and find the weak links in the oposing line.
With our seconday having Willie Gay back helps a lot because he and Bolton fit so well together and they have such great chemestry and they are the most underrated linebacking duo in the NFL and they could be the best come the end of the year. With our conerners since they are so young they do make some silly mistakes agaisnt the 49ers we saw Watson not use the correct leverage on coverage which led to a touchdown. Other than that they played pretty well as a unit and Sneed continues to be one of the best corners in the league.
Personnel Decisions:
This game we used 13 personnel a lot more this game and I think it looked really good and it helped the offensive line and we chipped a lot more on the edges with the running backs and they did a great job slowing down the pass rush. Now Bosa is an amazong player so he did get home for a sack against Wylie  but again they have a great pass ruch unit but they gave Mahomes enought time to go through his reads and pick the 49ers apart.
Juju and MVS seem to be getting more and more in sync with Mahomes as the season has gone on but until Sunday we hadnt seen them dominate and both be on the same page at the same time like they were yesterday. and this could be what they needed going into the bye week because now you can go to the film and tell them what to change or contue what they were doing against the 49ers. They showed why they were brought here MVS for the deep threat and Juju was a pseudo number one and can capitalize on all the coverage Kelce is drawing.
In the secondary we are still missing Trent McDuffie our first round corner who is still out with a hamstring but I completely understadn why you are keeping him out because he will be your number two corner behind Sneed when he is healthy and you need to make sure he is fully healthy for the long run and you need him to be out there to help get some continuity for your secondary which can lead to better coverage overall. McDuffie and Sneed are going to be your guys going into the future adn you need to make sure he is fully healty.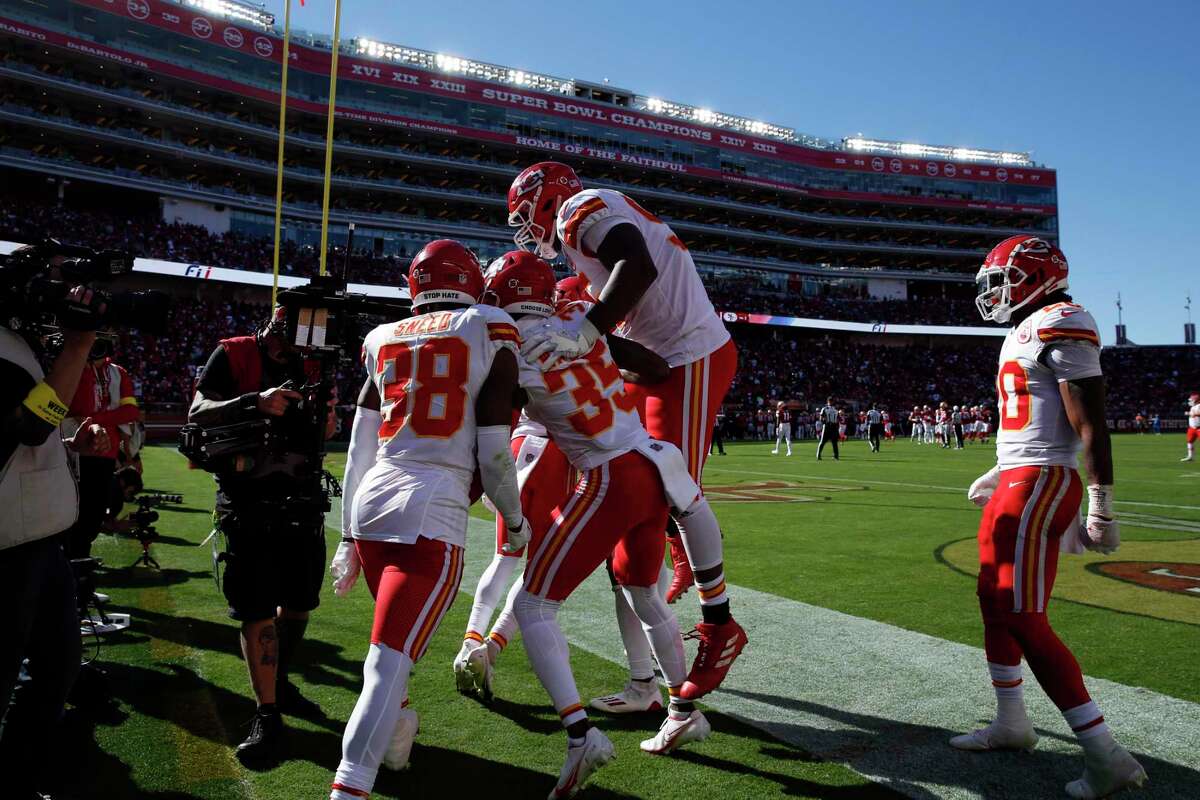 Trade/Free Agency Possibilities:
One of the biggest names floating around for a free agent signing for the Chiefs is Odell Beckham Junior and I think you would absolutley look to signing him fort his offense because you can only double cover so many people ad you would only need him healty for the playoffs and I would imagine it would look similar to how he looked for the Rams last year and he would improve every week and be a great option in the playoffs and i think he would fit in with the locker room and the receivers we currently have.
For edge help I think Brian Burns is looking less and less likely with every passing day however that does not mean that it would be impossoble to get help for the edge group. A very realistic possibility for the Chiefs would be Robert Quinn the edge for the Bears. The bears are doing nothing and they could use more picks and there were rumblings this offseason about Qunn and the Chiefs and it wouldn't be too exspensive for the Chiefs to trade for him, maybe a fith or fourth.
Maybe a little bit more of a reach is Montez Sweat an edge from Washington. Again Washington is not doing anything this year and they seem like they are close to tearing everything down and starting again. You could swoop in and take one of their most athletic edges who is a freak of nature and perhaps more importantly he fits the spags style of edge who is over 6'5″ and over 250 pounds.
He could be a great help to this unit and have him and Karlafits together so you could rotate in players so they stay fesh. but he would cost a little more than Quinn but if they are close to tearing everythig down you may be abe to get him on a bargin.
Chiefs Dominated:
You get out of a brutal schedual of opening games for the Chiefs and they get out of their first strech of games at 5-2. I think a lot of Chiefs fans would take that as a with this whole new units on both offense and defense. Now you get a chance to rest before the back end strech of your season where you will probably favored in almost every game for the rest of the year. You are also now in the devision lead and you are looking to try and catch Buffalo to get the one seed so you can play at home to get that advantage in the playoffs.
You have the trade deadline coming up and you have enough draft capital to handle to be semi aggressive in the trade market but you are now in a position were both sides of the ball are playing very well so with trades you are not in a desperate situation where you need to trade. You could trade to help strengthen a position but would I be very suprised in they don't make a trade I wouldn't be shocked I'd be little bummed out because I think you can make some units better but they are good enough right now to make a run.
THe Chiefs are going into the bye week at the right time when they are getting healthy and both sides of the ball are playing well and they are complimenting each other very well but they have a great oportunity in front of them and its a great chance to rest and recover have some quality time with their families. the most important thing for them is to keep the same wnergy when they come back next week for practice and in the post game soundwe see Mahomes and Kelce talk about coming back ready to work for the rest of their season.
For More Great Football Content
Follow us on Twitter at @GridironHeroics for more great content. We appreciate you taking time to read our articles. To interact more with our community and keep up to date on the latest in Football news, JOIN OUR FREE FACEBOOK GROUP by CLICKING HERE
Checkout our latest podcast!
[powerpress_playlist limit=1]