Carolina Panthers running back Miles Sanders got paid this offseason which is rare for running backs. Top running backs Dalvin Cook, Saquon Barkley, and Josh Jacobs all remain unsigned. The market for running backs has plummeted. In a recent interview, Sanders griped about the running back market.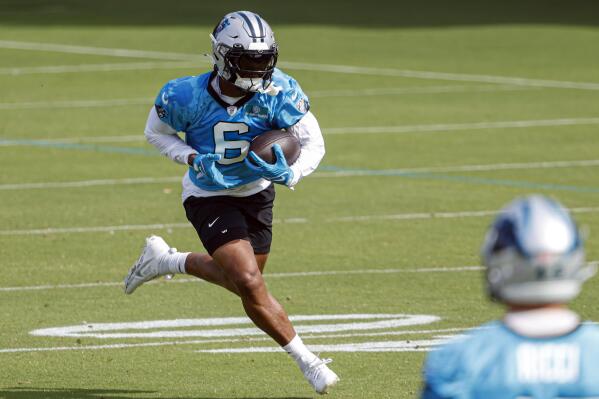 Carolina Panthers Miles Sanders Gripes About RB Market
Sanders went on the Rich Eisen Show on Wednesday and talked about the market for running backs.
"It's nothing that we're doing wrong," Sanders said. "We're doing everything that we have to do as far as on the field and stuff like that. For people and GMs or owners to think that running backs are not as valued as much is a lie because you've got to see how everything plays out. You've got to see what guys like Christian McCaffrey, the stuff he does, things that Saquon Barkley (does), the things that Josh Jacobs (does) consistently each year. …
"You want to franchise tag and create a certain market for running backs just because you have this way of thinking that they only last three or four years. I think it's B.S., honestly. Almost every running back is underpaid right now. I don't know what it's gonna take. That's a topic that needs to be brought up a little more because it sucks to be a running back right now, honestly."
He believes almost every running back is underpaid. It is no secret that a dynamic running back can change an offense but teams simply are not prioritizing the position right now.
Will There Be A Rebound?
At some point, the market will come back. Right now, there are a lot of good running backs. Down the road, the market may dry up and bit and teams might try and lock down a top back for their offense. The NFL is also constantly evolving. Offenses right now are more focused on passing and the running quarterback. Once the NFL evolves again, running backs could be more of the focal point.
Carolina Panthers running back Miles Sanders is hoping that the market improves. While he got paid this offseason, he is hoping that the market rebounds for his next one.