BYU Game 10 View from the Midwest – BYU at Boise State
For those of you who are first-time readers, welcome! Here is a link explaining my process of how I recap BYU games while paying respect to the rich historical tradition of the BYU Cougars I love.
John Beck Player of the Game: Jaren Hall.
Jaren Hall had the best game of his BYU career against Boise State. He was 29 of 42 for 377 yards and three touchdowns passing and had 12 carries for 82 yards and a touchdown rushing. That's 459 yards and four touchdowns. An outstanding game for Jaren Hall that the Cougars needed every yard and every touchdown to a get a win over a rival. Hall's final touchdown pass to Puka Nacua that gave BYU the defining lead was the Jim McMahon Throw of the Game (maybe of the season) for BYU.
Steve Young-Curtis Brown Dual Threat of the Game: Jaren Hall.
Hall's rushing along with his passing makes him the dual threat of the game. His 12 carries for 82 yards and a touchdown was enough to make him the Luke Staley-Tyler Allgeier Rusher of the Game too. Hall's rushing opened up the passing game more because it made Boise State have to have a defender on Jaren Hall and take away a defender from covering Hall's receivers. Hall did it all.
Taysom Hill Most Athletic Play of the Game: Hinckley Ropati
The BYU faithful didn't know who Hinckley Ropati was until this game and until one big play in which he introduced himself in a huge way. He took a screen play 48 yards to the house on which he broke at least four tackles and zig-zagged his way across and up the field. Ropati would end the game with eight touches for 110 yards and a touchdown. He's earned some more time in the Cougars' remaining games and will be an asset moving forward for the BYU offense.
Austin Collie Receiver of the Game: Puka Nacua
Puka Nacua would not be denied against the Broncos. Nacua had 14 catches for 157 yards and two touchdowns. Hall to Nacua was heard all night in Boise. As a fan of BYU, I tried to savor it as it may only be around for three more games.
Ty Detmer Heisman Play of the Game: Nacua's final touchdown.
Puka Nacua's go-ahead touchdown late in the fourth quarter was a thing of beauty. Nacua was being interfered with, the defender was all over him and holding his jersey. Puka broke free and kept the ball away from the defender, secured the catch, and got his toes down in the endzone all while falling to the ground. It was  Andrew George-Jonny Harline Game Winning Play as much as it was Heisman-caliber play. An absolutely fantastic catch.
Running the Dang Ball:
BYU had 155 rushing yards on 32 carries. While most teams shoot for balance in their offensive attack, BYU needs it to be about 60/40 in favor of the pass. That 40% is still very important. The Cougars have 305 carries for 1,510 yards and 12 touchdowns rushing this year. They're averaging 151 yards a game and 4.95 yards per carry and are 64th nationally in rushing offense. That's about the lowest acceptable mark for the Cougars. That's about what they did against Boise and while they didn't have a vast amount of success, they had enough to keep the Bronco defense honest and let Jaren Hall, Puka Nacua, and the passing game do the rest.
Fred Warner Defensive Player of the Game: Keenan Pili
Pili was the defender of the game by a mile. He was credited with BYU's lone sack, the Jan Jorgensen-Jim Hermann Sack of the Game, and he was credited with forcing a fumble on the same play, with the same hard hit, that was the Kyle Van Noy Hit of the Game. Pili filled in great for an injured Max Tooley who had been the leader of the defense up to this point. Pili finished the game with six tackles, a sack, and a forced fumble.
Adjustments: Letting Your Stars Shine.
With all the flak Coach Sitake has been taking it's just as important to point out when he has success and he had some in the Cougars' win over the Broncos. The best call he made was to let his stars carry the team. Jaren Hall and Puka Nacua did it all for the offense and Coach Sitake decided to get out of their way and let them play their game and make the other team stop them, and not stop them themselves.
A problem the Cougars had been having was trying to use too many ingredients and not letting players get in a rhythm and gain traction. The LaVell Edwards Call of the Game was letting your two best players, who you sadly only have for three more games, carry your team and Jaren Hall and Puka Nacua did just that.
Rise and Shout Again: Utah Tech
Cougars are now 5-8 against Boise State as the rivalry is shelved for the foreseeable future. It was fantastic for BYU to leave it with a win. BYU had a 25-game winning streak when scoring a touchdown on the opening possession coming into this game. Now that's at 26. Up next is FCS Utah Tech out of St. George, Utah. The Bison shouldn't be too difficult of an outing for BYU and the Cougars should secure bowl eligibility before the season finale at Stanford.
8-5 is what they should be striving for now, but that should also be a number below where their season goals are at. With the talent they have and the way, they can play there is no reason for BYU to not get double-digit wins every season at the least. That's the standard they set in 2020 and 2021 and the culture they built demands they be near it, with an 8-5 season being the furthest from that goal year in and year out.
There is still a lot of room for this team to grow. The defense still needs to pressure the quarterback more. 10 sacks in 10 games for 128th nationally is not acceptable. The running game can improve and maybe Hinckley Ropati and Jaren Hall rushing more is the answer there the way it was against Boise. But breaking this losing streak was even more important than improving statistically, because when you find ways to win the little things start taking care of themselves.
Heart of a Lion: A Post-Game Prayer.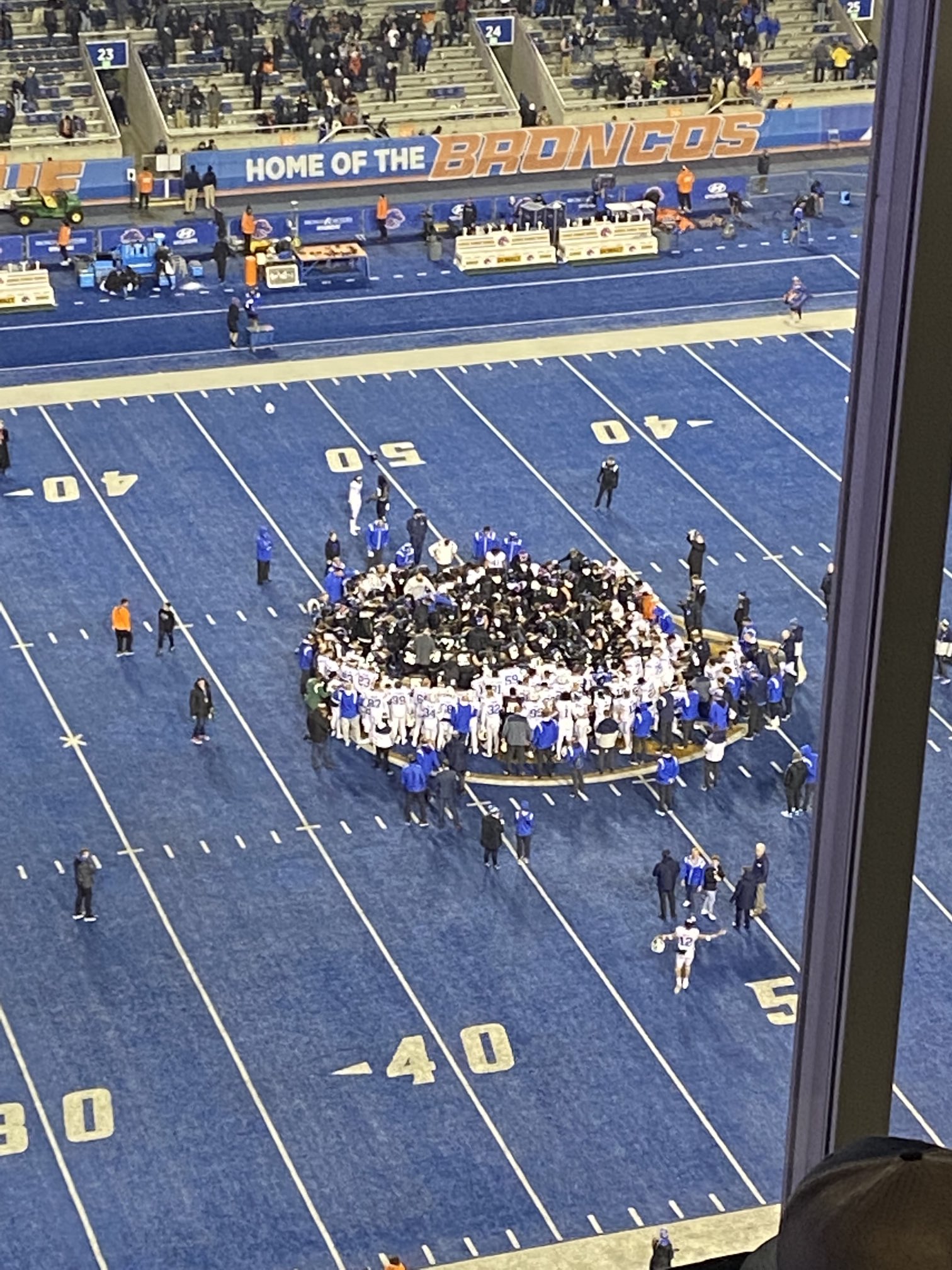 This is something I feel has been lost in football. When I was a kid, after every game, some players from both teams would come together and pray. And it didn't matter who the two teams were. Maybe it still happens and is just shown less by the media in 2022, but it's something I've missed. Even if you don't hold to God or religion, it's just a good human moment, a good sportsmanship moment after a hard-fought game of football. I love it. I respect it. And I hope it happens more often.
Thanks for reading! Give me a follow on Twitter and Facebook!
Read about all the BYU games so far this season!
For More Great Football Content
Follow us on Twitter at @GridironHeroics for more great content. We appreciate you taking time to read our articles. To interact more with our community and keep up to date on the latest in Football news, JOIN OUR FREE FACEBOOK GROUP by CLICKING HERE
Checkout our latest podcast!
[powerpress_playlist limit=1]