At this point, Tom Brady has made it abundantly clear that he isn't coming out of retirement for a second time. This has left the Tampa Bay Buccaneers with a gargantuan hole that they will need to fill at quarterback, which at this point, has been assigned to Baker Mayfield.
In truth, the Bucs could do far worse than a guy like Baker Mayfield, but there's also no denying that they could also do better.
Buccaneers Take Gamble on Trey Lance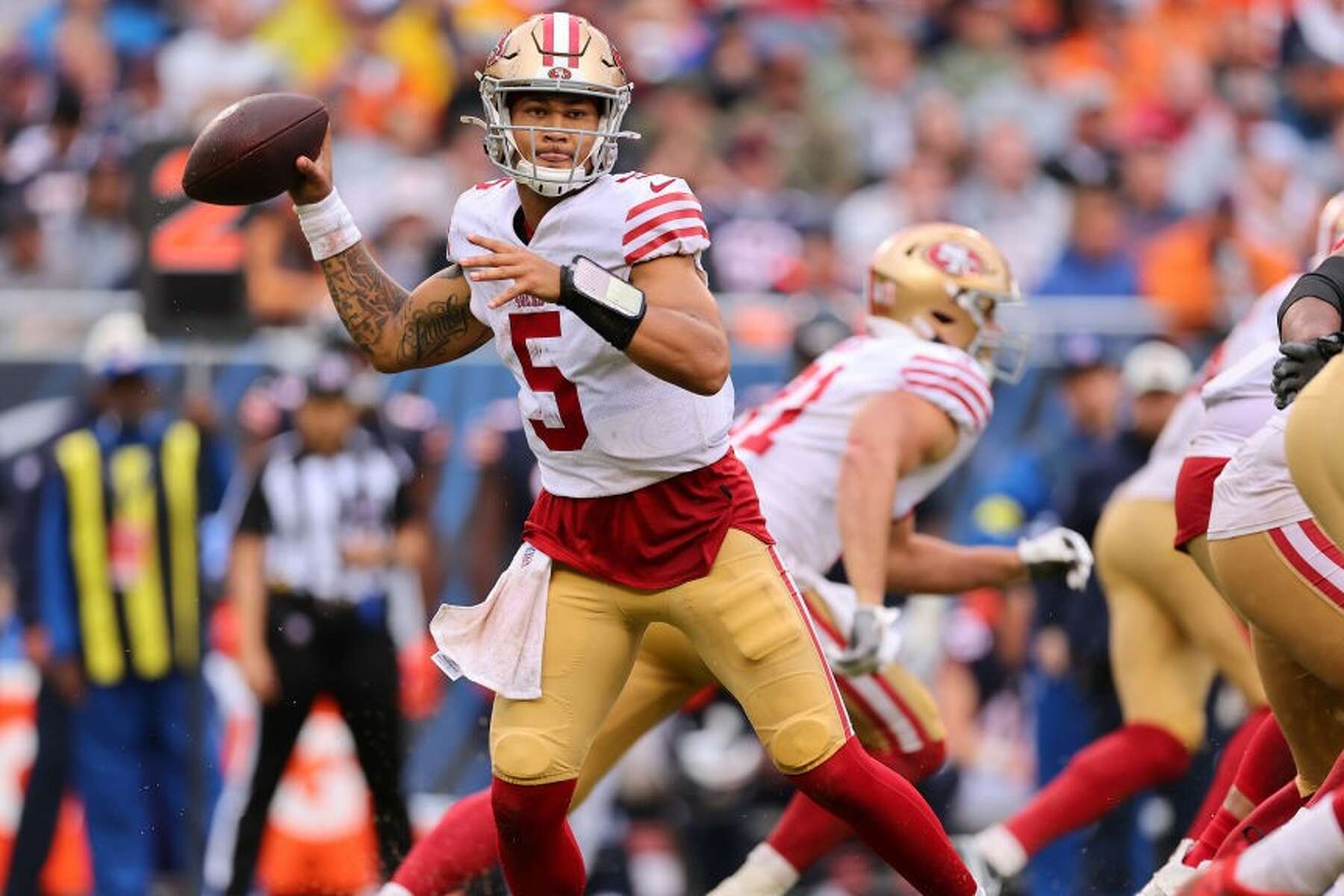 ESPN's Seth Walder imagines a scenario wherein the Buccaneers opt to make a major move to acquire a potential quarterback of the future. According to Walder, the Bucs should take a long, hard look at the San Francisco 49ers' Trey Lance.
Below are the details of the proposed deal:
Tampa Bay Buccaneers receive: QB Trey Lance, 2024 second-round pick, 2024 sixth-round pick
San Francisco 49ers receive: 2024 second-round pick, 2024 third-round pick
Walder argues that Tampa Bay is in a great position right now to try and see if they can find their next cornerstone quarterback. Walder doesn't believe that Mayfield is going to be a long-term answer for the Bucs, which is why Lance could be an option:
"The Bucs aren't contenders in 2023, so their moves should be focused on saving money and acquiring draft assets. But there's one exception to that framework: chasing quarterback upside. They might as well use the upcoming 17 games as a testing ground for a potential future QB — even if he's a long shot. That precisely describes Lance. If there's a 10% chance that Lance can become a long-term solution for the Bucs, that's still a lot higher than Baker Mayfield's chances to be that guy," Walder wrote.
Injuries have been a major hurdle for Lance since he started his NFL career, but there's no denying that this young man has a ton of upside. The 23-year-old has a strong arm that could fit in well with the Bucs' vertical offense. He's obviously no Tom Brady, but he could emerge as a QB Tampa Bay could build around in the coming years.
For their part, it's obviously going to be the Brock Purdy show in San Francisco in 2023. Parting ways with a very able QB2 in Lance will be a blow for the 49ers, but given what they will get in return, this could be a deal worth doing for them. Moreover, they would still have Sam Darnold to back up Purdy.
The Niners will need to swap their 2024 second-round pick with the Bucs in order to make this deal work, but they're also getting a third-round pick in exchange for their seventh-rounder. The Bucs aren't expected to do very well this coming season, which means that this could third-round pick could shoot up for San Francisco.