The Carolina Panthers had a disappointing injury update Wednesday for rookie quarterback Bryce Young. Young was injured during the Panthers' loss to the New Orleans Saints.
Carolina Panthers sign QB after Bryce Young's injury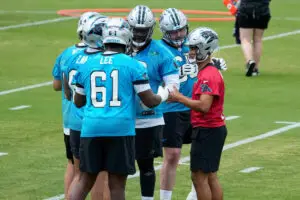 According to Ian Rapoport with the NFL Network, Young missed Panthers practice Wednesday due to an anke injury. The Panthers signed quarterback Jake Luton to the practice squad amid Young's injury.
#Panthers QB Bryce Young, who got his ankle checked out after the game, did not practice today because of an ankle injury. The team also signed QB Jake Luton to their practice squad.

— Ian Rapoport (@RapSheet) September 20, 2023
The Jacksonville Jaguars drafted Lutton in the sixth round of the 2020 NFL Draft. He's spent time on several different NFL team rosters since 2020. Lutton was on the New Orleans Saints in 2022.
Lutton went 60/110 passing for 624 passing yards, two touchdowns, and two interceptions for his NFL career. All of those stats came in his rookie season with the Jaguars.
The Panthers have one other quarterback, Andy Dalton, on the 53-man roster in Week 3. Dalton will be the clear starter for the Panthers at quarterback if Young is unable to play the Seattle Seahawks in Week 3.
For More Football News:
Follow me on Twitter at @JordanSig. You can also reach out to Jordan Sigler via email at jordanmsigler@gmail.com. To read more of our articles and keep up to date on the latest in college and NFL news, click here!