So now this is my third time writing this power rankings blog tonight. For some reason, I would write it and it would never save. So you know I am in a good mood while writing this one. I am also at twitter war with Oklahoma State fans for some reason. At least I got the worst conference, the Big 10, out already. I would have jumped right off the Skyway Bridge if I had re-write that one.
Tier 1 Power Rankings: Playoff Contenders
#1 TCU
Look I can't fight this team anymore. Sonny Dykes and the Horned Frogs are a good team. A good team with a horseshoe up its ass. They are undefeated and you are what your record says you are. The problem with that is they have played everyone's backup QB, Kansas, Oklahoma, Ok State for a little, and Kansas State's third string. The thing is, when it comes to a playoff run, you have to be good for sure; but the luck comes in huge, too. Maybe the Horned Frogs are just destined to make a run to the playoff. They keep getting all the breaks. They are number one on the power rankings until they lose. If they lose.
#2 Oklahoma State
You see while I am at twitter war with their fan base, I am an unbiased college football analyst. This is a good team that still has an outside shot of making the playoff if they win the conference. Spencer Sanders had a really gritty performance this past week versus Texas, and the refs helped. Not only that, but the defense sure as hell played amazing in the second half; holding the Longhorns to one score and Ewers to 19-49 passing. I hate their fans, absolute morons; but the team is damn good and I think I may place a bet on Units Only Go Up for them to win the conference.
Tier 2 Power Rankings: Could Win Conference
#3 Kansas State
Yeah, it sucks for the Wildcats that Martinez went down versus TCU this past week. I honestly believe if he stays healthy Kansas State cruises to victory. Nothing they can do now about that game, but they do control their own destiny in getting to the Big 12 title game. They just need to win out and they are guaranteed to play for a championship at the end of the year. Huge game this week that will really determine title game contenders versus Oklahoma State. If they win this game, they very well could go undefeated the rest of the way to get to the title. How healthy will Adrian Martinez be?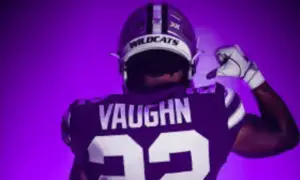 Somehow this team, after looking like crap the second half versus Oklahoma State, can still make the Big 12 title game. They still play Kansas State and TCU. If they win those games and get a little help they will be there to take it at the end of November. I really don't know what happened to Ewers in the second half last week. This team is so frustrating because you know they can be excellent. It just seems sometimes they get thrown off their game plan and the wheels start falling off. If they can keep the ship right and play like the good Texas they will be there in the end.
Tier 3 Power Rankings: Bowl Teams
#5 Kansas
I know they are on a three game losing streak. This is biased and I will put Kansas this high in the power rankings because they probably won't be here in a few weeks.  They will probably finish 6-6 and make a bowl, which is a hell of a season for the Jayhawks. Their over under win total was 2 and that would be three times the amount of expected wins. The injury to Jalon Daniels for sure set the team back, but Bean has filled in nicely. He is just not as dynamic as Daniels. No chance in hell Leipold doesn't get this team one more win and bowl eligible.
#6 Oklahoma
Not used to having the Sooners so low in the power rankings this late into a year. The embarrassing loss to Texas and Gabriel getting hurt made the first half of the year pretty tough for Oklahoma. I honestly think they could win 4 out of the last 5 games and if they win Bedlam then they can definitely win out and finish 9-3. That would be a hell of an ending to a pretty rough start to the year. The schedule lightens up and if they make a bowl on a big winning streak, no one would want to see them.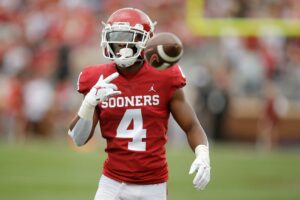 #7 Texas Tech
I have Tech here based on what they have done and what I think they will do. Right now they are barely over .500 and on the cusp of making a bowl. They need two more wins to become eligible. I think they have three very winnable games left making them 7-5 at the end of the year. Again, this is a power ranking based on a good win versus Texas and what they have left. Maybe they just suck the rest of the year, but I think Joey McGuire gets the Red Raiders to a bowl.
Tier 4 Power Rankings: Could Play Spoiler
#8 Baylor
The Bears are above .500 right now and could make a bowl. The problem is their schedule is brutal the last weeks of the year. They play all five teams that are high in the power rankings and three of those games are on the road. Now, they very well could play spoiler and I will bet they knock off one of the top five teams they play; but I just don't see them winning two and getting to a bowl. This can be revisited next week if they knock off Texas Tech this week. They might flip flop with the Red Raiders.
#9 West Virginia
The Mountaineers have an even more brutal schedule coming up than the Bears above them. They still have to play the top three teams in the standing and power rankings. They will more then likely not make a bowl game as I realistically see them winning maybe two more games. I do see them knocking off one of the top three teams, though. They play TCU and Kansas State at home. I think they get one of those games. JT Daniels is still a dangerous QB and with nothing to lose, watch out!!!
Tier 5 Power Rankings: Doormat
#10 Iowa State
I hate to say this about the Cyclones because I have a soft spot for them. I always root for them versus Big 10 rival Iowa, because I hate Iowa. This year, though, Matt Campbell's team has just been a doormat to every Big 12 team. They have no wins in conference and I just don't see them getting one. The other teams are just better than them. Campbell, if still at Iowa State next year, will have this team much better. This year, at least they beat the Hawkeyes.
Boom ,suckers. The most competitive conference in college football is completely power ranked. I have been saying all year on twitter that this conference was top to bottom the best. Any team, any Saturday, anywhere. Definitely the most entertaining, and it will come down to the last week to see who wins. I love this conference; hate most of the fanbases, but the teams are electric.
For More Great Football Content
Follow us on Twitter at @GridironHeroics for more great content. We appreciate you taking time to read our articles. To interact more with our community and keep up to date on the latest in Football news, JOIN OUR FREE FACEBOOK GROUP by CLICKING HERE
Checkout our latest podcast!
[powerpress_playlist limit=1]