A new report indicates the Carolina Panthers will have a new starter at quarterback for their Week 3 contest against the Seattle Seahawks.
Rookie quarterback Bryce Young missed Wednesday's practice due to an ankle injury he suffered in the team's loss to the New Orleans Saints on Monday Night Football. The Panthers signed quarterback Jake Luton after news of Young's injury.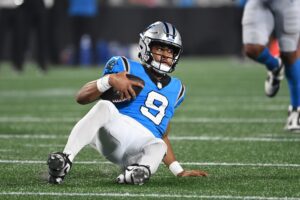 Carolina Panthers is trending toward Andy Dalton as the starting QB
According to Adam Schefter with ESPN, Young will miss Thursday's practice. Veteran quarterback Andy Dalton is "tracking" to be the Panthers starting quarterback against the Seahawks.
For a second straight day, Panthers' rookie QB Bryce Young will not practice due to his ankle injury. Panthers' QB Andy Dalton is now tracking to start Sunday at Seattle.

— Adam Schefter (@AdamSchefter) September 21, 2023
Dalton was a long-time starter for the Cincinnati Bengals after the team drafted him in 2011. Dalton is 83-77-2 as a starter in the NFL. Since leaving the Bengals following the 2019 season, Dalton has primarily served as a backup. He also was the Bears starting quarterback for the 2021 season until rookie Justin Fields earned the job midseason.
For More Football News:
Follow me on Twitter at @JordanSig. You can also reach out to Jordan Sigler via email at jordanmsigler@gmail.com. To read more of our articles and keep up to date on the latest in college and NFL news, click here!