Ever since quarterback Aaron Rodgers suffered a ruptured Achilles tendon in Week 1 of the NFL season, all we have heard is that he plans on returning to the New York Jets this season. The quickest a player returned from a torn Achilles was Minnesota Vikings running back Cam Akers as he returned to the field five months after surgery.
However, it seems like Aaron Rodgers is ready to surpass that timetable as he spoke to Melissa Stark on Sunday Night Football that his goal is to be back on the field by mid-December.
"I know it sounds insane, but if you do a good surgery, have a good patient, it makes this possible."
He has been appearing at Jets games throughout his recovery, throwing on the field during pre-games as well as helping Zach Wilson.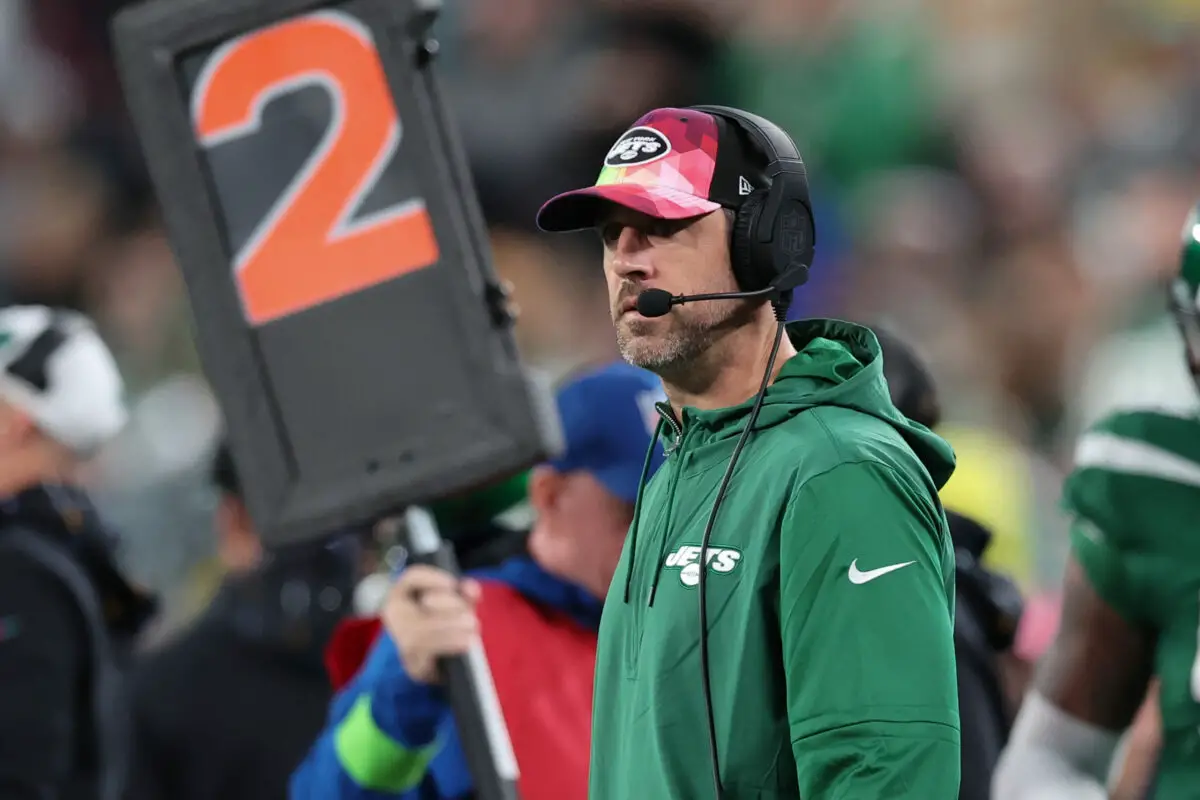 This would be incredible as mid-December would be around the three-month mark as he suffered the Achilles injury on Sept. 11. Rodgers did post a picture of a watch that hinted at a potential return for Week 17 against the Cleveland Browns.
What would Aaron Rodgers returning to the New York Jets mean for the team?
The New York Jets would love the opportunity for Aaron Rodgers to return this season and it sounds like everyone in Florham Park believes it to. The Jets entered their Week 10 matchup on Sunday Night Football against the Las Vegas Raiders with a 4-4 record and 1-1 in the AFC East. They entered the week sitting in 11th place in the AFC and need to win.
If Aaron Rodgers is returning to the team this quickly, the Jets need to be in the hunt for the playoffs. With potentially two weeks before the end of the regular season looking like the target date, the team needs to by at 7-8 wins at that time as they need to be competing for a playoff spot.
The New York Jets have had Zach Wilson play under center since the Aaron Rodgers injury and while he has been good at not turning the ball over too much or making mistakes, he has not progressed to the point people would like. Entering Week 10, Wilson is 160-of-267 (59.9 completion percentage) for 1,600 yards with five passing touchdowns and five interceptions.
However, the offense would have a huge boost with one of the greatest quarterbacks of all time on the field and making throws. This Jets team with Garrett Wilson, Allen Lazard, Xavier Gipson, Tyler Conklin and Breece Hall all being some sort of weapons, having a former Super Bowl winner and multiple time NFL MVP would be a huge boost.
For more of my content, make sure to follow me on Twitter @TalkVinTalk. I am also part of Fantasy Sports Heroics, where we are doing daily content on YouTube, discussing fantasy and betting that you can watch by clicking here.