Gridiron Heroics partners with Draft Scout to give each school's Top 5 NFL Draft Prospects in the Big Ten. Welcome to a list of the Wisconsin Top 5 NFL Draft Prospects for 2023, as seen by Draft Scout.
Each week brings us closer and closer to one of the most anticipated days on the sports calendar, the NFL Draft. This year's draft will be held in Kansas City, Missouri, from April 27-29, 2023. We take a look at the Big Ten seniors, the Class of 2023. Since we don't know yet which underclassmen will declare, we will reconfigure the rankings when that happens, so be sure to revisit us.
Our Big Ten Draft Prospect Series runs from November 14, 2022, until November 18, 2022, with three schools running per day in alphabetical order. A master conference list of the Big Ten's Top 20 NFL Draft Prospects will wrap things up on Monday, November. 21, 2022. Please check the team links below to see the other schools' top prospects.
BIG TEN TOP 20 PROSPECTS: Overall Big Ten Top Prospect List
BIG TEN EAST PROSPECTS: Indiana | Maryland | Michigan | Michigan State | Ohio State | Penn State | Rutgers
BIG TEN WEST PROSPECTS: Illinois | Iowa | Minnesota| Nebraska | Northwestern| Purdue| Wisconsin
---
RELATED STORY: The Top ESPN 30 for 30 Shows in College Football — We Rank Them
So, we all know that not every team in the country has five surefire draft picks on it. Some programs do, especially in the more elite conferences, but the vast majority don't have that many top-flight prospects. However, we also know that "top-flight" players don't always pan out, and at the same time, that strong undrafted free agent everybody forgot about ends up making an NFL team and flourishing.
Below is a look at the Wisconsin Top 5 NFL Draft Prospects and how they project in the eyes of Draft Scout. Again, for now, we'll go strictly with seniors (Class of 2023), as underclassmen have not been allowed to declare yet, though when they do, we will update the list below.
WISCONSIN TOP 5 NFL DRAFT PROSPECTS
NO. 1 PROSPECT
NAME: Keeanu Benton (Defensive Tackle)
DRAFTSCOUT PROJECTION: 1st or 2nd round
CAREER STATISTICS: 72 total tacks; 15 tackles for loss; 7.5 sacks; 4 passes defended; 2 fumbles recovered; 2 fumbles forced
THE TRUTH: According to Draft Scout, over twenty NFL teams find that he will be taken in the 1st or 2nd round of the 2023 NFL Draft. Draft Scout ranks him as the 40th-best available player in the 2023 Draft. He is a versatile defensive tackle, one who can seamlessly switch to nose tackle and cause havoc. For those teams using a nose tackle in their defensive schemes, he is capturing their attention. Although the Wisconsin Badgers have had a disappointing season, Keeanu Benton has been one of the team's bright spots. He has improved his performance each season. Benton has already surpassed his total number of tackles, tackles for loss, and sacks from last season.
Although Wisconsin's defense has not performed as well as we are accustomed to it performing, NFL teams know how well-coached defensive players are at Wisconsin, and they know the excellent defensive players the team produces.
Benton is not the best defensive tackle available, but he is one of the best. His versatility and impressive constant improvement each season will likely result in him being a late 1st or early 2nd round draft pick.
---
NO. 2 PROSPECT
NAME: Tyler Beach (Offensive Guard)
DRAFTSCOUT PROJECTION: 7th round or High Priority Free Agent (HPFA)
CAREER STATISTICS: Tyler Beach has played in 10 games. He is 6'6 and 312 pounds. Although he has only played in 10 games, he is another huge and athletic offensive lineman the Wisconsin Badgers have produced. In those 10 games, he has played well and lived up to the high expectations the Badgers coaching staff demand offensive linemen to meet.
THE TRUTH: According to Draft Scout, Tyler Beach is the 345th-best available player in the 2023 NFL Draft. Although most scouts believe he will go in the 7th round or be an HPFA, some scouts assert he has the potential to be taken in the 5th round.
With a limited body of work, I do not see a team taking a chance on him until the 7th round. He offers teams great value in the 7th round, though. Why? Because he exhibits the potential to be a reliable offensive guard in the NFL. He has the size and athleticism to make him an attractive 7th-round pick.
---
NO. 3 PROSPECT
NAME: Chez Mellusi (Running Back)
DRAFTSCOUT PROJECTION: High Priority Free Agent (HPFA)
CAREER STATISTICS: 229 rushing attempts; 1,038 rushing yards; 4.5 yards per carry average; 6 rushing touchdowns; 9 receptions; 91 receiving yards; 10.1 yards per reception average; 1 receiving touchdown
THE TRUTH: According to Draft Scout, Chez Mellusi is an HPFA. He suffered a broken wrist in his final carry against Northwestern, and he is out indefinitely. Mellusi underwent surgery for the broken wrist. He demonstrates the potential for making an NFL roster, but I ultimately contend teams will be highly skeptical of his durability, given his broken wrist. Mellusi could prove me wrong with a significant recovery.
Right now, I assert that he will not make an NFL roster.
---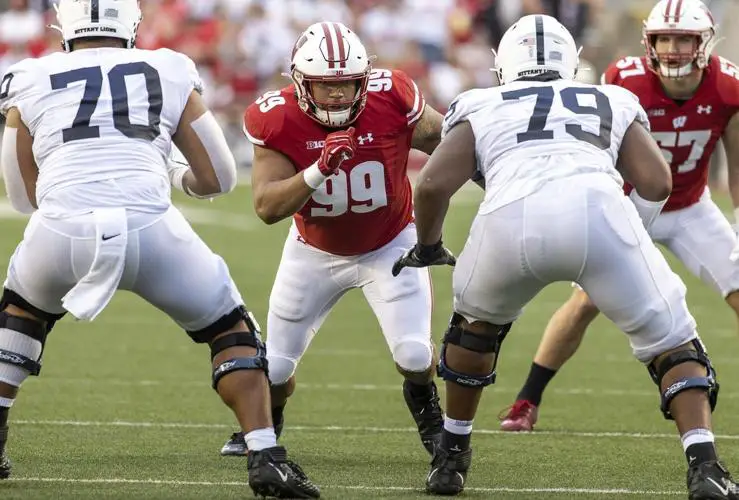 NO. 4 PROSPECT
NAME: Andy Vujnovich (Punter)
DRAFTSCOUT PROJECTION: High Priority Free Agent (HPFA)
CAREER STATISTICS: 130 punts; 5,752 punting yards; 44.2 yards per punt
THE TRUTH: According to Draft Scout, he is an HPFA. Andy Vujnovich is a reliable punter capable of making an NFL roster. Teams needing a reliable kicker will give him a shot.
Given how critical special teams are to winning games, and how vital a reliable punter is to winning games, I assert that Vunjnovich will be taken as an HPFA.
---
NO. 5 PROSPECT
NAME: Isaiah Mullens (Defensive End)
DRAFTSCOUT PROJECTION: High Priority Free Agent (HPFA)
CAREER STATISTICS: 39 total tackles; 4.5 tackles for loss; 2 sacks; 2 passes defended
THE TRUTH: According to Draft Scout, Isaiah Mullens is an HPFA. Although his numbers are not impressive, he has talent. To make an NFL roster, he will need to continue to progress.
Even though NFL teams will give him a serious look, I ultimately do not believe he will make an NFL roster.