Football season is finally here! Chiefs Kingdom has been patiently waiting to see what the offense will look like with the new personnel. One thing I have been waiting to see is what kind of defenses the Chiefs will see. For much of last season the Chiefs saw two-deep shell coverage to help stall the explosive offense and to keep Tyreek Hill in front of them. It took some time for the Quarterback Patrick Mahomes and the rest of the offense to adjust but they were able to figure out how to adapt. They started taking more check-downs, short routes and attacking the middle of the field. With Tyreek off to Miami, they might see more man coverage. This would open the door to more explosive plays down the field than last season.
The new group of receivers might also make it a little more difficult for Defensive Coordinators to gameplan. The focus can no longer be just on Hill and Tight End Travis Kelce. Mahomes said himself in his Sept. 7 press conference that "It's going to come from everywhere" when speaking about where the offensive production would come. The Chiefs receiver group includes Juju Smith-Schuster, Marquez Valdez-Scantling, Mecole Hardman, Skyy Moore and Justin Watson. While the Chiefs receiving corps still possesses plenty of speed, Hill's skillset, speed and quickness is nearly impossible replace. Look for Mahomes to spread the ball around and take what the defense gives him.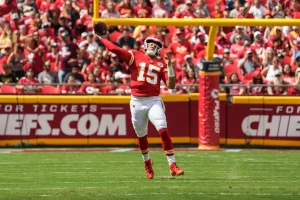 The Kansas City Chiefs kickoff the season this Sunday against the Arizona Cardinals. The Chiefs finished the regular season with a 12-5 record before being knocked out in the AFC Championship game by the Bengals. The Cardinals went 11-6 and were eliminated by the eventual Super Bowl Champion Los Angeles Rams in the Wild Card Round. Check out this Article from Gridiron Heroics' Haley Kostel for the full Chiefs roster.