Two Virginia Cavaliers wide receivers, Billy Kemp IV and Keytaon Thompson, have been named to the 2023 East-West Shrine Bowl 1000 List. They join fellow Cavaliers Brennan Armstrong, Kameron Butler, Nick Jackson, Anthony Johnson, and Coen King. The Shrine Bowl is an annual all-star college football game held to benefit Shriner's Children's Hospitals.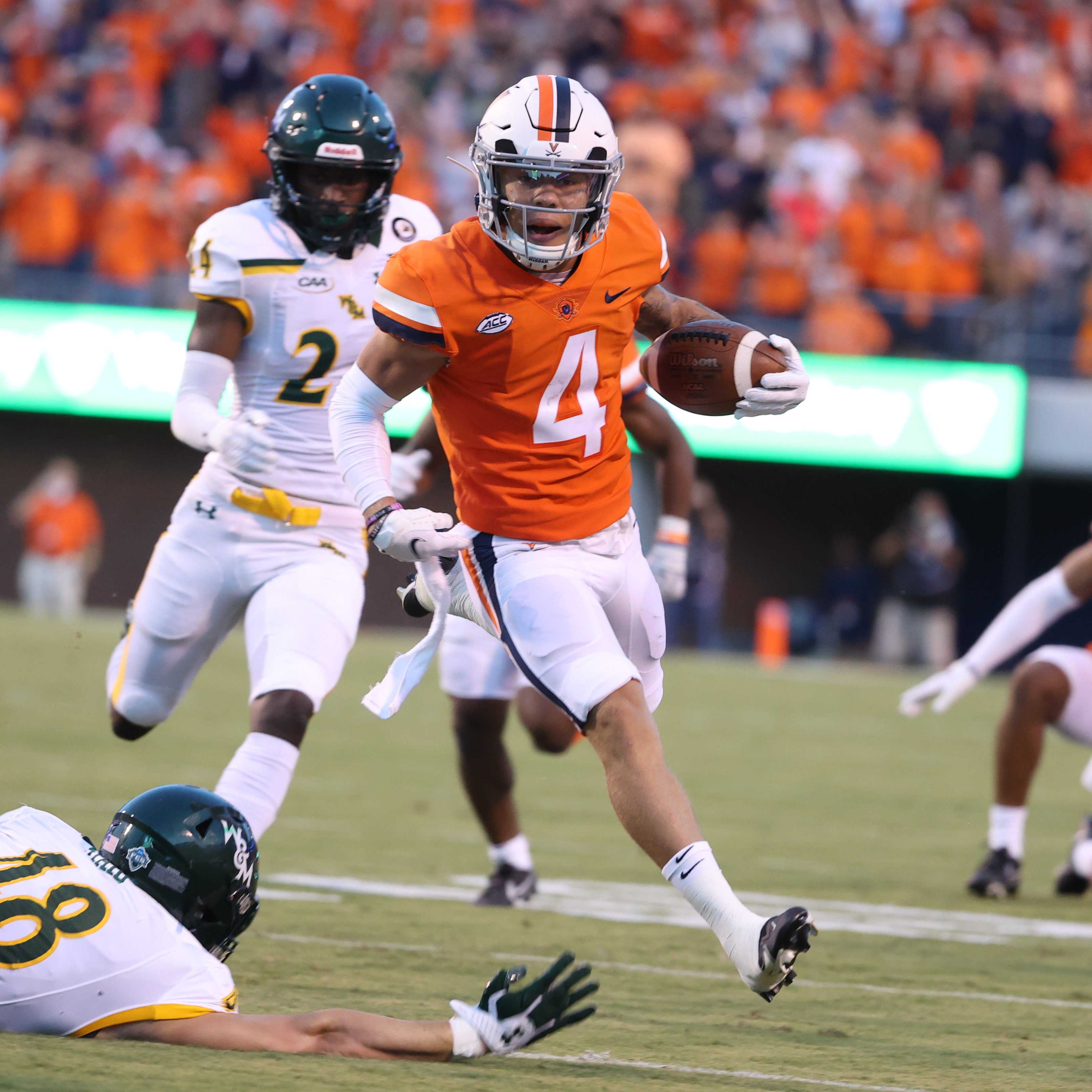 Recap: Billy Kemp IV's Standout Cavalier Career
Billy Kemp, IV has been making waves for the Cavs since his freshman debut in 2018 against Richmond.
One of only 13 true freshmen to see playing time in 2018, Kemp appeared in seven of Virginia's 13 games in 2018. During the Belk Bowl, Kemp returned three punts for 31 yards against the Gamecocks.
In 2019, Kemp had a huge season for the Cavs. Appearing in 13 of 14 games, Kemp made several big plays to help seal victory for Virginia. In the win over Florida State, Kemp returned four punts for 51 yards and caught two passes for 20 yards. In the victory against Liberty, he caught four passes for 42 yards, and made nine receptions for 66 yards against Clemson. Kemp caught one pass in the Orange Bowl against the Florida Gators.
Although the 2020 season was shortened, it was another productive year for Kemp. He appeared in all 10 games with nine starts. In the season opener against Duke, Kemp made seven receptions for 70 yards. At No.1 Clemson, he led the Cavs with 10 receptions for 96 yards. In 2020, he became the fifth Cavalier to record multiple 10+ reception games in a season during the NC State game when he caught 10 passes for 82 yards and a score. He also recorded nine catches for 73 yards at Virginia Tech.
In 2021 Kemp appeared in all 12 games and had 10 starts. In every game, he had at least three receptions. He set new career highs in catches with 74; receiving yards with 725; and touchdowns with 6. Kemp has caught a pass in 27 consecutive games dating back to 2019 and is ranked fourth all-time on Virginia's career receptions list with 176.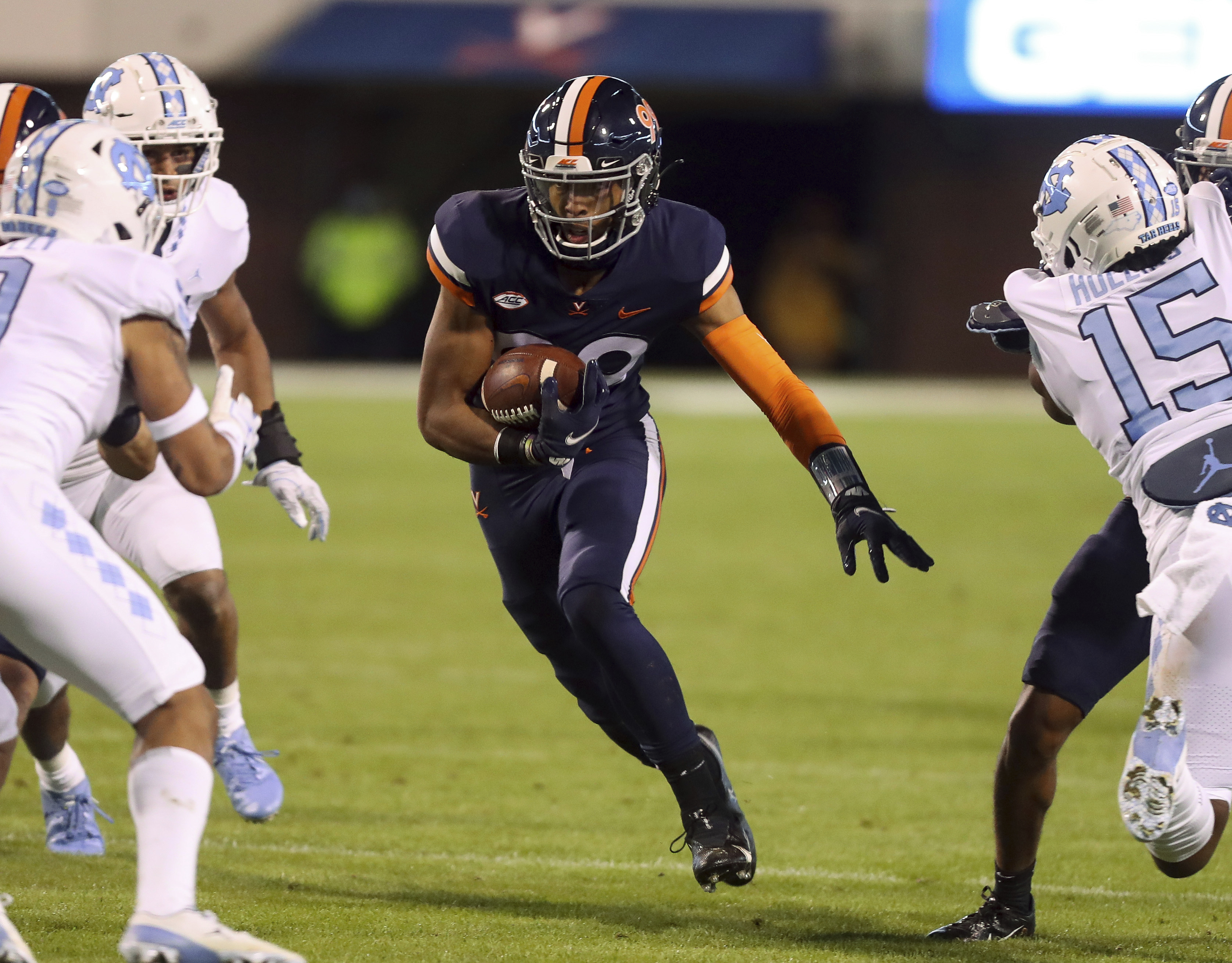 Recap: Keytaon Thompson's Persistent Prowess
Keytaon Thompson played in the 2017, 2018, and 2019 seasons at Mississippi State University. In 2020, he graduated with a Bachelor's degree in Kinesiology Sport Administration before transferring to the University of Virginia. 
Thompson's first career start was in the Taxslayer Bowl in 2017. He led the Bulldogs to a 31-27 victory over the Louisville Cardinals, tying an MSU bowl record when he rushed for three scores. He played in ten games as a true freshman, throwing for 388 yards and two touchdowns.
In 2018, Thompson played in nine games with one start for MSU. He threw for 458 yards and six touchdowns, while rushing for 226 yards and four scores. Thompson was appeared in just one game in 2019 and was able to redshirt.
During the 2020 season, Thompson appeared in nine of Virginia's 10 games with four starts. At No.1 Clemson, he caught one pass for three yards and a touchdown. He led Virginia with 71 rushing yards on 10 carries at Wake Forest, and rushed nine times for 86 yards and two touchdowns in the Cavs' victory over Boston College. Additionally, Thompson was named to the 2021 ACC Academic Honor Roll.
In 2021, Thompson appeared in all 12 of UVA's games with ten starts. He finished the season with five straight games of at least seven receptions. Thompson finished the season with three 100-yard games and led the Cavaliers with 78 receptions. He had 990 yards on the season, putting him 10 yards shy of being Virginia's sixth single-season receiver with 1,000 yards.
Breaking It Down
Billy Kemp IV is as consistent as he is dominant. He has been a key part of Virginia's offense since 2018. Kemp IV may work quietly but his work is efficient and consistently productive. He is, "a reliable threat over the middle of the field," and possesses a keen ability to find open spots. Kemp produces no matter where he is lined up.
Keytaon Thompson, beginning his college career as a quarterback, has transitioned to the wide receiver position seamlessly. Thompson has been described as, "the ultimate Swiss Army knife for the Cavaliers since arriving on the grounds in 2020." For Thompson, the transition from quarterback to wide receiver is a huge advantage for the Cavs in that he understands coverages as well as, possibly better than, most other receivers. This knowledge is advantageous for Thompson and for the rest of Virginia's offense, especially as the new coaching staff works to revive the Cavaliers and improve on 2021's 6-6 record.
Both Kemp IV and Thompson are integral pieces of the Cavalier puzzle. But what does this mean for their NFL prospects?
2023 NFL Draft Buzz
Kemp IV and Thompson are both strong players capable of delivering big for the Cavs. Both players have been named to the 2023 East-West Shrine Bowl list which aims to identify the top 1,000 college players eligible for NFL activity in 2023. A positive showing at the Shrine Bowl can be impactful on a player's shot at a career with the NFL.
Undoubtedly, Kemp is a talented wide receiver and an asset to the Cavaliers offense. He has remained reliable throughout his tenure with the Cavaliers. Hopefully, he will continue to do so throughout the 2022 season.
Thompson is likely to have a shot at a future in the NFL. Like many others there are areas he could work to develop further, but his size and overall build are beneficial to his abilities as a player. He is a physical player with reliable hands and is a savvy route runner. Thompson's speed is not elite, but he would be an asset for a team that already has speed at this position and needs a strong blocker. 
Virginia's offense is one to watch in the 2022 season, with the receiving squad attracting significant attention.