It's a good thing it's spooky season, because things are about to get scary in this edition of the Injury Corner: the 9 spinal injuries that will leave you feeling paralyzed.
If you decide to study sports injury daily like yours truly, particularly looking at the long-term health outcomes of former football players, you will need 3 things.
The first thing is the emotional composition of Ted Bundy, the second is the stealy stomach of a youtuber making mukbangs, and thirdly you need to stay hydrated (if anyone asks, it's always water).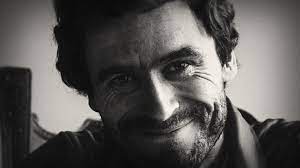 You can sing the song: "head, shoulder, knees, and toes" and cover most of the recurring injuries in the NFL – although it's best to expect the unexpected. If you don't, you'll get one of those "oh crap, the milk expired – and I checked after I took a swig" type surprises. Spinal injuries are that milk, pretty much every time.
Grab your (spiked?) PSL's, and let's get into it!
Earl Campbell: Spinal contusion
The 70's and 80's were a different time. A time when people had undiagnosed spinal conditions, and nothing short of a partial decapitation would convince your coach you couldn't play anymore that game.
Campbell was diagnosed in 1999 with Spinal Stenosis – the same condition that ended Cooper Manning and Michael Irvin's playing careers. When Cooper and Michael were in the league, doctors checked for paralysis inducing conditions and they would disqualify you from play. Unfortunately, Earl retired in 1985 before doctors doctored so the news was a smidgen late and the damage was done. Dr. Stan Jones, his back doctor, hypothesizes that he experienced a spinal contusion on the field in 1979 and easily could have been paralyzed at that point, or pretty much at anytime during his football career.
Earl Campbell describes the "lick" he took from Jack Tatum, a literal paralyzer, as the only one that he ever felt. He describes a shock that went to the heels of his feet, and burned. He didn't say anything, in fact he played through the contusion, but he thought something might be wrong. No one could accuse Campbell of having a flair for the dramatics. Earl got up, played through the rest of the game, and for another 6 seasons.
As of 2020, Campbell has had five back surgeries. His first one was in 1999.
Happy ending to the story? Nope. Partly because of alleged illegal pill popping facilitated by athletic team members, and partly because he was given pain meds post-surgery, Earl got addicted to pain meds. The good news? Campbell went to rehab and is no longer addicted. The bad news? He is in constant pain.
Reggie Brown: Spinal Injury
Picture this. It's 1997, the Detroit Lions are winning – one game away from the Playoffs, and there are 75,000 other fans cheering with you. You see linebacker Reggie Brown tackle a Jets' running back, you might also notice a Jets' linebacker falling on Brown's head. But you definitely notice when Reggie isn't getting up. His teammates think he just needs a hand up and a little encouragement. You aren't sure what is happening, but it seems like a teammate is panicking and yelling something to the sideline. You catch the phrase "not breathing."
This is the terrifying situation Lions and Jets fans found themselves in when Reggie Brown sustains a serious spinal injury on the field. Brown remembers being completely paralyzed, seeing and hearing players panic around him, gasping for air trying to ask for help, and then going unconscious. Antonio London was screaming helpful quotes like "he's not breathing" and "don't let him die" while the athletic trainer, Ken Falb, and the team physician ran out and stabilized his neck and began performing CPR on the field. 15 minutes later, Reggie was strapped to a backboard, and driven off the field in an ambulance.
Reggie Brown would walk again. Two weeks post-surgery, Reggie did so for the entire country. His recovery wasn't easy – he had to have two vertebras fused together that were displaced by the collision, and had to relearn how to do just about everything.
Life returned to "normal" for Reggie, but he struggled with his mind "lagging." These symptoms were sometimes harder for him than the physical ones. As of 2017, Brown doesn't have full range motion of his neck, feels numbness and tingling in his extremities, and experiences electric shocks shooting from his neck at random times.
Mike Utley: Paralysis
Detroit Lion, Mike Utley, had experienced an injury ridden few years in the NFL. He missed many games in 1989 and 1990 for injuries like rib fractures and a dislocated shoulder. Mike was unusually healthy in 1991, and the team was excited.
Until November 17th, 1991. Utley was blocking a LA Rams linebacker, when the player pulled Utley, causing him to fall and hit the crown of his head on the AstroTurf. He laid motionless on the field for minutes before he was placed on a stretcher and wheeled off the field. With Ken Falb present. I'm not saying that the athletic trainer is a grim reaper, but Ken was present for this injury, Reggie Brown's, and Chuck Hughes dying on the football field.
Suffering from a severe injury to his 6th and 7th vertebrae, and a broken neck, Mike became a paraplegic on the field. He recalls a burning sensation he felt throughout his entire body.
Mike Utley exceeded medical expectations – he was told he would never sit up again or use his hands and arms. All untrue. Mike also does things like scuba and skydiving in his retirement.
Utley has dedicated his life to his creation, the Mike Utley Foundation. This foundation focuses on financially supporting spinal cord injury treatments, bringing a rehabilitative lifestyle to the spinally injured, and bringing awareness to spinal cord injuries in the general population.
Kevin Everett: Paralysis
Immediately following the 2nd half kickoff of week 1 in 2007, Kevin Everett was injured while tackling a Denver Bronco.
The panicking medical team entered the field, and for an unclear reason Everett was left on the field for 15 minutes before being taken off the field in an ambulance. It's a wonder anyone walked after a spinal cord injury the way they were moving Everett's neck around like a joystick.
Kevin immediately went under the knife for hours. Orthopedic surgeon, Dr. Cappuccino, discovered a dislocation of the 3rd and 4th vertebrae. Repairing the fracture required a bone graph. 8 screws, 2 rods, and a plate. His spine needed to be realigned as his spinal corn was nearly severed.
Dr. Cappuccino is more of a half cup empty kind of guy – he suggested Everett would have a 5-10% chance of retaining normal physical function and would sustain permanent brain damage. The only thing that had been moving since the hit was Kevin's eyes.
The 24-year old spent two days fully sedated in a cool environment to help his spine swell down and hopefully reduce injury. Everett's condition was considered "life-threatening" and he required a respirator during that period of time as well. His inability to breathe makes the 15 minutes on the field so much more problematic.
Dr. Green, Everett's neurologist, had a more optimistic outlook. Green reported he could move his legs and feet just 4 days after the surgery, and suggested he may be able to walk himself out of the hospital. That ended up being untrue – but Kevin was walking on his own by December 7th, 2007, after months of therapy. He had another surgery in 2008 due to persistent neck pain.
Kevin Everett as of 2012 is a stay-at-home dad who loves his role as a father. He doesn't have full finger mobility or the same sensation in his limbs but being a parent overshadows the difficulty he has experienced facing new limitations.
Daryll Stingley: Paralysis
No list of spinal injuries would be complete without Daryll Stingley.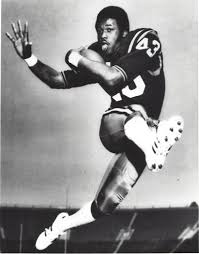 Daryll was in the fifth year of his NFL career as a wide receiver for the New England Patriots. He was just about to sign a contract extension agreement that would have made him one of the highest paid wide receivers. This would never come to fruition.
In a pre-season game in August of 1978, Stingley would walk his last steps. While stretching to catch the ball, Jack Tatum collided with him from the side, in a legal hit. Daryll had a similar injury to Kevin Everett – his 4th and 5th vertebrae were broken which compressed his spinal cord.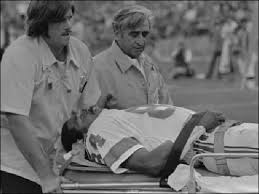 Daryll was a paraplegic for the rest of his life, gaining limited mobility in one arm after years of therapy. The NFL agreed to pay all medical expenses for the remainder of his life, and provide free education to Stingley and his children. Stingley made the best of things by obtaining his bachelors' degree, having four children with his wife Martine, debuting as an author, working as a scouter for the Patriots, and creating his own foundation.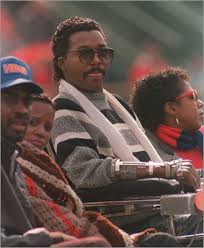 Daryll Stingley died in 2007 of conditions attributed to his paralysis at age 55.
Tyrell Crosby: Spinal Injury
Tyrell Crosby's spinal injury is a little less clear since it is happening in real time.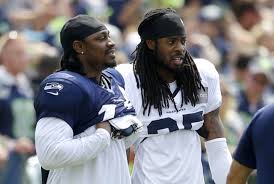 We do know that Tyrell has been a Detroit Lion since 2018 (has anyone noticed we've seen a repeat of certain teams?) In 2021, Crosby injured his hamstring in training camp. He attended rehab for his leg and mentioned back pain to the athletic team – something that went ignored. Tyrell was encouraged to play pre-season games and work-out despite back spasms. Allegedly Tyrell reached out to the athletic team repeatedly prior to the last pre-season game of 2021 asking for assistance with his back pain and was told he was faking the pain.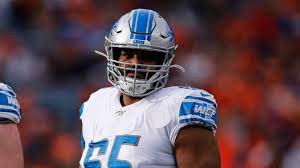 Crosby had a cortisone shot in his back on a Friday and complications of the procedure included excruciating headaches that were getting progressively worse. Tyrell was ignored over the weekend by medical staff, and had to get medical care elsewhere. He was chastened by the team athletic trainer on the following Monday for "not telling him" about the headaches.
Eventually, Crosby visited a spine specialist and discovered he has a degenerative disk disorder in his lower back that required immediate spinal fusion surgery. He has aired out his grievances this year during the Tua concussion controversy, stating he was also mistreated by team doctors.
Ryan Shazier: Spinal Contusion
We've come full circle, back to what we started with, a spinal contusion.
Ryan Shazier initiated a head-on tackle into Bengal Josh Malone during a game in December of 2017. He signaled to the athletic team as he was going down, rolling on the ground, and holding his lower back. It became apparent that Shazier's legs were not working – he had to be carted off the field.
The following morning Ryan was diagnosed with a contusion of the spine. Two days after that he underwent spine stabilizing surgery to alleviate the pressure on his spinal cord. Doctors told Shazier that he would be in a wheelchair for life. What did Ryan say? Hold my cane. In April of 2018  he was able to walk across the stage to announce a draft pick in 2018. In a year Shazier was jogging.
For More Great Football Content
Follow us on Twitter at @GridironHeroics for more great content. We appreciate you taking time to read our articles. To interact more with our community and keep up to date on the latest in Football news, JOIN OUR FREE FACEBOOK GROUP by CLICKING HERE
Checkout our latest podcast!
[powerpress_playlist limit=1]