Tua Tagovailoa's concussion was the slam heard around the world on Thursday night. After what appeared to be a concussion last week in the Miami Dolphins game against the Buffalo Bills, Tua was allowed to play. There's been an enormous amount of blame placed on everyone from the doctors to his own parents. I will let you make your own judgement on who should accept responsibility by breaking down the poor decisions that were made following his injury.
1. Clearance to Play
Tua is obviously stumbling after getting up from what appeared to be a hit to the head. He was allowed to play in the remainder of the game following his injury in the game against the Bills. It was ruled a back injury, although most did not agree. This is where the poor decision making begins, or at least regarding this incident.
2. Tua Plays Again
Tua is cleared to play in the following game against the Cincinnati Bengals. Many speculated that he was not fully healed and ready to play. Maybe he would have been "fine," but the risk was obviously not worth it considering he was slammed yet again. Tua took a blow to his head in the same spot as before. Alarming everyone, his symptoms seemed to be consistent with a concussion.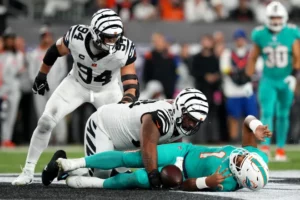 3. The Plane Ride Home
Should have Tua been allowed to ride the plane back home after his injury? That has been questioned, along with Tua and coach Mike McDaniel watching a screen. It has been argued that screen time has negative effects on a concussion.
Mike McDaniel says he and Tua Tagovailoa sat together on the Dolphins' plane ride home and they watched the movie MacGruber. pic.twitter.com/MWEJa8T9vM

— Sporting News NFL (@sn_nfl) September 30, 2022
4. The Continued Coverup
There has been a questionable amount of coverup regarding Tua Tagovailoa's concussion and it doesn't seem to be ceasing. McDaniel has publicly stated that he stands behind the Miami Dolphin's concussion protocol. He also made the claim that there was no inclination of a concussion or else he wouldn't have let Tua play. Interesting.
Dolphins coach Mike McDaniel: For me, as long as I'm coaching here, I'm not going to fudge that. If there's any inclination that a person has a concussion, they go into the protocol and it's very strict. As long as I'm the head coach that will never be an issue to worry about.

— Jonathan Jones (@jjones9) September 30, 2022
Regardless of who you think is to blame, Tua was failed in more ways than one. You really think that not one person in charge speculated a concussion when a gazillion of us at home did? We also can't act like this is the first injury to ever be covered up with the NFL. With no timetable to return, we can only hope for a recovery for Tua as a person, not just a player. What do you think?
Read more about Tua here.
For More Great Football Content
Follow us on Twitter at @GridironHeroics for more great content. We appreciate you taking time to read our articles. To interact more with our community and keep up to date on the latest in Football news, JOIN OUR FREE FACEBOOK GROUP by CLICKING HERE
Checkout our latest podcast!