Seattle Seahawks star wide receiver Tyler Lockett has come out and said that he has already played longer than he wanted to, and told reporters when we could expect him to retire. Lockett is 31 years old and he says that he planned to retire at the age of 30. He has now given a timeline of when he expects to retire from the league.
Tyler Lockett, 31, says he's already passed his goal of playing 8 NFL years. He thought he'd be retired by 30.
Could he imagine being Jason Peters, in his 20th season at age 41?
"Absolutely not. Absolutely not. I'm not going to be playing at 40 years old I can tell you that much" pic.twitter.com/hG25g0lzBL

— Gregg Bell (@gbellseattle) November 2, 2023
Tyler Lockett Comments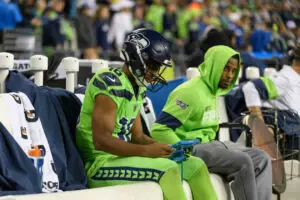 Lockett was asked by a reporter if he would wait to retire until he hit his 20th season in the league, in which he would be 41 years old. He responded with, "Absolutely not. Absolutely not. I'm not going to be playing at 40 years old I can tell you that much."
Lockett has always been a crucial part of this Seahawks offense throughout his career. In the past four seasons, he has amounted to over 1,000 yards receiving and has 370 yards, three touchdowns, and 35 receptions so far this season.
Seattle Seahawks Career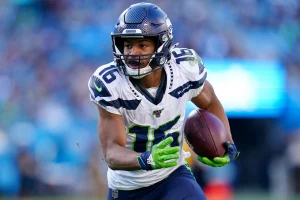 Since joining the league in 2015, Lockett has gone for 7,470 receiving yards and 57 touchdowns. He has not yet won a Super Bowl and has been a big weapon for the offense, especially for quarterback Geno Smith, and former quarterback Russell Wilson. Lockett has been playing the best football of his career for the last four seasons, so it comes as a bit of a shock that he is already thinking about retirement.
Seattle is currently sitting at a 5-2 record and is in first place in the competitive NFC West. They will have a tough test this week against the high-octane Baltimore Ravens, which should make out to be one of the best games of the week. Although we do not know exactly when Lockett will call it quits, it seems that he is already thinking about it, which could make for some offseason drama.
For Additional Content
Please go and follow me on Twitter @TaylorHartmaNFL for more NFL news and updates. If you have any further personal questions or comments for Taylor, connect with him on Linkedin. For more articles on the NFL, go to this site here! Also, go check out our podcast @FSHeroics!